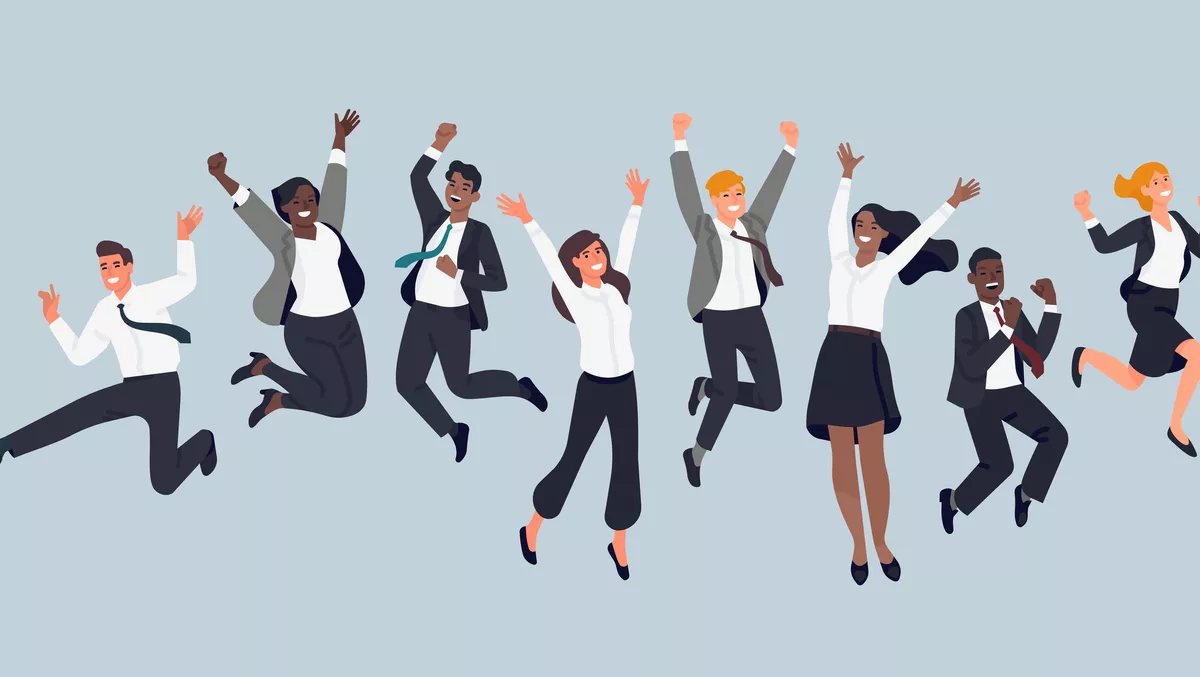 Tech job moves - Commvault, Intel, Tricentis & VMware
We round up all job appointments from July 1-7, 2022, in one place to keep you updated with the latest from across the tech industries.

annalise.ai
Accomplished healthcare technology executive Lakshmi Gudapakkam has been appointed as CEO, and clinical strategist Dr Rick Abramson as chief medical officer.
Gudapakkam's appointment will help accelerate expansion plans globally and into the US, along with developing new AI radiology tools.
Strengthening its global leadership bench even further, Abramson, MD, MHCDS, FACR, joins the annalise.ai team as chief medical officer and will be responsible for guiding the company's clinical roadmap for international expansion.
In his new role with annalise.ai, Dr Abramson will help advance stakeholder partnerships with healthcare providers, technology developers and regulatory bodies worldwide.
Having played an integral role in the formation and success of the joint venture, annalise.ai founding CEO Dimitry Tran will continue to serve as director of the board and part of the harrison.ai team. harrison.ai co-founder and CEO Dr Aengus Tran will also continue as annalise.ai's chief AI officer.
"I'm excited to welcome Mr Gudapakkam and Dr Abramson to the annalise.ai team to lead the company through this next phase of expansion and to help deliver on our mission to help one million people every day," Dimitry Tran says.
"Lakshmi is an exceptional executive and someone we are thrilled to have to help drive annalise.ai's vision and strategy forward into our next phase of growth as a company," annalise.ai chair Clare Battellino says.
"Dimitry's contribution to annalise.ai cannot be overstated, having tirelessly shepherded the formation and growth of annalise.ai from the beginning.
"We're delighted that he will continue to have crucial input in the future of annalise.ai as a director of the board," Battellino adds.
"Lakshmi is well-positioned to help us achieve those goals and will ensure we have the right skills and global connections to expand our reach into new countries, new regulatory areas and new radiology products," Dr Aengus Tran says.
"I'm excited to join the team and contribute to achieving our goal of helping one million patients every day," Gudapakkam says.

Broadridge
Tyler Derr has been appointed as chief technology officer.
In this role, he will serve as the senior-most technology officer in Broadridge's delivery of world-class SaaS and other service offerings to leading financial services clients.
He will oversee Broadridge's global technology teams, including enterprise-wide software engineering, product delivery, architecture, infrastructure, cybersecurity, and technology operations.
"Tyler has been instrumental in taking our technology capability to the next level as we scale to become the leading global fintech serving Governance, Capital Markets, and Wealth and Investment Management," Broadridge CEO Tim Gokey says.
"Tyler's vision and proven ability to build high performing teams will be invaluable as we continue to evolve Broadridge to the next phase of technology leadership and growth for clients, shareholders, and associates."
"It's an exciting time to become the next CTO of Broadridge," Derr says.
"We are executing our vision of becoming the leading technology partner for our clients by delivering innovative solutions based on a modern componentised architecture that continues to continuously grow our interoperability and scalability.
"That evolution is allowing us to drive ever increasing value to clients while building great careers for the most talented technology associates in the industry."
Derr will report directly to CEO Tim Gokey in his new role and has been with Broadridge for 10 years as CTO and later chief administrative officer for Broadridge's Global Technology and Operations business. Most recently, he has focused on Broadridge's industry-leading Wealth Initiative.
Derr succeeds John Hogan, who served in this role since 2014 and requested to transition to a new leadership role earlier this year.
Hogan will advise Gokey and Derr in his new role and continue his firmwide roles in risk and capital, and oversee Broadridge's India Operations, reporting to Gokey.

Bynder
The company has opened its first APAC office in Melbourne, Australia to better serve customers and meet the needs of its growing business.
Eveline ter Elst has been appointed as APAC sales director and will be relocating from the company's Amsterdam office to lead the new office.
The company plans to hire new positions specifically focused on sales, customer success, customer support and marketing, with the goal to better support and grow its already robust APAC customer base.
"We're excited to join the thriving tech community in Melbourne," Eveline ter Elst says.
"We already see incredible demand in the market, and I look forward to building on that momentum through the expansion of our customer base and our regional team," she adds.
"Expanding to Australia is the next exciting step among the many we are taking to scale Bynder and help more brands thrive in today's competitive digital landscape," Bynder CEO Bob Hickey says.
"This past year we have already grown significantly in APAC, and we believe that the office in Melbourne will allow us to better serve and represent these customers and partners while continuing to expand our reach in the region."
The company already serves multiple customers and partners in APAC, including Queensland Health and Australia for UNHCR, and is expanding into the region to be closer to its regional customers and meet the growing demand for digital asset management.
"Bynder has actually brought us closer to a lot of our customers because they are seeing the value that it adds," Queensland Health creative team lead Rohan Young says.
"Customers even say: 'Hey, can we share some of our stuff with you?' Which is going to help more hospitals in the future. So, it's become a nice community of mutually exchanging assets that has a lot of impact."

CBRE
Dedi Iskandar has been appointed as Asia Pacific advisory and transaction services data center solutions head.
Based in Singapore, Iskandar will oversee a team of data centre advisory and transactions professionals across the Asia Pacific region's leading markets.
He will be responsible for developing growth strategies for Enterprise, Operator, Hyperscaler and Service Provider clients.
"Dedi brings technical expertise and vast experience in business strategy and development that will enable us to bolster our service offering to clients in the areas of strategic consulting, intelligent market research, investment analysis, and site acquisitions," CBRE Asia Pacific advisory and transaction services head Luke Moffat says.
"The Asia Pacific region is of increasing importance to the global data center sector and our global business will benefit from Dedi's deep client-side experience," CBRE data center solutions executive managing director Pat Lynch says.
Iskandar has more than 18 years of experience in the telecommunications and IT industry and joins CBRE from Vantage Data Centers, where he served as sales head, driving sales and business development for the company's facilities in Asia Pacific. Prior to that, he led the sales and pre-sales teams at PCCW, Telefonica and Tata Communications.

Commvault
Cesar Cid de Rivera has been appointed as sales engineering international vice president to continue strengthening the company's go-to-market motion and supporting the services teams' critical work.
In his new role, he will be reporting directly to global sales vice president Jason Webber while closely supporting Commvault international senior vice president and general manager Marco Fanizzi as a key member of the International Leadership team.
He will drive the continued expansion of the new International region, comprising more than 150 countries stretching from his native Spain through to New Zealand.
Cid de Rivera will lead a high-performing pre-sales and technical team responsible for enabling and delivering Commvault's industry-leading Intelligent data management services to customers and partners.
"We're pleased to once again have Cesar as part of the Commvault team, and he's joining us at a perfect time in our evolution as we drive growth across the business," Webber says.
"Cesar will be an integral part of my Global Services Leadership team, and bring an important international perspective and competitive insight to the way we work going forward," he adds.
"Working with myself and the wider International leadership team, Cesar will be an excellent asset to the company as we continue to bring our industry-leading solutions to more customers around the globe," Fanizzi adds.
"I had many wonderful experiences in my previous time with Commvault, and I can't wait to be a key member of the team as we realise the opportunities ahead of us with our clear technology and solution provision leadership," Cid de Rivera says.
"Commvault's new corporate structure, leadership, and SaaS functionality with Metallic means we have unlimited possibilities to help our clients and prospects to be truly successful.
"An outside-in view of customer needs makes the biggest difference in business, and I know that at Commvault, this is where we stand out from the crowd."

CorPlan New Zealand
Julie Gerlach has been appointed to the company.
"Julie has a considerable understanding of the IBM Analytics market, having run customer success and account management programs for New Zealand IBM customers, in previous roles," CorPlan New Zealand says in a LinkedIn post.
"Leading our Northern region, Julie is working with New Zealand organisations supporting their performance management, data analytics and AI journeys," the post continues.
CorPlan is a business performance management firm assisting customers to generate greater visibility, transparency, accuracy and efficiency from through the business performance management cycle.
The company has more than 500 customers across a range of industries, supplying them with over 850 solutions and garnering expertise in the various sectors it serves as a result.
Its products use a variety of IBM products such as IBM Planning Analytics, IBM Cognos Analytics as well as SPSS and Watson applications.

Curtin University
Professor Andrew Turpin has been appointed as the inaugural Lions Curtin ophthalmic big data chair.
Professor Turpin is a global leader in data science and analytics and is currently Melbourne Data Analytics Platform (MDAP) director and University of Melbourne petascale campus initiative senior academic convenor. He will commence in his new role in Perth in November this year.
The position has been established by the Lions Eye Institute and Curtin University with support from the Lions Save-Sight Foundation WA (LSSFWA) to enhance leadership and research in ophthalmic big data.
The chair will build on experience in computer science, image analysis and computation involving large datasets, including data interpretation assisted by artificial intelligence methods. Curtin and LSSFWA jointly fund the position.
Lions Eye Institute managing director Professor Bill Morgan says the appointment will contribute to Western Australia's burgeoning reputation as a centre for research excellence in ocular disease.
"Professor Turpin will bring deep expertise that will further develop the Institute's and Curtin's work in artificial intelligence, image analysis, Indigenous, rural and remote eye health, and data linkage," Professor Morgan says.
"He will help to drive the research agenda and facilitate the translation of research knowledge into policy and practice."
Curtin University faculty of health sciences pro vice-chancellor Professor Archie Clements says he is delighted to welcome Professor Turpin to Curtin University and Western Australia.
"Professor Turpin's extensive academic leadership experience will be critical for lifting data science research in the State, with a focus on eye health, an area of significant need here in WA," Clements says.
"Our partnership with the Lions Eye Institute has been incredibly exciting and we look forward to Professor Turpin building on the momentum we have created in eye health research," Professor Clements adds.
"I am looking forward to the opportunities that the combined resources of the Lions Eye Institute, Curtin and Western Australia will bring to improve patient outcomes using data and computational techniques." Professor Turpin says.
The Lions Eye Institute and The University of Western Australia recently announced the appointment of the Lions Eye Institute optometry research UWA chair, Professor Allison McKendrick, while an international search is underway to fill the Ian Constable chair in Discovery and Translational Ophthalmic Science.

Findex
Findex has appointed 46 new partners and associate partners in Australia and a total of 57 across Australia and New Zealand, an increase of almost 50% on the previous year, with most appointments coming from internal promotions.
Approximately half of the new appointments are based in regional locations, bolstering the company's commitment and on the ground support for regional clients.
The expertise of these new partners spans the wealth management, business advisory, tax advisory, risk insurance, audit and consulting sectors of the business, bringing their in-depth industry knowledge and years of expertise to Findex.
"Findex employs almost 3,000 people throughout Australia and New Zealand with over 100 offices, many in regional areas, so we are a major employer," Findex chief growth officer Chris Carey says.
"A large part of our success can be attributed to fostering career progression and providing [opportunities] to our talented cohort of emerging leaders across a range of disciplines, no matter where they reside.
"The Findex partnership team across Australia is one that we are extremely proud of as we move into the new financial year.
"These new appointments enhance our ability to service both regional and metropolitan areas with local, on the ground expertise and reflect the strong growth trajectory the business is on."
Findex currently employs 2,700 staff across Australia and New Zealand, servicing a client base of over 250,000 clients, with over $17 billion funds under advice.
A Findex spokesperson says these recent appointments lay the foundations for a stronger, more united support system across Australia.

Infragistics
The company has re-established its presence in Australasia with the hiring of technology industry expert Luke Hijikata as Australasia regional manager.
Hijikata will help Infragistics better serve its existing customer base and facilitate the company's expansion throughout the region. He brings two decades of IT industry experience in New Zealand to the organisation.
Infragistics also named Aquion as its newest distributor for Australia and New Zealand to deliver business-critical software solutions within the region.
"Luke brings extensive experience to our team as a manager and technical lead at one of the largest ICT providers in the region," Infragistics CEO and founder Dean Guida says.
"We are pleased to welcome him as a senior leader focused on delivering value to our customers and we are delighted to have him spearhead our Australasia office," Guida adds.
"We have relied on Infragistics WinForms components to provide unique capabilities for our desktop software for over 10 years," Rider Levett Bucknall IT group manager Derek Campbell says.
"As we migrate our code base to new UI technologies, we look forward to continuing our partnership with Luke and Infragistics."

Intel
Andrew McLean has been appointed as New Zealand and Australia managing director.
McLean will lead the local team, ensuring Intel plays a key role in the ongoing technology transformation businesses are currently investing in.
He will focus on growing Intel's business and positioning the company as the leading solutions provider foundation of a data-centric Australia and New Zealand.
He will report to Intel sales, marketing and communications group vice president and Asia Territory managing director Alexis Crowell.
"I'm delighted to be returning to Intel at what is a time of transformation and growth for the company," McLean says.
"Our customers are transforming, the local technology sector is booming, and our range of solutions is growing.
"We're committed to delivering a new era of innovation and technology leadership for both businesses and consumers across Australia and New Zealand."
McLean originally joined Intel in 1997 and spent 18 years with the company, holding several leadership roles in both sales and marketing, including more than three years as A/NZ sales director.
More recently, McLean was Nearmap enterprise director, a world-leading provider of geospatial content-as-a-service and SaaS solutions for business and government customers.
He has also held leadership roles with technology vendors, consultants and channel organisations in Australia and the UK, including HP, IBM, ClearPath, Applied Micro Systems, and CPU Omnilogic.
McLean holds a bachelor's degree in Business from Western Sydney University.

Logicalis Australia
Tammy Antoniou has been appointed into the newly created role of Microsoft engagement manager.
Logicalis is proud to be part of an elite group of global Microsoft Azure Expert Managed Service Providers, and Antoniou's appointment will play an important role in continuing the growth of the company's Microsoft business and strengthening the strategic partnership in Australia.
Antoniou will work closely with Logicalis' sector leads under a recently announced vertical sales structure and with its team of engagement managers to assist its customers with their Azure, Digital Workplace and CSP Licensing requirements.
She joins Logicalis from Datacom, where more recently, she was a software solutions consultant. In this role, Antoniou worked on Microsoft licensing, services, and agreements while ensuring the latest solutions and licensing regulations were followed.
She brings to this new role at Logicalis an impressive 20 years' experience in IT, working with Microsoft, Rhipe, Staples and Ingram Micro, and she also holds several Microsoft certifications.
"Tammy brings to Logicalis Australia impressive expertise, and she will play a pivotal role in how our local partnership with Microsoft will continue to deliver successful digital transformation outcomes for our joint customers," Logicalis Australia national sales manager Lisa Fortey says.
"I am delighted she has joined our team at such an exciting time, when we have taken to market Logicalis Lifecycle Services across three key architectures of cloud, workspace, security, all built on Microsoft solutions," Fortey adds.
"I am thrilled to join Logicalis Australia, and play a role in assisting our customers by providing industry-leading solutions and services that support them in realising tangible business outcomes, and ensuring they get the most out of their Microsoft solutions investment," Antoniou says of her appointment.

MetricStream
Gaurav Kapoor and Prasad Sabbineni have been appointed as co-CEOs.
MetricStream has grown consistently over the last decade to become an established market leader in the GRC space.
Over the past two years, MetricStream benefited from Bruce Dahlgren's leadership as CEO by expanding the go-to-market with fresh branding, a simplified product portfolio, strategic partnerships, and accelerated GRC SaaS leadership. Last quarter, Dahlgren moved to an advisory role and helped transition the CEO responsibilities.
Kapoor has served as chief operating officer, responsible for the overall strategy, marketing, sales, partners, customer success, services, and support.
Before that, he served as chief financial officer until 2010. He also has nearly a decade of international operating experience with Citi and other organisations and has been serving as an advisor and on the board of other Silicon Valley tech companies.
Prasad Sabbineni most recently served as the company's chief technology officer driving its SaaS journey. Sabbineni joined MetricStream after a career spanning over 25 years in the Wall Street financial services industry.
Prior to joining MetricStream, Sabbineni was a senior technology executive at Citigroup for 13 years. He oversaw technology for enterprise GRC functions of risk management, compliance, internal audit, information security, third-party management, as well as finance, treasury, HR, and data, across the entire bank globally at Citi.
"MetricStream has been on a GRC SaaS journey over the past several years with a focus on delivering value to our customers," MetricStream executive chairman Gunjan Sinha says.
"As the need for GRC solutions continues to accelerate, we are one step ahead, continuously innovating with the changing needs of the market towards simplicity, hyper automation, and the cloud.
"I thank Bruce for his leadership during the last two years. I am honoured that Gaurav and Prasad have accepted this appointment from the board.
"We feel extremely confident in their exceptional ability to drive the next phase of GRC leadership."

Ofload
Chris McInnes has joined the company as chief technology officer.
Based in Sydney, McInnes' initial focus will be preparing the technology and team for a rapid scale-up to expand beyond Ofload's existing aggregated fleet of more than 1,600 carriers and over 15,000 trucks nationwide.
The appointment marks the next phase of growth for the digital end-to-end road freight management solution. Marcelo Milhomem, who has been CTO since launch, is stepping into the newly created role of chief software architect, where he will work across all areas of the business to ensure full adoption of the platform's capabilities.
"We are thrilled to have Chris join our team and drive forward our platform architecture, which is pivotal to our shipper and carrier experience," Ofload founder and CEO Geoffroy Henry says.
"Our business is experiencing rapid growth as carriers resonate with our approach to digitise a traditionally analogue industry and reduce wastage.
"Strategic hires are pivotal to continued success and we are looking for home-grown talent to fill over 100 positions locally."
Before joining Ofload, McInnes was Zinc Group board member and chief technology officer. As part of the founding team, he helped scale the Australian company to a global organisation with 18 offices in 14 countries.
McInnes has a strong, 15-year track record of building creative technology solutions and fuelling the rapid growth of several early-stage start-ups across a multitude of industries.
He has led the delivery of large-scale web, mobile, IoT, big data and SaaS projects, including the Victoria Bitter Live Cricket Watch and a global eCommerce platform for white-label supply chain and procurement management that is used by some of the world's leading organisations.

PPRO
Former Wayfair Europe finance chief Rahul Raswant has been appointed as the company's new chief financial officer.
Raswant takes over the position from Götz Möller, who is stepping down after more than three years at the company, bringing diverse international experience to the role.
Prior to joining PPRO, he was Wayfair European finance head for three years. Earlier roles include Standard Chartered Bank managing director, Passport Capital investor and close to a decade at McKinsey & Co. Raswant holds an MBA from Columbia Business School.
"I have the pleasure of welcoming Rahul Raswant to the team as our new CFO," PPRO CEO Simon Black says.
"Rahul's mix of international consulting, banking, investing, enterprise and entrepreneurial experience will be valuable for the next phase of PPRO's growth and development.
"I'd also like to take this opportunity to thank Götz Möller for his huge contribution over the last three years, helping reshape the business.
"Standout achievements include transforming our finance, treasury, legal & compliance, internal audit and enterprise risk functions, and playing a lead role in strategic acquisitions, divestments, and multiple funding rounds.
"In addition, he led our board and shareholder governance activities. On behalf of the whole team, I'd like to wish Götz all the best in his next career move and for the future."

Quad9
Noted engineer and cybersecurity executive Mary O'Brien has joined Quad9's Foundation Council, the governing board that oversees the global public-benefit internet security service.
"We're thrilled to have Mary's participation in the Council to move the needle towards our mission to protect the free Internet," Quad9 general manager John Todd says.
"Mary's input will be important for Council issues that will continue to progress the safety and security of the Web in the coming months and years."
O'Brien graduated from Dublin City University with an electrical engineering degree, which she put to work at British semiconductor manufacturer GEC Plessey in Swindon.
In 1994 she moved to Motorola, where she worked on their carrier products, developing GSM, GPRS, and UMTS ASICs and software in their Swindon and Cork sites.
In 2007 she joined IBM, and in 2012 moved to IBM Security in Atlanta as director of threat product development. Two years later, she became research and development vice president, and in 2018 she was named IBM Security general manager, headquartered in Boston.
Today she runs the global organisation of more than eight thousand people from its Cork offices in her native Ireland.
"I'm deeply honoured to have the privilege of welcoming Ms. O'Brien to Quad9's Foundation Council," Foundation Council chairman Bill Woodcock says.
"Her expertise and understanding of the cybersecurity ecosystem are invaluable to us as a body, and her oversight will benefit Quad9's users throughout the world."
O'Brien brings more than thirty years of experience as an engineer and security executive to Quad9's Foundation Council, where she fills the seat vacated by Dorian Kim, who passed away earlier this year and returns the foundation to its full strength of five councillors.

Splunk
Former Citrix and VMware Australia and New Zealand channel chief Neels du Plooy has been appointed to lead Splunk's partner organisation in A/NZ.
In his new role as director of partners A/NZ, du Plooy will be tasked with leading the data platform vendor's wide variety of channel interactions, from go-to-market to sales and partner business growth.
Du Plooy has been A/NZ channels and alliances director at Citrix since April 2021 and says the decision to leave the company is a difficult one.
Before Citrix, Du Plooy was VMware A/NZ head of channels, a role he served in for five years until February 2021, spending nine years with the company in total.
Splunk additional recent hires include former Sitecore APJ lead Mark Troselj as its new A/NZ group vice president, replacing Simon Eid, who departed to begin a new role at MongoDB in November 2021.

Start Beyond
The company has announced the internal promotion of Angus Stevens to CEO.
Stevens, who joined the award-winning business in 2016 as one of the founding members, is moving on from his current position of managing director effective immediately.
In his new role, Stevens will lead and oversee building new partnerships and projects across both the studio and platform arms of the business while maintaining Start Beyond's vision of generating knowledge, creating empathy and helping people see the world differently.
One of the first projects he is working on as CEO is for American-based company SocialWise VR, which is designed for therapists working with young adults on the autistic spectrum.
Through Virtual Reality experiences, users face a range of commonplace situations to learn and practise the coping mechanisms and develop their emotional intelligence without the emotional risk. The offering is expected to be released later this year.
"I am delighted to be able to announce my new position and to take this opportunity to continue building on the values that I am so proud of at Start Beyond," Stevens says.
"This move has been a somewhat natural progression and has been welcomed by the board and my fellow co-founders, CTO Jaeger Battersby and former CEO Kain Tietzel.
"At Start Beyond we see education and training as an opportunity for individual growth and societal change, so I am honoured to be in a role where I can continue to embed our desire to steer a better course for humanity both within and outside the company," he adds.
"Angus moving into the role of CEO is something that we are all excited about at Start Beyond," Battersby says.
"We are very lucky to have Angus as CEO, like the rest of the team, he wants to make the world a better place, and so we know he will steer the company into projects that excite us all."

Tricentis
Robert Yue has been appointed as A/NZ vice president.
In this newly created position, Yue will be responsible for driving the company's expansion across Australia and New Zealand, as well as developing its regional go-to-market strategy.
Yue has over 20 years of extensive sales and management experience and joins Tricentis from Cloudera, where he was A/NZ vice president and managing director.
Previously, he worked with Apptio as vice president and general manager and has also held business and technology leadership positions at companies such as Jive, SuccessFactors, Hewlett Packard and Mercury Interactive.
"As we further accelerate our growth and investment in the A/NZ region, Robert will be focused on expanding our presence and assisting our customers on their continuous testing journey," Tricentis Asia Pacific and Japan senior vice president Damien Wong says.
"Robert has extensive experience in this market, and our customers will benefit from his impressive expertise and knowledge.
"We look forward to supporting him as he works with our customers to accelerate their digital transformation," he adds.
"There are so many opportunities across Australia and New Zealand for growth. I am looking forward to working with our customers and partners and helping them achieve positive business outcomes," Yue says.

Versa Networks
The company has appointed former Commvault Software and Dell Technologies executive Rachel Ler as its first Asia Pacific and Japan region vice president.
Ler joins Versa to lead the company's expanding APJ team with a focus on sales and market expansion to meet rapidly increasing demand for Versa SASE in the region.
"I was attracted to Versa Networks by its uniquely integrated approach toward security and networking that delivers these comprehensive services simply to customers," Ler says.
"I am excited to join at this important time for Versa, as I see tremendous opportunity across the APJ region, especially in this highly fragmented technology space.
"I look forward to helping the team establish itself as the trusted advisor to customers and partners in the APJ region."
Ler previously served as Commvault Software Asia Pacific region vice president and general manager, responsible for driving sustainable sales growth with a focus on solution innovation and customer experience, including collaborating and strengthening Commvault's broad and diverse partner ecosystem across all the distinct markets.
She has a proven track record with more than 20 years of experience spanning direct and channel sales, as well as regional APJ leadership roles at Dell Technologies, Hewlett Packard Enterprise, Nimble Storage, NetApp, IBM and Microsoft.
Ler graduated from Nanyang Polytechnic with a Diploma in Information Technology and holds a bachelor's degree in Business Management from the Swinburne University of Technology in Melbourne, Australia.
"We are very excited to have attracted someone of Rachel's calibre and experience to lead our APJ regional business," Versa chief revenue officer Martin Mackay says.
"Demand is increasing for Versa SASE as APJ organisations look to take advantage of the differentiated benefits offered by our uniquely integrated networking and security capabilities.
"We are committed over the long term to our customers in APJ, and under Rachel's leadership we are excited about the growth we will enjoy in the region."

VMware
Stephen Robinson has been appointed as Southeast Asia and Korea partner and commercial business leader.
With a strong background in sales management and business development in the enterprise and commercial IT space, Robinson is well-placed to work closely with customers and partners in the region to help them optimise their cloud transformation journeys and lead the SEAK region into a new chapter of growth.
"Stephen brings a unique blend of leadership and industry experience to the team through his numerous years of experience and we are confident that his sales prowess will take the VMware's channel partner ecosystem to a new zenith of success," VMware Southeast Asia and Korea vice president and managing director Paul Simos says.
Robinson joined VMware in 2021 as SEAK multi-cloud director, during which he was tasked to increase the adoption of VMware multi-cloud solutions and accelerate their deployments and consumption by customers in close association with the sales leader and the multi-cloud and service partners.
In this new position, he will be working closely with distributors, solution providers, global Partners, global/local system integrators, and VMware cloud providers to further develop and strengthen the company's partner strategy and channel programs alongside driving digital transformation and growth with VMware's commercial customer segment.
Before joining VMware, he was Collins Airspace APAC information management systems sales head, where he oversaw servicing the IT and digital transformation needs of airports and airlines in the region.
Previously to this, he was at BT for 18 years in numerous channel and sales leadership roles and has a proven history of delivering results in IT Managed Services with over twelve years of experience in the enterprise IT space in Asia.
"Supporting and growing along with the partner community is crucial to the success of VMware as we help customers with their digital transformation," Robinson says.
"I look forward to adding more value to the ecosystem by working closely with the partners to deliver best-in-class solutions and experiences to our customers in the region."

Zonos
The company has appointed Tyson Hackwood as APAC general manager.
Tyson Hackwood joins Zonos with a scope to scale the APAC business as demand for its cross-border technology continues to grow.
The rise in demand comes as more APAC brands are turning to international sales to source new customers and fill the sales gap caused by the increased interest rates, the decline in the buy now, pay later market, and the spike in global inflation.
Hackwood replaces previous APAC general manager, Travis Robinson, who will now take the role of chief strategy officer at the company's Utah, US headquarters.
"We are excited to have Tyson join us as an experienced leader in ecommerce with a proven record over his 13 years of involvement in digital commerce," Zonos CEO Clint Reid says.
"We look forward to working with him as he expands Zonos across APAC and builds upon the strong foundations Travis and the team have established."
Hackwood has been working in the digital commerce space for the last 13 years, predominantly with PayPal and Braintree.
He established Braintree's APAC offices in Sydney in 2013 before moving to Singapore to continue growing the Braintree business across the region.
He returned to Sydney in 2018 and, most recently, has been working in-house at Myer on various digital initiatives, including payments and delivery options.
"I'm looking forward to working with the Zonos team to help our customers and partners leverage our cross-border commerce technology to drive exceptional customer experiences and incremental revenue," Hackwood says.
"An increasing number of APAC merchants are taking advantage of the fluctuation in economic conditions to invest in borderless trade to engage new customers, so it is a dynamic time to be joining the business."
Related stories
Top stories