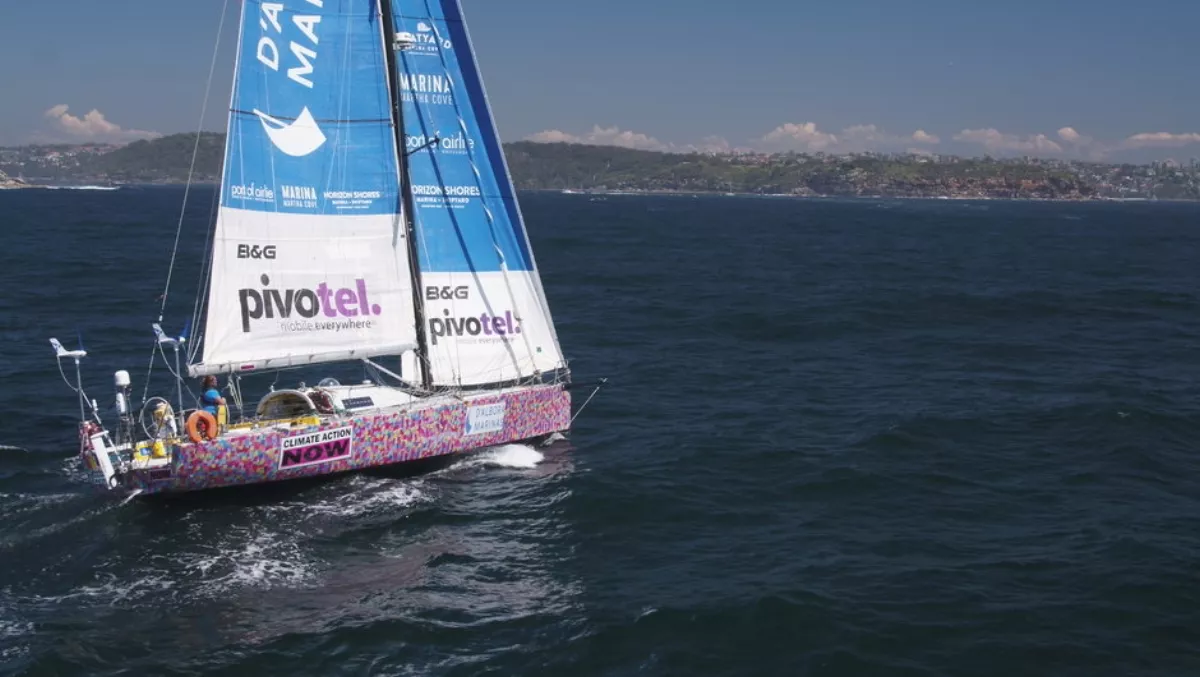 The tech that helped the first woman to sail around Australia
FYI, this story is more than a year old
Australian yachtswoman Lisa Blair is about to become the first female to sail solo, non-stop and unassisted around Australia and the first mono-hull to complete the voyage uninterrupted without any outside assistance.
After departing on the 6,536 nautical mile challenge on the 20th of October, Lisa is expected to arrive back in Sydney today, Monday December 17, having successfully completed her goal of circumnavigating Australia.
33-year-old sailor Lisa Blair said she expected this journey would present many challenges, including encountering one of the biggest storms Australia has experienced over the past 12 months during her last leg to Sydney.
"The unpredictable weather conditions were constantly fluctuating during the journey, which meant sleep deprivation took a toll on me quite early, it's challenging both physically and mentally as I continuously needed to check the horizon every 20 minutes for obstructions," Blair says.
"That's why it was so important to have constant communication with my team, this meant I could route myself around bad weather systems that I couldn't see from my boat, and provide regular position updates to ensure my safety.
"From a mental health point of view, eight weeks at sea on your own is very difficult to do - being able to have a quick phone call with your family or friends when you're travelling through such isolated locations really helped keep me going through some of the toughest days of the challenge."
Lisa relied on a range of satellite technology supplied by telecommunications provider Pivotel.
This allowed her to keep in touch with family and friends as well as her own shore team, meaning she could raise an alarm should she sustain any injuries, complications with her boat, or find herself in trouble while at sea.
The technology supplied included the Inmarsat Fleet One maritime solution which enabled Lisa to make calls, send emails, check weather forecasts, update her social media accounts and post to her daily blog.
The Inmarsat Fleet One terminal was paired with a RedPort Optimiser, a device that is new to the Australian market and provides data compression technology, which results in significant improvements in speed and cost savings for satellite data users.
Also supplied was a pair of Iridium satellite devices, the first an Iridium GO! that was paired with Pivotel's recently launched Unlimited Data plan.
The Iridium GO! provides satellite connectivity for mobile devices where cellular networks are not available.
It can be used for calls, SMS, email, weather forecasts and a whole lot more. The second was an Iridium satellite phone for Lisa's 'Grab & Go Bag', on standby in the event Lisa was forced to abandon her boat in an emergency and needed to make contact with emergency responders.
Pivotel CEO Peter Bolger said he was thrilled to support Lisa in her mission to become the first solo female sailor to non-stop circumnavigate Australia and he is proud that Pivotel played such a vital role during the daunting challenge.
"After watching Lisa become the first woman to circumnavigate Antarctica solo last year, even after her boat was damaged in seven-metre swells and 40-knot storms, I was impressed with her resilience and desire to succeed," Bolger says.
"We worked closely with Lisa to ensure she was equipped with our latest marine satellite technology and solutions ensuring her safety during her travels while providing her with the ability to communicate her experiences back to her family, friends and followers in real-time.
"With the 6,536 nautical mile voyage along the coastline of Australia proving to be even more challenging than her Antarctic venture, I would like to send a huge congratulations to Lisa on her incredible accomplishment, I'm excited to see what her next adventure holds."
Lisa's 50-foot vessel is 100% sustainably powered, raising awareness of her Climate Action Now message - the name of her boat.
Lisa founded the Climate Action Now campaign to inspire people to make positive changes in their life to support the environment.
"Without the support from Pivotel this would not have been possible and the project wouldn't have had such a positive impact on the community and environment as a whole."
Related stories
Top stories