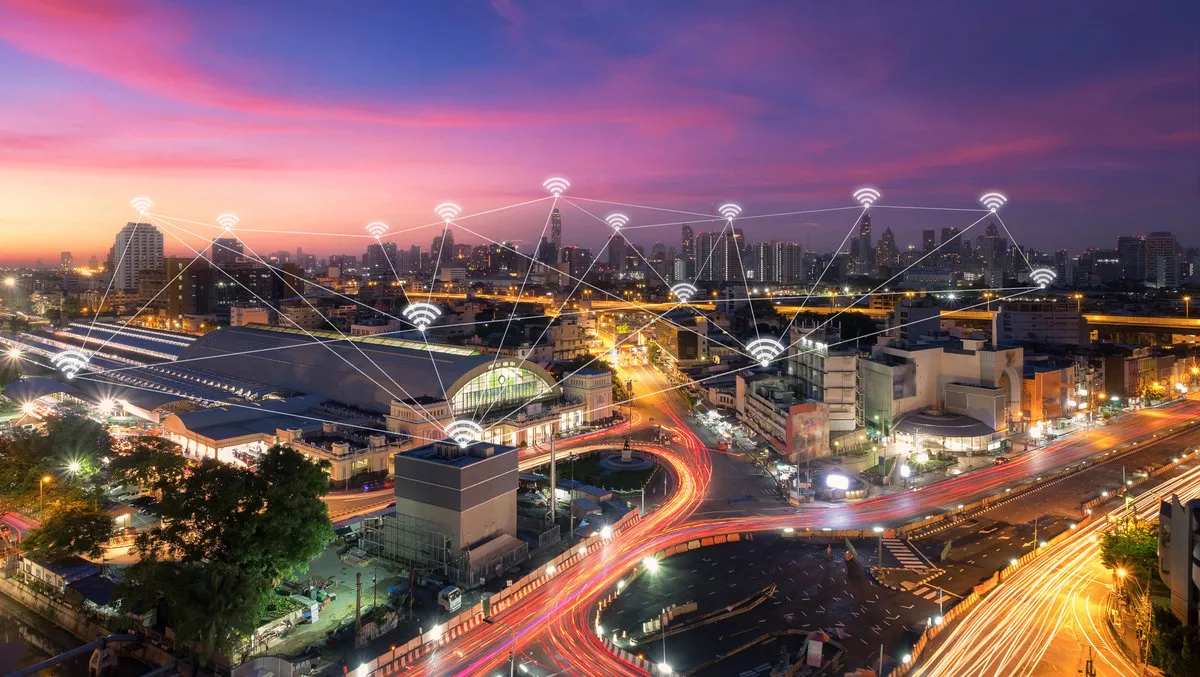 5G Analyst's Views – from Hyping to Happening
FYI, this story is more than a year old
If you feel like a splash of cold water to douse the fires of 5G hype, listen to Gartner's Research Vice President, Ian Keene. He admits that expectations for 5G are sky-high, but knows that it will take quite a few years to get there.
He is well aware of the theoretical benefits of 5G but points out that a lot of what is promised can, in theory, be achieved by enhancing 4G. For example the much-vaunted latency promises of 5G, Keene asks if that justifies the massive investment: "Late last year Huawei were demonstrating they could get pretty much similar low latency from a re-engineered 4G as they could 5G… You could do low latency on 4G if you wanted to, but people don't. They don't see a business case. The question I have is will 'they actually see a business case to do it in 5G or is it just going to be too complicated, too insecure for it to ever happen?'". Similarly, more broadband – you could do that on 4G. Who needs massive IoT when you could use "things like LoRa networks, for example, or Sigfox or Narrowband 4G or 2G networks?
"A colleague of mine, Nick Jones, looked at the common applications for IOT over the next five years, the different industries and applications, and there really weren't that many applications that would need the attributes of 5G because it could be done in other ways. So there's a lot of hype about it.
He points out that some people muddle 5G itself with applications and technologies associated with 5G – such as edge computing, massive MIMO, and network slicing. One European mobile operator is looking to expand its data center to maybe a hundred remote centres to bring them closer to the edge for lower latency and to relieve the traffic on the core. "Edge computing… all the 5G vendors are factoring in edge computing capability in their solutions at the moment. Network slicing, a great idea and can one do it now in existing networks? Yeah, but it's incredibly clunky and so to build a whole new network and to actually bring in things like software-defined network, network function, virtual network functionality, you can do that on a new network but it's so, so difficult to do it and stick it on an existing legacy network".
He also sees potential in massive MIMO, something that does not make sense in earlier generations because those wavelengths would cripple the towers with big, heavy antennas – but at 5G frequencies, it is a real possibility. So it is not so much 5G per se that is revolutionary, but rather more the other technologies riding the same wave.
Having doused some of the hype, it is worth moving on to who will benefit, and how? As an analyst, he splits the field into distinct markets, beginning with operators.
"Communications service providers, mobile operators, I guess also fixed operators, particularly in the US, are looking for new revenues and they're thinking, 5G, okay, let's look at new enterprise services. These are generally network providers, particularly the mobile guys, who have no idea how to sell to enterprises. They could offer them a group SIM card plan and things like that but they can't do much else… this is one of the conversations I have many times with mobile operators. Okay, we can develop new applications with edge computing, with network slicing et cetera for specific vertical industries, but how the heck do we sell to these enterprises?
For Keene, the new frequency bands are the most interesting – including the long-distance low bands. But above all the mid-band – a big chunk of frequency around 3.5 gigahertz that offers far more bandwidth than mobile operators have at present. In Europe, mobile broadband is so cheap that it's impossible to make any money by building a new network to provide mobile broadband. But the new frequencies are an interesting opportunity across Europe and most of Asia: very different from the U.S. where that big frequency chunk hasn't been released and instead they're looking at Citizens Broadband Radio Service, which 5G could use, but it's not regulated in the same way.
OK, it's nice for operators to tell their customers that they have the latest next-generation technology, but the biggest problem is that their networks are filling up. New 5G will give much more bandwidth, the antennas are smaller and lighter, require less cabling and offer cheaper mobile networking.
So what about equipment vendors? New frequency licences mean new radio and handset sales, that is good news. "An interesting thing is, if they're going to introduce new enterprise services or new consumer services ¬– like virtual reality, games et cetera – then they need a new core network. That gives them an opportunity to introduce things like software-defined networking". This new core could be a real unifying factor.
For consumers, the greatest interest includes more bandwidth so better mobile gaming and better video and VR apps. In just a few countries, better-fixed broadband services, whereas in many European countries, for example, the average broadband revenue is so low that it is not worth the investment.
Joel Stradling is another analyst – Research Director, Global Managed and Hosted IT Services, GlobalData. He reckons that the winning strategy for mobile operators is around SLAs for consumers: "It's a very tough space for them but they're starting to go there, and then also these membership communities. That's where the potential is for subscriptions".
A big part of this challenge is to achieve this over multi-vendor networks, as John Baldry, Infinera's Metro Marketing Director, noted from responses to his company's demonstrations at MWC19, Barcelona: "Common customer questions highlighted demand but also raised concerns about orchestration solutions across the transport domain as customers start their migration to 5G. While many transport vendors now offer SDN control of their own equipment, it was clear that managing service level agreements across multi-vendor domains is a must. Without this level of control, 5G reality risks becoming 5G hype, creating more focus on the need for advanced software tools to support 5G implementation".
Another demonstration at MWC19 focused on the performance now achievable using white box hardware. F5 and Mellanox's 400Gbps Ethernet fabric in a single rack demonstrated the scale and performance needed for 5G network infrastructure, according to Ash Bhalgat, Senior Director of Cloud Marketing at Mellanox: "The focus of this demo was on using commercial off-the-shelf (COTS) hardware with Mellanox NICs and Switches to achieve 100G+ throughput in an ultra-high-density solution that is available for purchase today".
The enterprise market suggests some of the most interesting possibilities, such as custom enterprise services focused on vertical industries. For example, Boeing and Mercedes-Benz are very disappointed what Wi-Fi can deliver in terms of cost, reliability, and service levels for mission-critical apps – but all the same, they don't want to be locked into long-term contracts with operators.
Again, how do you sell these services? – asks Keene."The mobile operators are not sure how to do it. The equipment vendors offer to be the third party 'we can understand vertical industries better than you'... Then you've got the typical suppliers to the industry that really don't interact very much with the networking and IT community. So there's a big problem there.
There is, however, a real opportunity for industry-specific network slicing. Keene quotes the CEO of the Hamburg Port Authority who wants virtual networks: one for mission-critical issues, one to support high definition video, one to support a massive internet of things – at least three virtual networks with different attributes. Andres Madero, Coriant's Director of Service Provider Architecture, is excited about this opportunity: "5G's massive available bandwidth can be sliced to offer parallel services offering different service levels that are tailored to markets as diverse as consumer entertainment, telemedicine, industrial control systems, road traffic management, intensive agriculture, payment systems and many more".
Atchison Frazer, Worldwide Head of Marketing, Versa Networks, also sees this slicing as a key benefit: "You can almost start to do micro-services because 5G will enable you to do 10X slicing. So latency for a specific application, for example, could be a micro-service that is dedicated to one slice. IOT per device could be another slice…" He sees real opportunities for traditional retail outlets, where better slicing enables the POS and ATM networks to be isolated. Also: "The retail users are actually keeping folks in the storefront and introducing a different customer experience. That's beyond simply being the plumbing and providing a circuit at a good cost and a good bit rate… I think digital transformation and 5G actually gives traditional brick and mortar retail an opportunity to change the game where they were disrupted by Amazon and other kinds of eCommerce".
Joel Stradling and Atchison Frazer both see a much more interesting opportunity in the fusion between 5G and SD-WAN. As Stradling puts it: "I really learned a lot at Mobile World Congress where the innovation centre was about the fusion of 5G, IOT, SD-WAN and Edge. That resonates with me." Frazer says: "Verizon is one of our strategic partners and investor in the company. They run Versa as a managed security service now. I think the ability for them to add 5G with SD-WAN and secure SD-WAN is a huge differentiator against other operators that don't do security.
But one networking opportunity for enterprises is a dead cert for Keene: "Talking to mobile network operators we think at least 40 per cent of them in developed markets will be promoting private cellular networks next year. I'm not saying they're going to succeed in selling them but they're certainly going to promote them".
He provides a neat graphic summarizing his expectations for 5G services roll-out over the next 6 years – see figure.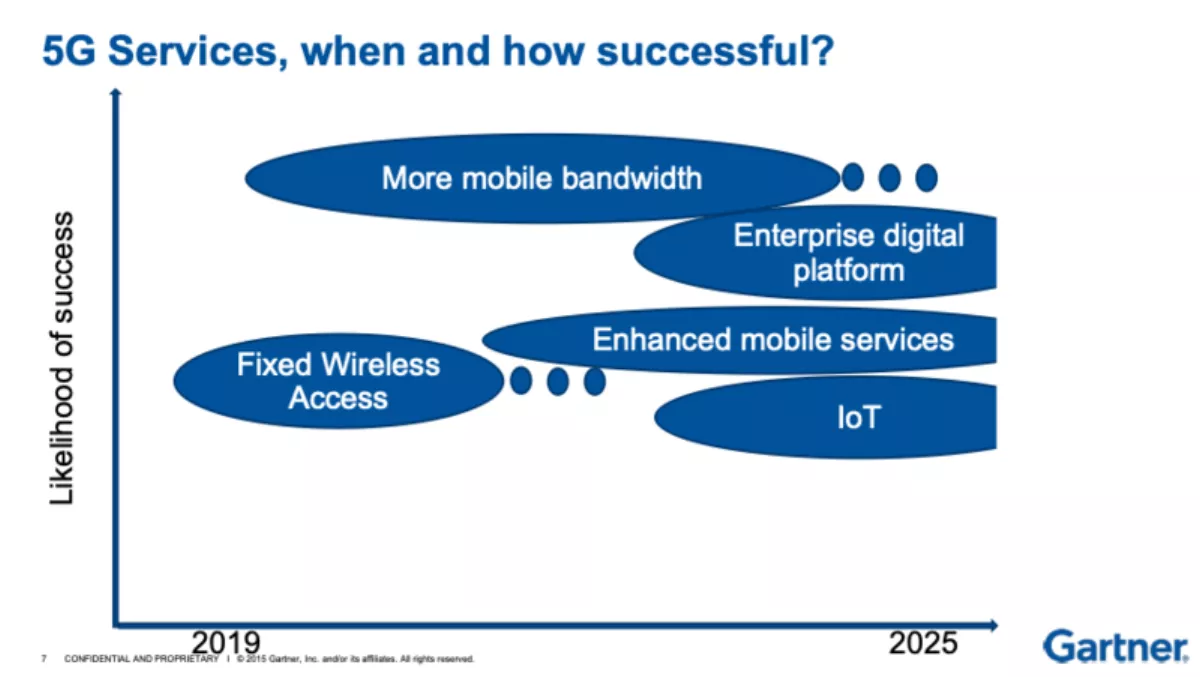 So what is the most misleading hype around 5G? It sounds as if it is not the question of speeds, of performance, of bandwidth and massive IoT potential – the most misleading hype was around the timescales originally promised.
Kevin Restivo is IDC's Research Manager for European Enterprise Mobility, and he suggests that we bypass the hype and recognise that we are dealing with evolution more than revolution: "Initially we're looking at faster data rates. So it's almost like 4G plus that we're going to see first. In other words, temper your expectations versus the promise of 5G".