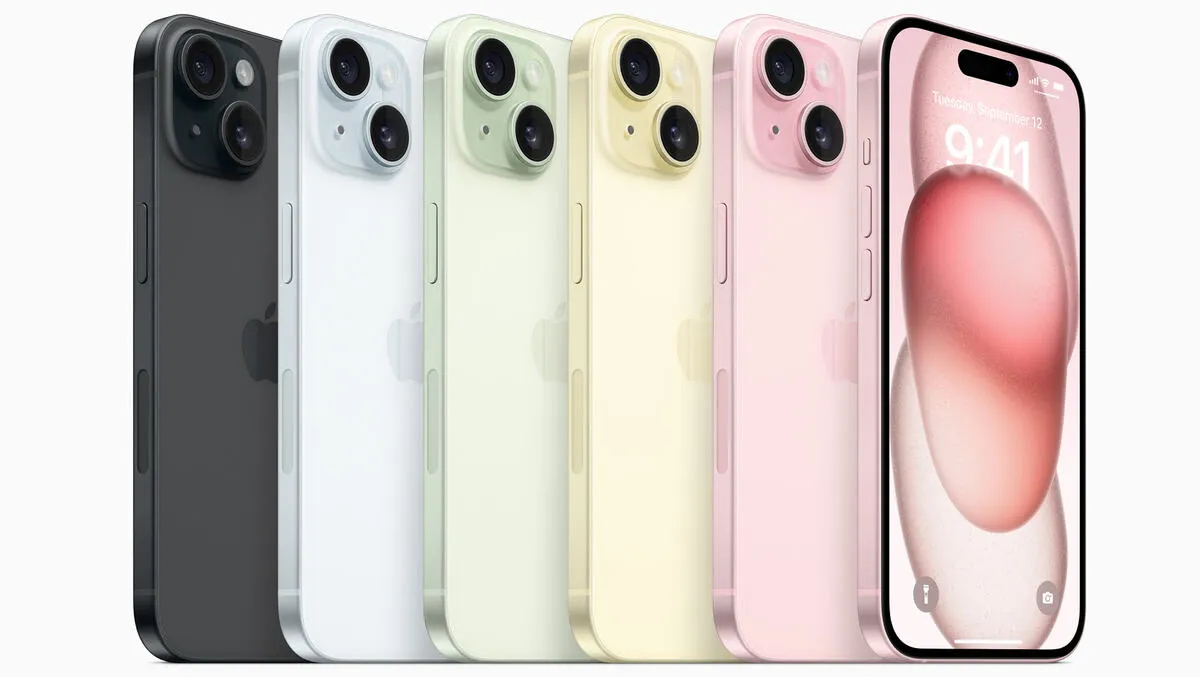 Apple reveals new iPhone 15 range with USB-C charging
Wed, 13th Sep 2023
By Tom Raynel, Managing Editor
Apple has announced the latest additions to its iPhone lineup with the iPhone 15 range. This time around, the lineup includes the iPhone 15, 15 Plus, 15 Pro and 15 Pro Max.
Speaking to the announcement, Kaiann Drance, Apple's Vice President of Worldwide iPhone Product Marketing, said, "iPhone 15 and iPhone 15 Plus represent a huge leap forward with exciting camera innovations that inspire creativity, the intuitive Dynamic Island, and the A16 Bionic chip for proven powerful performance."
"We're also pushing the power of computational photography to new levels this year with a 48MP Main camera featuring a new 24MP default for super-high-resolution photos, a new 2x Telephoto option, and next-generation portraits."
What's new with this generation?
Apple has made incremental improvements across its iPhone lineup this year with changes to the cameras, displays, chipset and software, but none will catch more attention than the introduction of USB-C to the devices.
Notoriously, iPhones have utilised Apple's "Lightning" cables to charge and transfer files to the device. However, following the ruling by the European Union that required Apple to refrain from using the technology, the company has been forced to make the switch. Luckily for most, USB-C offers faster charging and file-transferring speeds, so it's a win.
Looking at the cameras, there are some minor updates but nothing revolutionary. The base iPhone 15 and 15 Plus come with a 48MP main camera with a new 2x Telephoto option for a total of three optical zoom levels and a 12MP Ultra Wide lens.
As for the iPhone 15 Pro and Pro Max, they feature the same 48MP main camera and 12MP Ultra Wide lens, with an expansive 3x Telephoto lens on the iPhone 15 Pro and an even more expansive 5x Telephoto lens on the Pro Max.
The displays have seen a slight increase compared to last year's devices, with the iPhone 15 and 15 Pro featuring a 6.1-inch Super Retina XDR OLED display, while the 15 Plus and 15 Pro Max feature a 6.7-inch Super Retina XDR OLED Display.
An important difference between the base and pro models this time around is the introduction of titanium being used in the hardware rather than aluminium, and a change to the silence switch. The iPhone 15 Pro and Pro Max now feature an "action button", very similar to the ones found in various Android phones.
Apple says that the action button will still, by default, operate as a silent/do-not-disturb switch but can be customised for a range of different utilisations, including quick access to the camera, activating voice memos, or shortcuts.
As for the software, Apple has given the iPhone 15 and 15 Plus its A16 bionic chip and the 15 Pro and Pro Max its all-new A17 Pro chip with a 6-core GPU. This new A17 chip will give new levels of power and processing power to the iPhone lineup, with the CPU up to 10% faster, the neural engine up to 2x faster, and the GPU up to 20% faster; it really is a game changer for the lineup.
Highlighted specifically by Apple, the device has made enormous improvements for mobile gaming on the iPhone 15, with the new chip allowing for smoother graphics and ray tracing capabilities, meaning triple-A games like Resident Evil 4 and Death Stranding can be played on them.
All the devices also come with Apple's latest IOS 17, with some minor additions, including NameDrop, which allows AirDrop to easily share contact information by simply bringing two iPhone devices together, and StandBy, which gives users a customisable full-screen experience with glanceable information designed to be viewed from a distance when iPhone is on its side and charging.
The iPhone 15 and 15 Plus will be available in pink, yellow, green, blue, and black in 128GB, 256GB, and 512GB storage capacities. The iPhone 15 Pro and Pro Max will be available in black titanium, white titanium, blue titanium, and natural titanium finishes, with the 15 Pro available in 128GB, 256GB, 512GB, and 1TB storage capacities, and the 15 Pro Max in 256GB, 512GB, and 1TB storage capacities.
Customers will be able to pre-order the iPhone 15 lineup beginning this Saturday, 16th September, with availability beginning Friday, 22nd September.