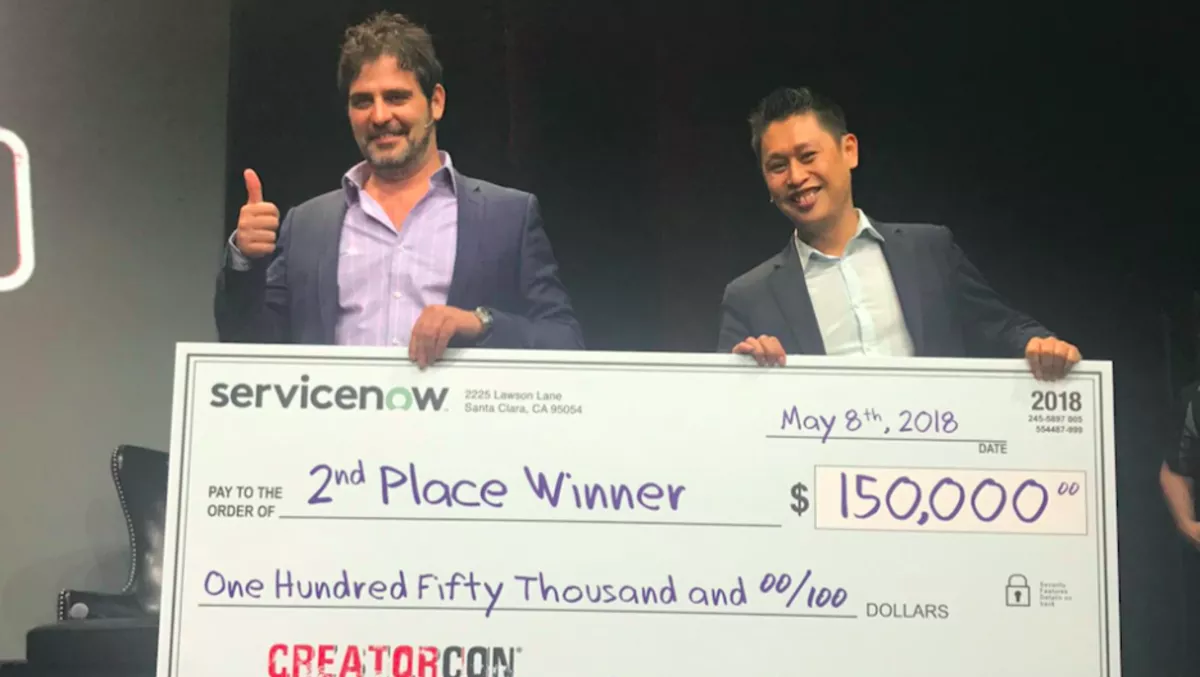 AU companies clean up at ServiceNow application comp in Vegas
FYI, this story is more than a year old
This week ServiceNow's Knowledge18 event has been taking place in Las Vegas with more than 18,000 people in attendance.
One of the highlights so far has been the CreatorCon Challenge, a global competition for entrepreneurs to express their talents in creating high-impact applications on the Now Platform.
The judging panel was made up of three 'legends of tech' and included ServiceNow founder Fred Luddy. There were three applications recognised and Australia managed to claim two of them with Enable Labs and Recruitlive taking second and third respectively – SalesWon seized the home advantage to take first place.
The three companies received a stake of US$1 million with SalesWon taking $250,000, Enable Labs with $150,000 and Recruitlive with $100,000 in cash investments from ServiceNow Ventures, as well as $500,000 in sales and marketing prizes to accelerate the finalists' market adoption.
"Congratulations to SalesWon for their innovative application SalesWon CRM & CPQ. They stood out in a field of impressive competitors with advanced, diverse applications built during the limited time of competition," says ServiceNow VP and GM of the platform business unit Josh Kahn.
"This is not only a testament to the work put forth and abilities demonstrated by the contestants, but also the ease and speed of working with our platform—enriched with machine learning/AI, mobile and much more."
Moving forward each of the recognised applications will be published on the ServiceNow Store and distributed via the ServiceNow OEM channel available to customers around the world.
"The CreatorCon Challenge has been an exciting and fulfilling experience since day one. It's been thrilling to work to develop SalesWon CRM & CPQ on such an innovative platform, and we look forward to the opportunity to bring it to the global ServiceNow marketplace," says SalesWon CEO Jared Crowder.
"We're honored to have been chosen the winner of ServiceNow's 2018 CreatorCon Challenge."
Looking deeper into the solutions that won awards, their features included:
First place: SalesWon was awarded $250,000 for SalesWon CRM & CPQ, which accelerates the sales process while bringing complete visibility to management in a suite of sales automation applications.
Second place: Enable Labs was awarded $150,000 for Toolbox, which enables construction companies to manage work sites, assets and projects more efficiently, uses machine learning to improve safety and streamlines communications between staff and subcontractors on‑site.
Third place: Recruitlive was awarded $100,000 for EmployeeX, which implements AI, machine learning and an advanced user experience in an end‑to‑end employee lifecycle application.
According to ServiceNow, in just its second year the CreaterCon Challenge brought in 30 percent more developers to compete with the winners joining an ecosystem of 400 applications and integrations that leverage the Now Platform complementing ServiceNow's own applications in IT, HR service delivery, security operations, and customer service.
Related stories
Top stories