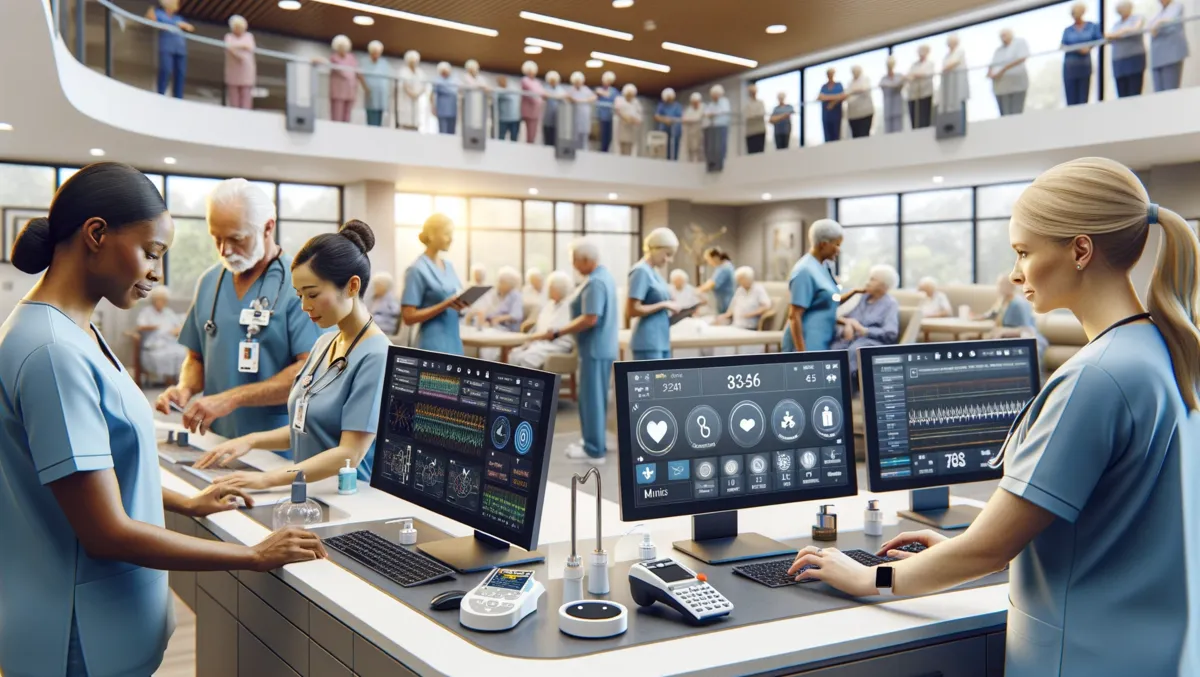 Australia's aged care sector goes real-time with systems
Embracing real-time location systems (RTLS) and location-based services (LBS) has become crucial for ensuring compliance with the new mandatory care minutes, now in effect for Australia's aged care sector since October 1, 2023. Initiated by the Australian government, this significant change stems from the Royal Commission into Aged Care Quality and Safety's 2021 final report highlighting the necessity of appropriate staffing levels for quality care in government-funded residential aged care facilities.
The policy involves care minutes, which denote the duration of care provided to older Australians living in these facilities by various healthcare professionals, including registered nurses (RNs), enrolled nurses (ENs), and personal care workers or assistants in nursing (PCWs/AINs). In response to the Royal Commission's findings stressing the importance of sufficient staffing for effective care, the Commission advocated for a minimum care minutes responsibility linked to a casemix-adjusted funding model, such as the Australian National Aged Care Classification (AN-ACC).
RNs, ENs, and PCWs/AINs offer a broad-ranging care crucial for maintaining the quality of living for the residents. The nature of activities carried out by these carers can be documented as care minutes. Started on October 1, 2023, the initial 200-minute daily care target has been mandated for all residential aged care facilities, a figure planned to rise to a sector-wide average of 215 minutes daily (including 44 minutes of RN time) from October 1, 2024.
Reporting care minutes accurately is fundamental for maintaining compliance with the new regulations. Providers found to inaccurately report may face penalties. Also, the Aged Care Quality and Safety Commission (ACQSC) is responsible for overseeing workforce-related responsibilities. The ACQSC uses care time and 24/7 RN data to regulate these responsibilities.
"RTLS and LBS solutions offer a lifeline, addressing the substantial pain points associated with the labour-intensive administration and record-keeping tasks that have burdened operators for years. These technologies streamline the process of automating and tracking care activities, ensuring the precise recording and reporting of care minutes. By doing so, they empower operators to efficiently optimise staffing levels and allocate resources judiciously, thereby enhancing resident care and ensuring strict compliance with government mandates" explains Gareth Phillips, Location Based Services Specialist, Progility Technologies.
David Birch, Head of Customer Experience at Progility Technologies, further emphasises that in this era of transformative change in aged care, being ahead with innovative technology can significantly enhance the care standard delivered to Australia's elderly population. By incorporating this technology, operators can not only meet mandatory care minute requirements but also boost their residents' wellbeing.
As the October 1, 2023, deadline has passed, aged care facility operators must swiftly align their operations with the new care minutes requirements. By leveraging technology and welcoming change, they can continue offering exceptional care that older Australians deserve, thus promoting a revolutionised aged care sector in Australia.