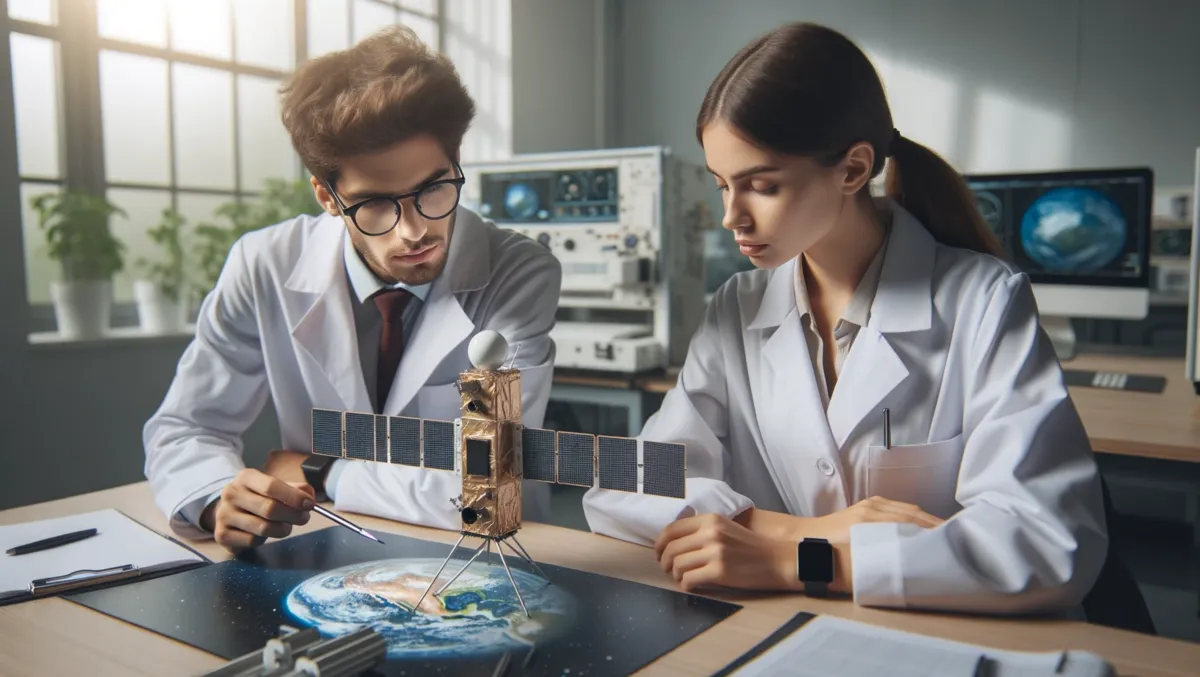 Australian PhD students land internships at European Space Agency's Phi Lab
SmartSat Cooperative Research Centre, the space research hub based in Australia, has announced that two of its rising PhD students will contribute to revolutionary satellite research in a new internship programme at the European Space Agency's (ESA) Phi Lab.
Brandon Victor, from La Trobe University, and Nermine Hendy, from RMIT University, will journey to ESRIN, ESA's Specialised Centre of Excellence for Earth Observation in Frascati, Italy, come January 2024. Their three-month research internship will be financially supported by the SmartSat.
The ESA's Phi Lab is a leading research centre, focused on accelerating the future of Earth Observation through innovative solutions and cutting-edge technologies. These include artificial intelligence (AI) and on-board processing, feeding into the next generation of predictive intelligence. This research aims to monitor and forecast agricultural, environmental activities, and disaster events from space with higher accuracy.
At the SmartSat Annual Conference, SmartSat CRC Chief Executive Officer Professor Andy Koronios stated that this new internship programme represents a further step in the collaboration between the two organisations.
He says, "Over the past few years, our relationship with Phi Lab has grown stronger through our shared strategic research initiatives in the Kanyini and -sat satellite missions. We're delighted to send these talented students to Phi Lab, which is at the forefront of Earth Observation technologies. This international collaboration is a great testament to the progress being made in Australia's space industry and a chance to showcase our nation's expertise."
Victror says he is thrilled about the prospect of this internship, which he labels a "fantastic opportunity" for him to take forward his work on Using Satellite Data to Locate and Phenotype Plants from Space Research. He says, "This internship with Phi Lab gives me the opportunity for international travel, to meet new people working at the intersection of AI and satellite images and - most importantly - to work on an exciting project with global experts. This will undoubtedly be an excellent experience for me."
Victor's research supervisor, Dr Zhen He, Associate Professor, Computer Science and Information Technology at La Trobe University, praised international collaborations, stating they are invaluable for the development of Australia's young scientists' skills. He says, "Programmes like this enable students like Brandon the chance to learn from some of the world's greatest aerospace engineers and scientist and forge international connections that will generate new ideas and innovation."
Meanwhile, Hendy, who will work on the Interference modelling, detection, and mitigation for improving spaceborne SAR performance Research, shared that she intends to delve into the future obstacles of space technology during her tenure at Phi Lab. Nermine's supervisor, Associate Professor Akram Hourani, School of Engineering, STEM College, at RMIT University, underscored the importance of such partnerships for academic excellence.
Capping off the announcement, Earth Observation Data Scientist at ESA, Dr Nicolas Longepe, who will mentor the interns at Phi Lab, concludes, "We welcome these stellar students and look forward to the ideas and learning this programme will inspire." He reinforced the potential of Earth observation in mitigating global issues and the importance of international collaboration.