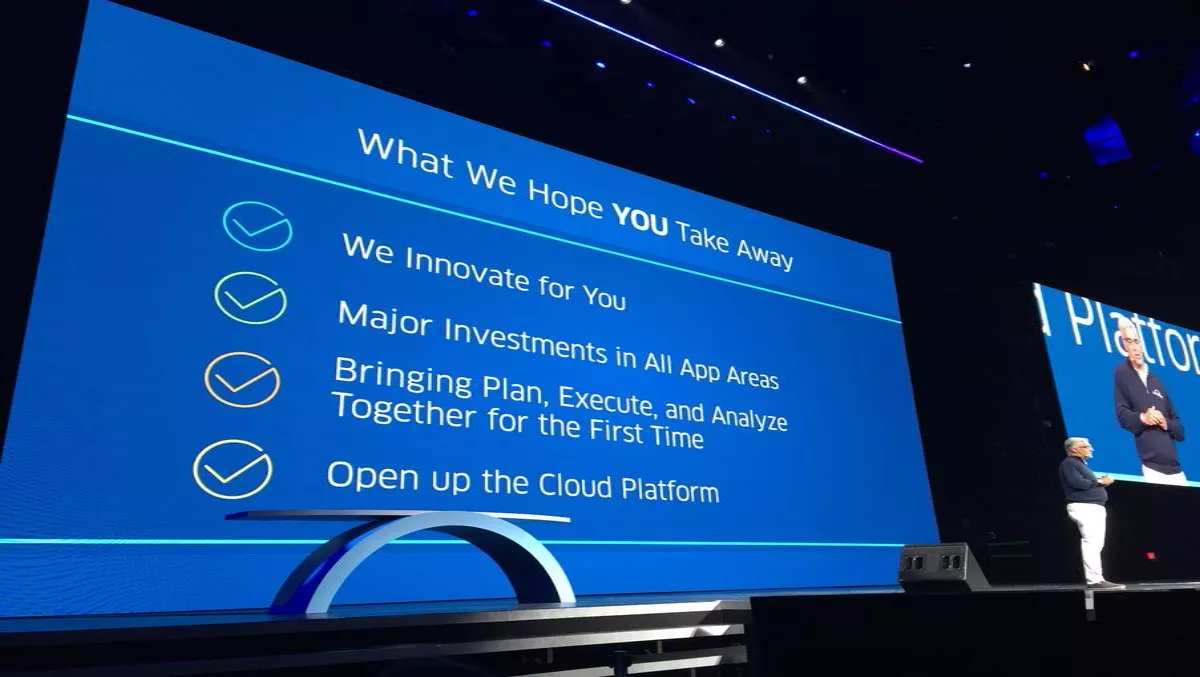 Benchmarking, PaaS, and analytics - highlights from Workday Rising CEO keynote
FYI, this story is more than a year old
Cloud human capital and financial management software provider Workday kicked off the second day of its Workday Rising conference in Chicago today with its executive keynote.
CEO Aneel Bhusri, together with his team of executives, looked back on the past year for the company and unveiled new analytics capabilities, among others.
Amazon and Ingram Micro were among the customers Workday acquired in the past year.
The three-day event will see 542 sessions being held before it's over, with over 8500 customers and partners attending this year's event.
The company now has over 7400 employees globally and achieved 98% customer satisfaction in the last year, one of the core promises and metrics Workday prides itself on.
Here are some of the reactions to the highlights announced in the keynote:
Workday opened up its platform on the Workday Cloud Platform.
The platform-as-a-service was soft-launched earlier this year and will allow developers to build applications that behave like Workday apps.
"What you build will be upgradeable - you will not be left behind," promised Dan Deck, Workday platform technology SVP.
#WdayRising Workday platform includes new query language and frameworks for bots, processes, and voice. See https://t.co/eqM2CbBjsX pic.twitter.com/3bikx6O4Wq

— Michael Krigsman (@mkrigsman) October 10, 2017
And now the piece de resistance, #Workday is unleashing their platform. Huge TAM, huge partner/customer opportunity, new LOB. #wdayrising

— (((Naomi Bloom))) (@InFullBloomUS) October 10, 2017
Workday will be building specific capabilities for these nine industries into its services.
9 core #industries of focus for @Workday with a special callout for Higher #education. #WDayRising #HCM #Planning #Financials #Analytics pic.twitter.com/6lwzDxSMBz

— Sabhari Bala (@sabhari_idc) October 10, 2017
Workday recently acquired analytics company Platfora and has now turned that into its business intelligence offering Prism Analytics.
MyPOV: prism analytics has improved and come a long way @workday #analytics #WDayRising pic.twitter.com/EcNlAZT1bJ

— R Ray Wang (王瑞光) (@rwang0) October 10, 2017
Looking @Workday data discovery - there is still a flavor of Platfora in the air. #wdayrising pic.twitter.com/ex4lqls8mu

— Holger Mueller (@holgermu) October 10, 2017
Integration with Salesforce CRM launched.
#wdayrising enhanced Salesforce integration resource management plus multi element billing pic.twitter.com/mN5ikT6nez

— Jeanne Urich (@jeanneurich) October 10, 2017
Workday's PaaS approach appears to be leveraging cloud accounting software Xero's expansive ecosystem approach to let it deliver services customers need from providers already perfecting that offering.
Interesting - I see parallels between what I saw at #Xerocon and what I am seeing at #wdayrising. 2 ends of the market spectrum. Single code

— (((Den Howlett))) (@dahowlett) October 10, 2017
Workday branching out its services into a business strategy area with the addition of its analytics capabilities.
Why the #powerofone makes so much sense: "Plan. Execute. Analyze. Every business pretty much operates the same way." #wdayrising pic.twitter.com/VG9THrN0NV

— OneSource Virtual (@OneSourceV) October 10, 2017
Consumer tech is a big influence on the user experience of Workday's services.
Workday walking the walk with People Experience when they talked the talk that consumer tech is shaping enterprise tech #wdayrising

— Manan Vansola (@mananvansola) October 10, 2017
Workday's onboarding doubles as a no-fuss How to do your new job with machine learning-picked study materials for freshly promoted employees.
Workday knows that onboarding isn't just for new hires. It's also for new managers or those with new roles. @kminicoz #wdayrising pic.twitter.com/MYoiBYcE33

— IBM Workday CS (@IBMWdayConsult) October 10, 2017
Related stories
Top stories