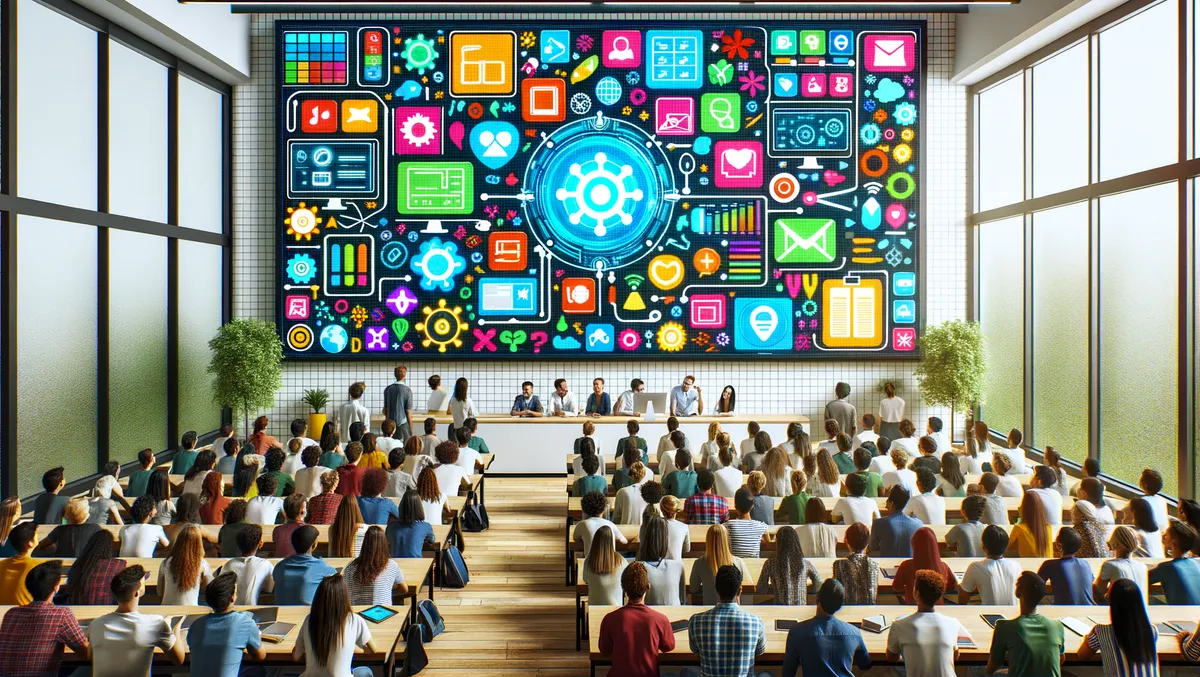 BenQ unveils new Google-certified interactive displays for education
BenQ, an international expert in display solutions for education, has launched its next generation of certified interactive displays for schools – the Board Pro RP04 and the Board Master RM04.
Boasting official certification from the Google Enterprise Devices Licensing Agreement (EDLA), these interactive displays are among the first to offer full support for Google Mobile Services (GMS), a suite of Google's collection of applications and APIs.
The new generation of BenQ Boards will provide users with effortless access to numerous Google services such as Google Play and Google Classroom. The large touchscreen interface aims to ensure a smooth classroom experience by employing Google Search and other Android applications. Integrating Google's core applications, including Google Play, Drive, Classrooms, Gmail, Maps, Meet, and YouTube, further enhances the teaching experience.
Jonathan Lee, BenQ Business Manager ANZ, said: "Having the ability to use GMS on large format interactive displays is definitely a landmark event. Ever since Android-based interactive panels were introduced, users have been experiencing difficulty in fully incorporating their daily workflow into classroom and office environments."
"With our new EDLA-certified interactive displays, schools can now access the full Google experience along with many educational apps, eliminating the need to use personal devices."
Additionally, benefiting from the complete Google experience means educators can download Google Workspace apps directly from the Official Google Play Store on the BenQ Boards, which helps them access their teaching materials conveniently.
The new BenQ Boards' features are not only about utility but also focused on inclusivity, enhancing learning accessibility for students. By incorporating Google AI-powered Text-to-Speech, visually impaired students can hear text displayed or written on the boards. Multilingual Translation further allows for understanding lesson materials written in different languages.
Regarding security, the latest models of BenQ Boards are equipped with Google's built-in security features. Schools are able to rely on this technology to safeguard against malicious apps, phishing attacks, potential loss of data and data leaks.
"We ensure teachers and students have access not only to prime quality education tools but also those that prioritise healthy outcomes and safety with our ClassroomCare technologies," said Lee.
Moreover, the new generation of BenQ Boards provides specialised energetic teaching tools, EZWrite 6 and InstaShare 2. EZWrite 6 is an innovatory application that enables educators to display lesson content, jot down notes during class and utilise a variety of specialised in-class tools developed for diverse subjects.
Conversely, InstaShare 2, the wireless screen-sharing solution, enables up to nine students to simultaneously share and control their screens from their personal devices on the BenQ Board.
Another prominent feature of these new boards is the smart tools that make learning more accessible to a broader category of students. The BenQ Boards also feature a revamped user interface (UI) designed to cater to the classroom environment, allowing users to browse lesson content directly from the Google Search Bar on the homepage.
BenQ's ClassroomCare demonstrates a solid commitment to creating healthy learning conditions. Both the Pro and Master Series come with Eyesafe Certified 2.0 screens, which protect students' and teachers' eyes from high-energy blue light while maintaining optimal colour performance.