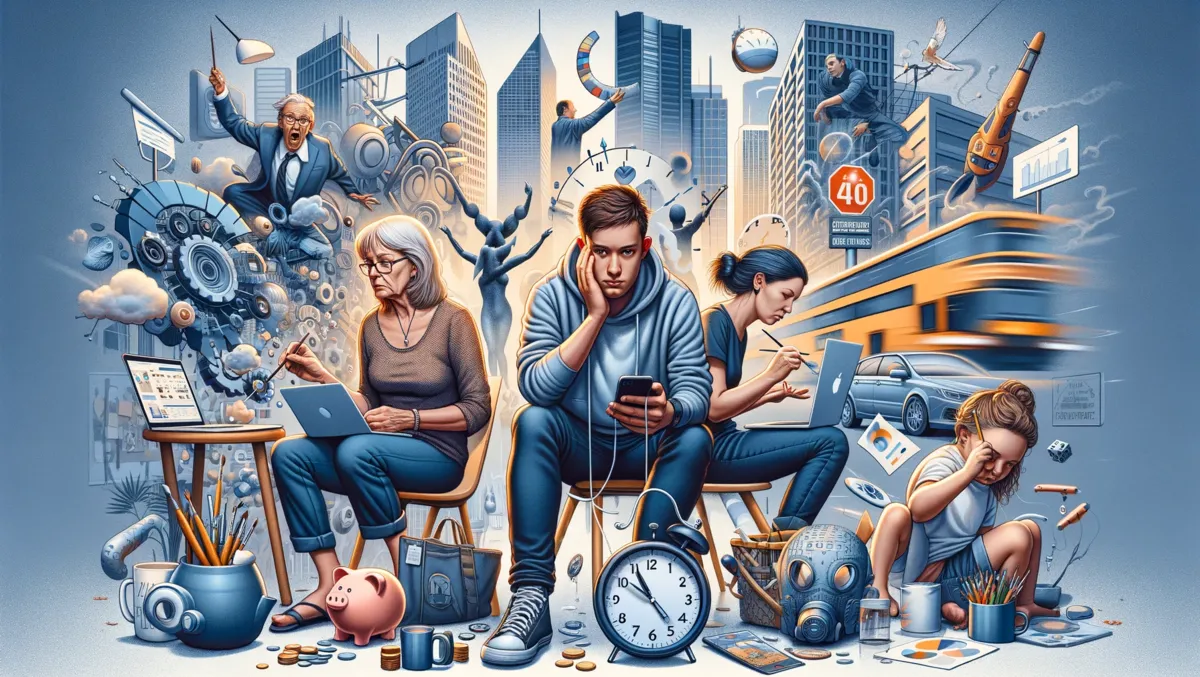 Creativity deficit looms amid time and funds challenges
In a recent report released by VistaPrint, concerns have been raised about a looming 'creativity deficit' in Australia. The study highlights how financial constraints and time limitations are stifling the creative pursuits of Australians across the nation.
This revelation comes in the wake of the Australian government's National Cultural Policy, launched earlier this year, which seeks to acknowledge the creative industries as crucial contributors to the country's economy.

1. According to data from the Office of the Arts, cultural and creative activities contributed a substantial $122.3 billion to the national economy in the fiscal year 2019-2020
2. The report indicates that nearly 44% of Australians who engage in creative hobbies struggle to strike a balance between their artistic pursuits and other life responsibilities.

Notably, women seem to bear the brunt of this challenge, with 46% finding it harder to manage creative hobbies alongside their daily duties, compared to 43% of men. Similarly, residents of metropolitan areas also face this struggle, with 44% confessing that they find it difficult to allocate time for their creative endeavours.
Time, or rather the lack of it, emerges as a significant factor in this 'creativity deficit,' with 52% of respondents admitting that they struggle to find free time for their creative interests. The rising cost of living is further exacerbating the situation, with 36% of those surveyed citing financial constraints as a hindrance to their creativity.
In addition to these challenges, the spectre of AI and automation looms large over the creative landscape, with 45% of Australians expressing concerns about losing the art of creativity due to technological advancements. A substantial 35% of respondents believe that technology has diminished the true 'craft' associated with traditional creative practices.
Despite these hurdles, the report underscores the importance of nurturing creativity. Over 69% of Australians believe that creativity enhances their problem-solving skills, while 58% assert that engaging in creative hobbies boosts their mood and reduces stress. Additionally, 45% of respondents reported that their creative pursuits positively impacted other aspects of their lives, including mental clarity and focus.
Dr Gina Cleo, a Habit Change Expert, emphasises the value of breaking out of mundane routines to boost creativity and overall well-being. She suggests small changes, such as trying new podcasts, engaging in finger painting, or experimenting with different cuisines, can significantly contribute to fostering creativity.
When it comes to creative hobbies, Australians are a diverse bunch. Cooking emerged as the most popular creative hobby, with 48% of respondents expressing their culinary creativity. Gardening was a close second at 45%, followed by painting or drawing (24%), and photography or videography (21%).
Importantly, creativity isn't always a solitary pursuit. Almost half (47%) of those surveyed believe that collaborating with others enhances their own creative abilities. Creative hobbies often serve as avenues for building connections, with 29% of Australians stating that they engage in creative activities to come across as more interesting among their friends and peers. In fact, 7% even took up creative hobbies to bond with family and friends.
Marcus Marchant, CEO of VistaPrint Australia, expressed his delight at the report's findings, highlighting the importance of creativity in our lives. He shared his personal experiences, including painting with his children and using cooking and gardening as ways to de-stress.
In conclusion, despite the challenges posed by limited time and resources, the report underscores the profound impact of creativity on Australians' lives. It serves as a reminder that nurturing and supporting creative pursuits is not only vital for individuals but also for the economy and society as a whole.
For those seeking inspiration and recommendations to infuse creativity into their daily routines, VistaPrint offers a wide range of products to help individuals express themselves. Whether through photobooks for budding photographers or canvas prints for artists, there's something for everyone