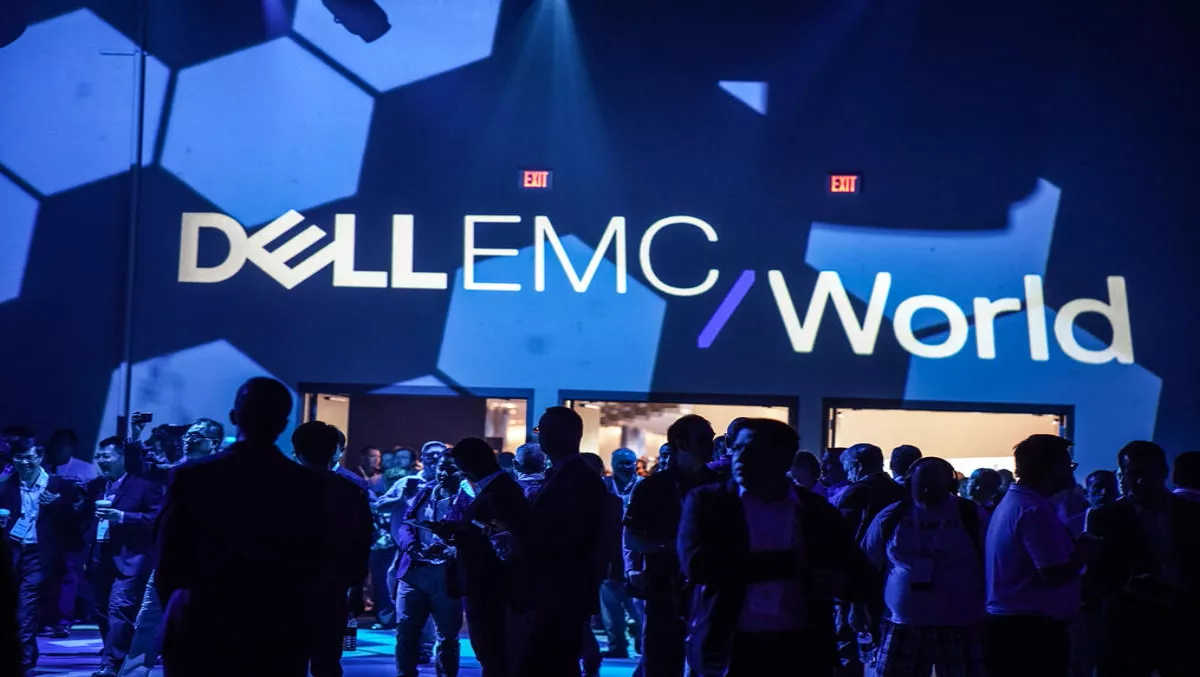 Dell EMC World EXCLUSIVE interview - APJ VP James McCready
FYI, this story is more than a year old
From Dell EMC, James McCready, vice president, Asia Pacific and Japan (APJ), and Matt Oostveen, CTO, converged platforms and solutions, APJ, are at the 2017 Dell EMC World conference in Las Vegas.
Previously the COO of Japan, McCready begins with an overview of the state of the APJ market for Dell EMC which he describes as 'lagging behind' outside of the Australia and New Zealand (ANZ).
"If you see in Japan, they're still running systems that are 10 or 12 years old, so they're don't want to be adopters of any kind, or of innovating, or adoption in terms in technology."
However, McCready adds that his unit, the converged platforms unit, is the fastest growing business unit for Dell EMC in APJ.
"But I think right now we have the right products and markets at the right time – so we're seeing customer adoption, of HCI throughout every geo in APJ. It's really strong."
The main theme of the conference this year is digital transformation. What is it from an economic, cultural and technology perspective?
And the main pitch: how does Dell EMC fit into your organisation's transformation?
Oostveen says that today it's hard to ignore digital transformation with news sites saturated with stories on the topic.
But, there's one particular story that we are here to talk about.
"We've got a really good story - firstly, we need to understand what it is?"
"It's not just about digitising the process – it's about changing the technology along with the people and the way those people are interacting with the technology, whether they're inside the company or outside," Oostveen adds.
"Now, what we do really well is we work closely with IT departments – IT departments at the moment are probably not in the strongest position they could be in enabling the rest of the organisation to digitally transform."
Oostveen explains that many organisations are slow to stand up in IT service because it takes a long time to configure the software in tune with the underlying infrastructure and hardware.
He adds that IT teams are scrambling with a do-it-yourself philosophy inside their data centers where they're racking and stacking and testing the equipment before it's ready to deliver a business service.
"What we do is we hone in on solving that problem for our customers so that they're able to instal infrastructure with a turnkey approach that allows them to stand up in IT service really quickly."
What does that mean inside the organisation?
"Well it means we're reducing friction when the CIO comes to the IT department and asks them to deliver an IT service then their able to do it really quickly," adds Oostveen.
When talking about Dell EMC's competitive edge in the digital transformation area, Oostveen turns to the company's converged platforms portfolio.
"We've got the most complete portfolio in the market place today. From a block based approach to our hyperconverged technology portfolio which includes rack scale systems and nodes."
And for the people with a do-it-yourself approach that are not ready to take to this new change in their data centers, Oostveen refers to Dell EMC's complete solutions and ready bundles.
"And if we step back and look at that complete portfolio there's no one at the moment that's doing that."
But, there's another dimension a part of digital transformation - economic transformation: the way customers consume.
Oostveen adds that Dell EMC can offer cloud-like consumption models as a part of Dell Financial Services. Announced during Dell EMC World 2017, Cloud Flex allows customers to consume on a month by month basis.
"They don't pay anything down at the start, they can utilise IT as service on-prem – the same way they would a public cloud offering and consume that from us. That's something we could not have done in the past."
But now, what's interesting is the company's position in China, where it currently operates as two separate entities.
One of the reasons for this is government restrictions. However, Oostveen also notes that the company is taking the time to ensure they have the right model in place which for now means operating separately.
"So, in China, you can still buy EMC equipment and it still has EMC logo on it. It's separated from our Dell business because they can continue to transact the way they have in the past."
Oostveen continues, "if we step back and we look at how the space is doing in China, one of the hottest technologies is hyperconvered."
"But there are very few global organisations that have a foot print there and that's something that we have and has made us very successful in China's market," says Oostveen.
McCready labels Japan as the fastest growing APJ region for Dell EMC.
"Japan is the one that is accelerating the fastest and it's interesting as HCI has been an area in which it is accelerating in."
"I think it's for a couple of reasons. HCI, we're seeing great adoption in the channel," McCready adds.
The historic merger between Dell and EMC, costing Dell US $67 billion, was completed under a year ago. Expectations of this merger were formed from the outset by customers, Dell and EMC employees and industry competition.
Now, post completion, McCready says, "they were very good at communicating, even before the transaction closed. Here's what we're doing; here's how we're going to do things."
"But since its closed they've been very clear in terms of here's the actions we're going to take and the timeframe we're going to do it in, which in a lot of cases they're doing it faster than expected."
Dell EMC's James McCready and Matt Oostveen spoke about the APJ marketplace, digital transformation and the recently completed Dell and EMC merger at the 2017 Dell EMC conference held in Las Vegas.
Related stories
Top stories