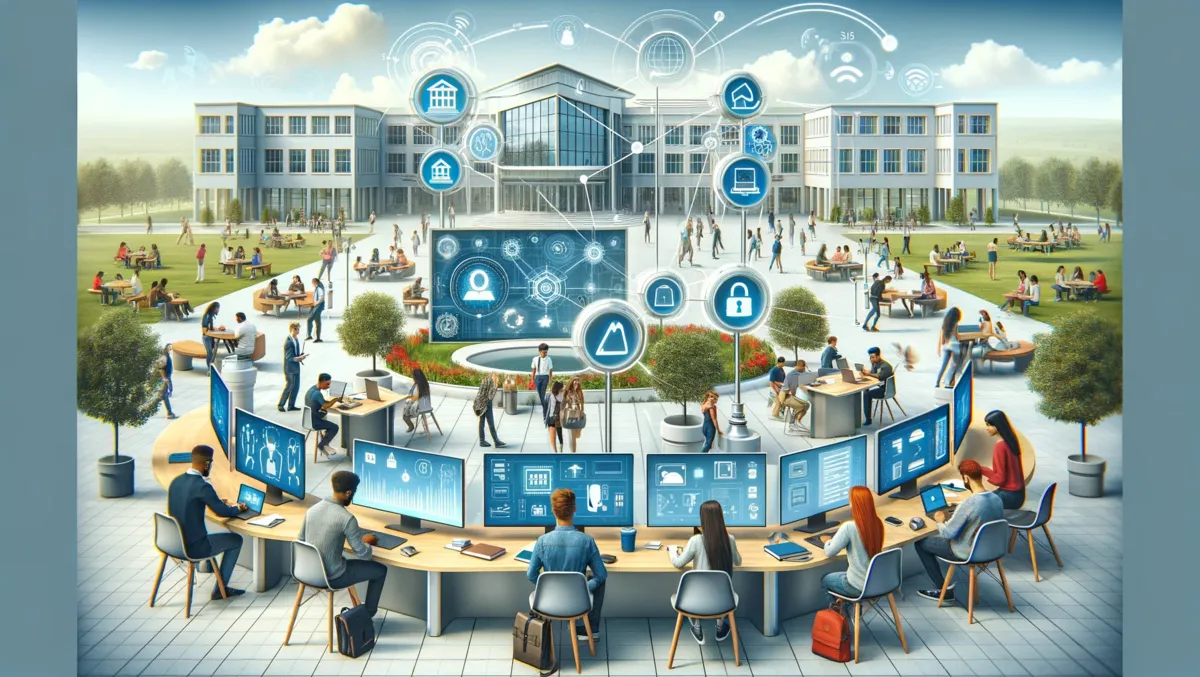 Edith Cowan University transforms end-user remote support to support anytime, anywhere learning
Background
Edith Cowan University (ECU) is a renowned university based in Western Australia, with four campuses, including two in the metro Perth area, one in Bunbury in the southwest region, and a remote campus in the APAC region. ECU is focused on delivering exceptional education through coursework, research, and community engagement.
The university employs approximately 3,700 staff using more than 6,000 university devices – MacBooks, Windows laptops, Linux servers, and diverse mobile equipment. With around 31,000 students, ECU's helpdesk team faces a constant stream of requests for technical support, ranging from campus Wi-Fi or VPN connectivity issues setting up university email to more complex technical problems.
The IT team of ECU faced a huge challenge to remotely manage and support all devices, including inability to remote into Microsoft Intune and Azure AD accounts. As a result, ECU required a new remote connectivity platform that would enable IT staff to support, manage, and access off-premises devices and on-site support. One of the top priorities was solving technical support issues while ensuring the security, privacy, and compliance of remote connections.
With its integration with modern platforms and market-leading status in remote access, ECU chose TeamViewer Tensor as the ideal solution. The successful implementation has transformed the university's remote support capabilities, delivering convenience, security, and efficiency at scale.
Challenges
ECU needed a modern remote connectivity platform that enabled university IT staff to support other departments in the university regardless of their location while ensuring secure device connections. This was especially important since ECU faced several challenges, including supporting devices spread across four campuses, the inability to remote into Microsoft Intune accounts and connect to devices using multi-factor authentication, encountering problems in accessing new hardware that was not on-premises and facing authentication issues while onboarding devices with Intune.
As part of its efforts to address these challenges and support its distributed environment, ECU decided to transition from Microsoft Endpoint Manager to Intune. However, this move hampered its ability to fully support modern devices and maximise the benefits of cloud management. This posed a challenge for ECU in ensuring that staff had secure and reliable access to the network files and systems they needed, regardless of their location.
It also caused delays in resolving IT issues and impacted the overall productivity of various stakeholders across the university. In this context, the IT helpdesk team acts as a central point of contact on IT issues for all university staff, guests, and students. The main task is to handle inquiries by telephone, remote support, email or in person, to provide first or second-level support and to advise the end user that might need real-time support. Against this backdrop, the university needed a solution that would let IT staff remotely access the network through disparately located devices and authenticate securely using state-of-the-art technology.
ECU sought a modern, device-agnostic approach to expand its device management capabilities beyond computers and mobile devices. The university required a platform that could integrate with leading device management platforms. Moreover, ECU wanted a solution that would not only meet its remote access needs but also integrate well with other modern platforms to provide a seamless staff experience.
Furthermore, given the high number of customers and technical requests, it was imperative that the chosen solution was efficient and easy to use. The IT helpdesk, known as Digital and Campus Services (DCS), needed a solution that could quickly and easily support end-user devices, requiring quick remote access and monitoring.
Sachi Bandaranayake, software fleet manager at Edith Cowan University, said, "TeamViewer Tensor was the perfect fit for our needs as it integrates well with modern platforms like Microsoft Azure AD and Intune. We can authenticate and securely connect to university devices even when they were not on-premises, which was a major requirement for us."
Solution
To address its needs, ECU chose TeamViewer Tensor, an enterprise remote connectivity platform. The solution provides instant remote support for end users across diverse devices and platforms anywhere, anytime. Selecting TeamViewer Tensor was an easy decision due to the university's previous positive experience with TeamViewer, which had been used by central IT. This positive experience, combined with TeamViewer's market leader status in the remote access sector, prompted ECU to transition to TeamViewer Tensor for a more modern device management approach.
The implementation process of TeamViewer Tensor was quick and efficient. A pilot was run to ensure the solution would be successful, and the results were positive. The process, from agreement to configuration and implementation, took less than two months, with the team finding that quick implementation was crucial for their needs.
Results
Since implementing TeamViewer Tensor, ECU's remote support process has undergone a significant transformation. The solution is a perfect fit for ECU's needs, enabling the university to move swiftly away from on-premises infrastructure, enhancing organisational agility and streamlining IT helpdesk processes.
With the successful integration of TeamViewer Tensor with Microsoft Azure AD and Intune, the university is now able to securely connect and provide support to its remote end-users. This has led to a significant increase in productivity and an improved experience for students and staff.
TeamViewer Tensor is now primarily used by the IT team for the remote monitoring of off-premises devices and to assist end-users in resolving IT-related issues. On managed devices, IT administrators can control and secure the device, elevating their accounts to provide support with proper permission set up through MS Azure AD accounts.
Sachi Bandaranayake said, "The convenience of not relying on any on-premises infrastructure, with the solution supporting cloud and remote, makes TeamViewer a perfect fit for us. We were able to quickly move into a product that could support our devices that were using Intune.
"The integration with Azure AD has made it possible for us to securely connect and provide support to our end-users. With the successful implementation and positive results, ECU is now well positioned to continue providing leading education and support to its students and staff."