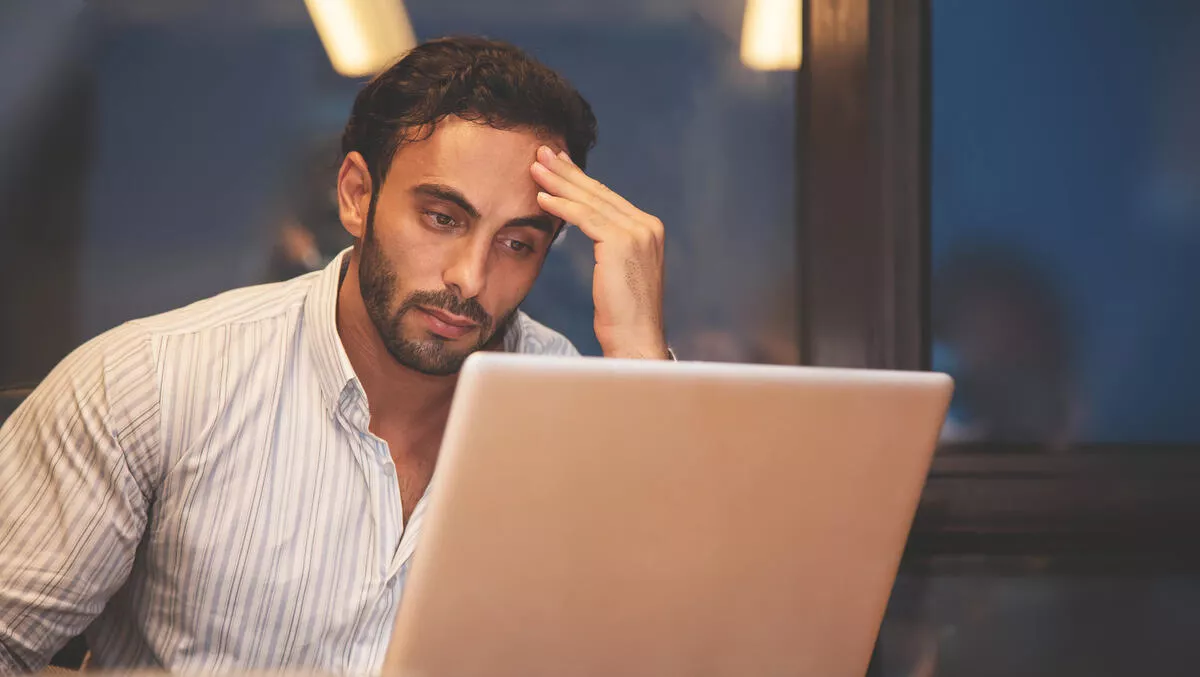 Employee stress leads to greater cyber risk for Australian companies
FYI, this story is more than a year old
More than half (55%) of Australian employees feel their stress levels are impacting their ability to focus on their job, and are undertaking risky behaviours that expose organisations to cyber threats.
This is according to new research from Forcepoint, that investigated how the shift to working from home has impacted people's behaviours and attitudes.
Investigating different attitudes and behaviours based on age
When considering different generations, the research finds that while both older (aged 55+) and younger employees report similar levels of organisational support - whether that's additional training, the right equipment to do their job or feeling valued at work - their emotional experiences and their use of technology is very different.
In fact, three quarters (76%) of younger employees say they feel stressed by competing demands from their personal and professional lives, compared to 48% of older workers, and 73% stated they feel the pressure to be available outside of normal working hours, compared to just over half (56%) of older workers.
Furthermore, seven in ten (70%) younger employees also reported that they feel at risk of burnout, compared to 43% of older employees.
Younger employees also revealed significant stress and anxieties about their job security compared to other age groups, with 67% stating they are worried about their job performance and ability to do their job well. Finally, half (50%) of younger workers say they struggle to understand their professional goals.
When it comes to the impact of this stress, Forcepoint questioned Australian employees on their behaviour while working from home.
A third (33%) of younger people reported making more mistakes when working from home - a number that rises to almost four in ten (38%) people who haven't worked remotely prior to COVID-19.
Additionally, half of younger workers stated that distractions whilst working from home negatively impact decision making.
These risky behaviours also extend to technology use. 41% of younger workers said they used 'shadow IT', that is, non-company approved IT systems, devices, software, applications, and services, as it allows them to perform certain tasks more easily.
More than one in five (22%) also said they allowed members of their household to use their corporate devices, compared to just 7% of older workers.
Forcepoint principal research scientist Dr Margaret Cunningham, commented on the results: "Throughout the study we consistently found younger workers were the most negatively impacted by work-from-home mandates.
"They reported higher stress levels and greater uncertainty regarding their job security, and also felt increased pressured by time or work commitments.
"Ultimately younger workers also reported higher rates of risky behaviours so that they could get their jobs done, which exposes organisations to increased cybersecurity risks.
Considering the greater demand on caregivers
The report finds that caregivers are also feeling the pressure of working from home. The research reveals 67% of caregivers feel stressed out by competing demands from personal and professional life, with the same number (67%) stating they feel the pressure to be available outside of normal working hours.
Half of caregivers said they find it difficult to make day-to-day professional decisions while working from home, and 57% are also worried about their ability to do their job well, the study shows.
When it comes to the impact of lockdown on caregivers, the study reveals an increase in risky behaviours.
Almost half (45%) of caregivers said that distractions impact their decision making whilst working from home, and 39% stated they needed shadow IT to get their job done. 22% of caregivers have allowed members of their household to access corporate devices, compared with 8% of non-caregivers.
The impact of state-based lockdowns
The research also looked into the impact of the state-based lockdowns. According to Forcepoint, while Queenslanders have been feeling the stress of the past 18 months, workers from the sunshine state have coped better than their NSW and Victorian counterparts, who have experienced stricter lockdowns.
The study shows that 58% of Queenslanders report feeling stressed out by competing demands from their personal and professional lives, compared with 64% of NSW workers and 68% of people in Victoria.
Similarly, 42% of Queensland workers say they have difficulty separating their personal and professional lives (vs 60% in NSW and 57% in Victoria), and more than half (55%) feel more pressure to be available outside of normal working hours, compared with 72% of workers in NSW and 67% in Victoria.
These comparatively low stress levels are reflected in Queensland workers' confidence in their ability to effectively work from home - only 17% of Queenslanders say they tend to make more mistakes when working from home, compared with 28% of NSW and 26% of Victorian workers.
However, the three states are almost on par when it comes to shadow IT use - 32% of Queensland workers, 34% of NSW workers and 35% of Victorians say they need shadow IT to get their job done.
Commentary from the experts
Forcepoint senior director of strategic business APAC, Nick Savvides, says, "We know that Australian workers, and younger workers especially, are feeling less connected to their employers and less sure about their future job security than ever. The questions employers need to ask are: are these stressors making my employees more likely to take risks? And how can I mitigate that behaviour?
"The instinct might be to increase security - but actually, constraining the way that people work in an attempt to protect every single last piece of data will actually make things worse, because staff are going to feel less able to do a good job.
"Instead, by ensuring staff have to tools and support they need to operate effectively, employers can turn their workforce into a strong barrier against unnecessary data breaches.
Dr. Cunningham says, "The past 18 months have been stressful for everyone, and while many employers supported employees with enhanced technology and connectivity, other more human factors must not be overlooked.
"Interruptions, distractions, and split attention can be physically and emotionally draining, which makes reports of risky technology unsurprising. Choosing the path of least resistance, such as using the unsupported or unsecured technology, can be linked to factors such as decision fatigue and motivated reasoning."
Cunningham concludes, "Companies and business leaders need to take into account the unique psychological and physical situation of their home workers when it comes to effective IT protection.
"They need to make their employees feel comfortable in their home offices, raise their awareness of IT security and also model positive behaviours. Knowing the rules, both written and implied, and then designing behaviour-centric metrics surrounding the rules can help us mitigate the negative impact of these risky behaviours.