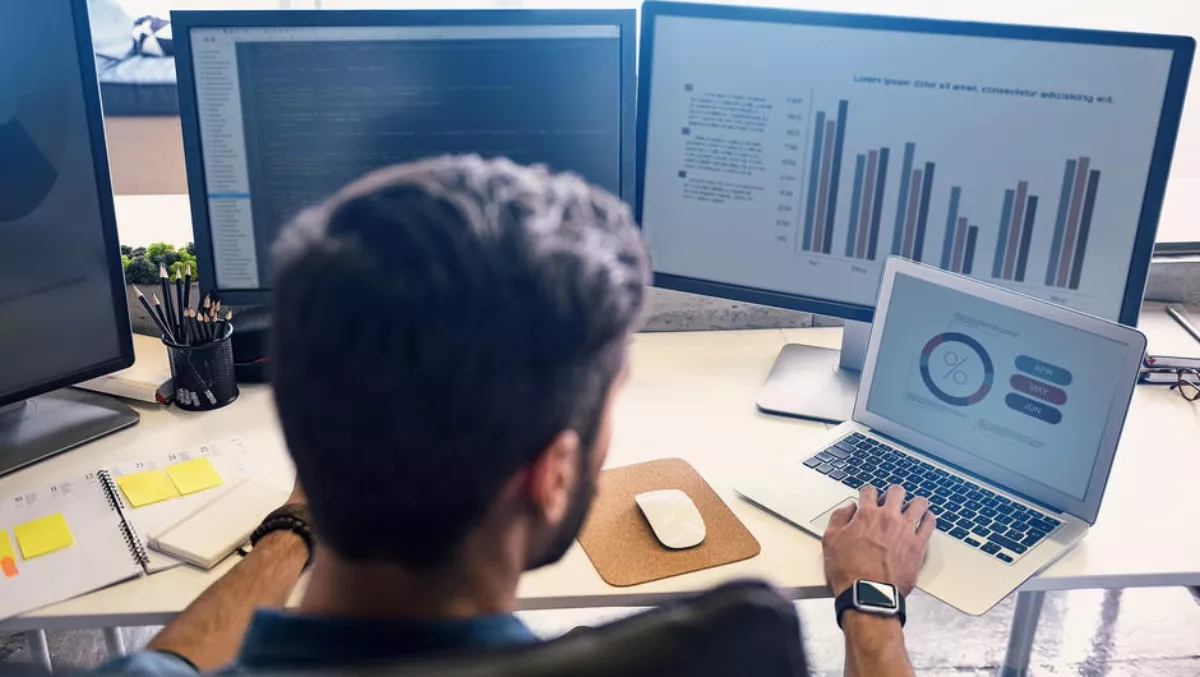 Enhancing business intelligence with application intelligence
FYI, this story is more than a year old
Article written by AppDynamics regional vice president for A/NZ, Simon Horrocks According to research from Gartner, APAC businesses are more mature than other regions in their approach to data analytics, with 48% of organisations in APAC reporting their data and analytics maturity to be in the top two levels of Gartner's maturity model.
As businesses and technology become more complex, it is increasingly important to keep track of vital data and extract insights to improve both the business and the customer experience. As part of this shift, business intelligence software is considered an important strategic investment to make sense of the vast amounts of data now available, and can be used to gauge progress against key performance indicators and other business metrics relevant to the health of the organisation.
Where previously businesses relied on spreadsheets and accounting processes, Business Intelligence (BI) platforms should provide real-time insights to facilitate informed decisions.
However, it's not always so simple. Typically, users report they experience a combination of great insights alongside extreme frustration with their software and the time it takes to extract useable insights to inform business decisions.
But times are changing. Amongst many things in the industry, tech-driven intelligence is ripe for disruption. Business Intelligence must be paired with Application Intelligence to drive genuine business impact.
A short history of Business Intelligence
Previously (although still true in some cases), BI involved a slow, cumbersome process. Data would take days for an IT department to gather, share with a business analyst, and eventually return to the original user who made the request. By the time they received the insights, it was outdated. Spotting a need for more user-friendly visualisation of data, companies like Tableau and Qlik developed platforms that enabled business analysts to use dashboards and more flexible ways to gain insights. However, at this stage, BI processes were still relying on structured data, as data warehouses were unable to capture unstructured data. The step that followed was crucial. Internet search companies, such as Google, built Hadoop-like technologies to capture and analyse large amounts of unstructured data. Increasingly, the open-source technology, Hadoop, was popular for storing huge volumes of unstructured data, which eventually came to be stored in Hadoop's own file system, HDFS.
And that brings us close to where we are today, where many companies use Hadoop to store large quantities of unstructured data, and combine text data analytics with structured data analytics from data warehouses. They then use applications such as Tableau to analyse the amalgamation of data.
A shortfall in intelligence
Today's businesses increasingly run on software. It has been several years since software-based global giants toppled their more traditional rivals. Looking back at 2006, Blockbuster was valued at US$500m, Uber had yet to be created, and Yahoo! offered $1bn to buy Facebook.
Jump forward just over a decade, and Blockbuster is bankrupt, engulfed by Netflix, and Facebook is valued at upwards of $400bn.
As business success is more reliant on the strength and reliability of their software, businesses need to find ways to gather deeper and quicker insights into their software operations to deliver great user experiences. Traditional BI tools simply won't cut it.
Moreover, the software itself is becoming increasingly complex. We are now seeing businesses go through multiple releases each year, embracing DevOps cultures which speed up the pace of development and provide greater flexibility, in some cases resulting in multiple application updates each day.
A more complete view through Application Intelligence
A good way to understand the limitations of BI tools, is to take the example of an eCommerce website. A customer journey isn't simply a question of selecting a product and buying it. Often, customers will browse, consider a variety of options, and read customer reviews. Even when you've found your item, it's possible you'll continue browsing.
In the case of a classic BI tool, the only data captured will be the purchase. But what else could the retail company be learning?
Application Intelligence tools enable businesses to learn not just about the transaction history, but also about customer interests, and ways to improve the user experience of the application or website. The right platform should be able to show real-time information about each and every interaction flowing through the software system.
In today's digital world, customers are becoming increasingly intolerant to brand experiences that don't align with their needs or expectations, with only a few seconds of app or website downtime having a severe impact on business revenues, reputation, and customer satisfaction.
The businesses that recognise the correlation between exceptional customer experience and their bottom line will be the ones that break ahead of the competition. Not only must they ensure that their applications are performing seamlessly, but that the massive amount of data being generated by their applications is being collected, monitored and analysed in a way that will continuously optimise business decisions and deliver superb experiences for the customer.
Related stories
Top stories