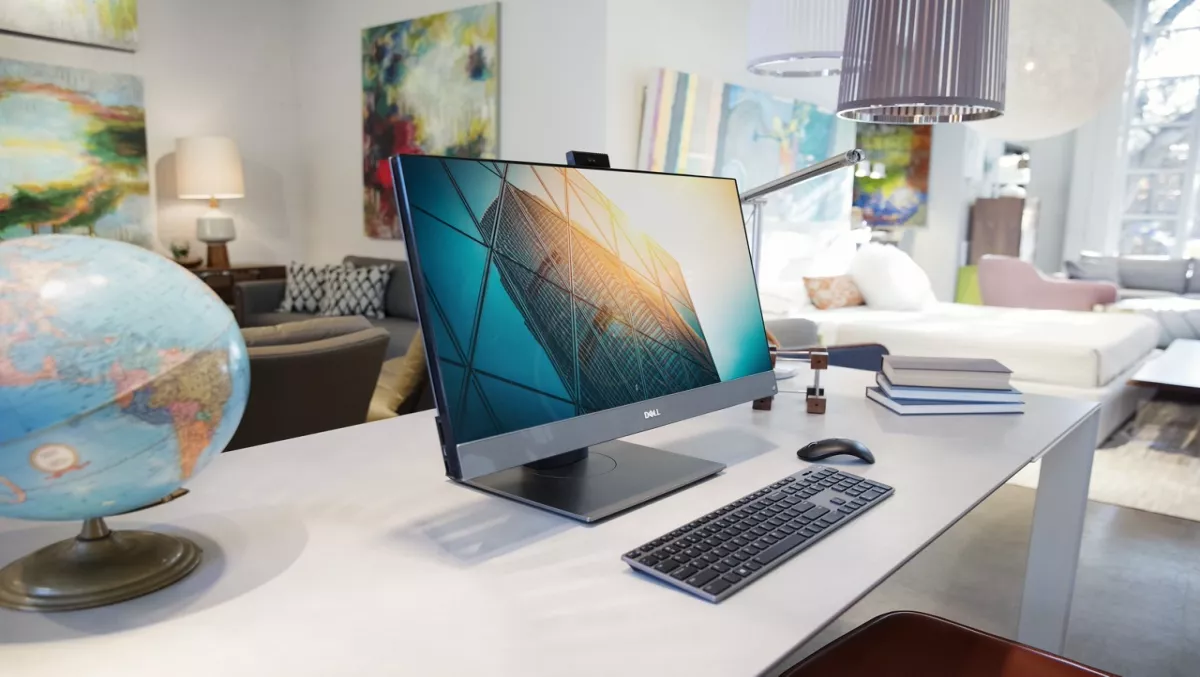 Everything you need to know about Dell's new commercial PC portfolio
FYI, this story is more than a year old
Work is no longer simply a place people go. It's an activity.
That's the word from Dell's president of client product group, Jay Parker, who just announced new updates to the company's commercial PC portfolio designed to support and secure the modern workforce.
Parker says smart companies that want to attract and keep the best talent have embraced the evolving needs and expectations of their employees.
According to Parker, these companies are working with Dell to build technology strategies focused on giving staff the "power and flexibility to get their jobs done, whenever and wherever it best fits their lifestyle."
Security plays a big role in empowering a modern workforce, Dell explains, stating: " The modern security era is being defined by the need to secure data."
Dell claims its commercial PC solutions can secure data at rest and also in flight - wherever it goes.
Dell Data Guardian
An example of this is Dell Data Guardian, which now includes added support for an organisation's existing data classification structures, delivering enforcement and controls beyond a company's network.
According to Dell, it also protects many file types, including in-house, proprietary applications, in addition to standard Office and commonly-used file types like PDF.
Organisations can set access permissions inside or outside IT ecosystems, adding on-screen watermarks and enabling controls that extend to file usage and sharing.
Dell Encryption
Dell Encryption is a data-at-rest solution that aims to ensure data security across mixed environments. This one is especially for organisations maintaining heterogeneous IT environments made of several bands, operating systems, and generations of PCs.
Dell Encryption also includes enhanced support for the U.S. NSA's Commercial Solutions for Classified (CSfC) Program, which mandates the need for two layers of encryption to address emerging threats posed by quantum computing that can theoretically circumvent traditional AES 256 cryptography.
Dell Latitude
The chassis of the Dell Latitude 5491 and 5591 have shrunk their footprint size 30% over the last three generations, announced Dell.
Latitude 5491
The laptops are equipped with 8th Gen Intel Core (i5/i7) vPro processors (H-series), 2666MHz memory up to 32GB, NVIDIA graphics, optional Thunderbolt 3 and a range of storage options from hard drives to PCIe solid state storage.
Latitude models also offer businesses the option to leverage a contacted FIPS 201 Smart Card Reader and a contactless smart card reader with Control Vault 2 FIPS 140-2 Level 3 certification.
They also include Intel Authenticate, a multi-factor authentication solution that verifies identities in hardware. The laptops now includes support for facial recognition with Windows 10.
For those running Windows 10, Dell now integrates with VMware Workspace ONE and Dell Client Command Suite for cloud management of Dell Commercial Client (BIOS) firmware, Dell drivers, Windows OS and applications from the VMware Workspace ONE cloud console.
Dell OptiPlex
Dell has introduced a new family of OptiPlex All-in-Ones (AIO), a Dell desktop, which feature: up to 8th Gen Intel Core vPro processors, up to 32GB of DDR4 memory and optional Intel Optane memory.
A new pop-up cam with full HD or infrared camera improves video collaboration and enables Windows Hello sign-on support and video calls.
The new lineup includes:
OptiPlex 7760 AIO - a 27-inch InfinityEdgem optional glare-free 4K Ultra HD with HDR and High-Gamut sRGB or Full HD IPS, quad mic array with Waves Maxx technology.
OptiPlex 7460 AIO - a 23.8-inch InfinityEdge display, overall smaller footprint, a screen with edge-to-edge Full HD IPS display technology and numerous port options.
OptiPlex 5260 AIO - a 21.5-inch display with optional 10-point multi-touch display.
OptiPlex 7760 AIO
Additionally, Dell is releasing new OptiPlex Tower, Small Form Factor and Micro desktops with 8th Gen Intel Core processors and up to 64GB of DDR4 memory.
The OptiPlex XE3, available in Tower and Small Form Factor, is an industrial-grade desktop offering OEM ready design.
Durable, it's resistant to shock and vibration and can operate at temperatures of 0c – 45c° (113F°).
The OptiPlex 7060 and 5060 Tower, Small Form Factor and Micro desktops offer SSD and hard drive options, AMD or NVIDIA graphics, and can power up to three monitors simultaneously.
The OptiPlex 3060, available in Tower, Small Form Factor and Micro, comes with up to 32GB DDR4 memory.
OptiPlex 3060 small form factor
P-Series monitors
Dell has also unveiled new P-series monitors, equipped with USB-C options, improved cable management, a thin panel profile and smaller base.
The Easy Arrange feature in Dell Display Manager helps users to multitask on several applications at once. Users can boost productivity with the new Dell Dual Monitor Stand (MDS19) that fits up to two 27-inch monitors in a small footprint.
Availability
Dell Latitude 5491 and 5591 will be available globally from May 18
OptiPlex 7460, 7760 and 5260 All-In-Ones will be available globally on May 22
OptiPlex 3060, 5060 and 7060 Towers, Small Form Factors and Micros will be available globally on May 22
OptiPlex XE3 Towers and Small Form Factors will be available globally on May 22
Dell Precision 3530, 5530, 7530, 7730 are available on May 22
P-Series monitors will be available globally on June 25 starting and USB-C versions will be available globally on July 23, and Dell Dual Monitor Stand (MDS19) will be available globally on June 19.
Related stories
Top stories