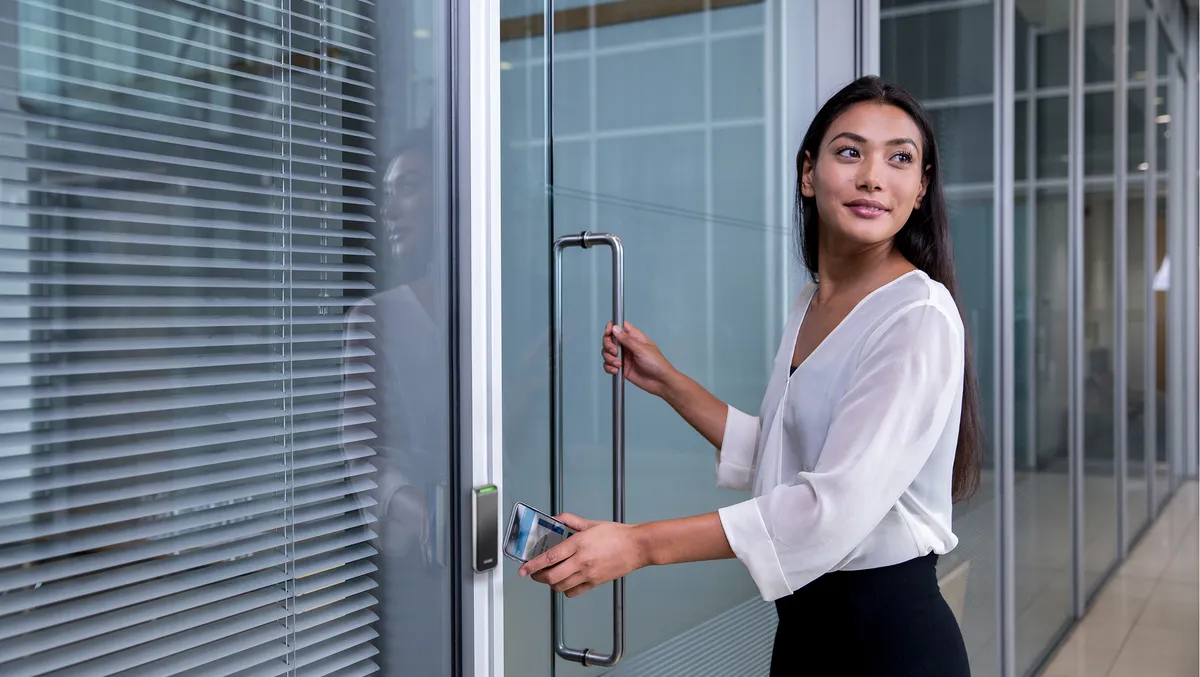 Exclusive: HID offers cutting-edge access management
FYI, this story is more than a year old
HID powers the hardware and software solutions that help businesses, schools and governments in over 100 countries secure access and allow insight into their people, places and things. People use HID technology to open doors, enter countries, access digital networks, verify transactions and track assets, with the company offering easy-to-manage solutions like smart cards, mobile IDs, passports and even fingerprint readers and facial recognition.
Headquartered in Austin, Texas, HID has been operating for more than 30 years and has over 4,500 employees worldwide, with international offices that support more than 100 countries.
There are approximately 1,250 employees in the APAC region, and as the company looks to grow its business, there will be a need for more talented people to join it.
Most people recognise HID for its cards and readers that are used every day to enter rooms and buildings. More recently, HID Mobile Access has become the company's best-recognised product for access control as it uses Seos as its underlying credential technology to significantly increase convenience, boost efficiency and maximise security for companies opting for mobile access solutions. HID Mobile Access was also recently recognised as Product of the Year at the 2022 Australian Security Industry Awards.
As an extension to its Mobile Access solutions offering, the company has worked successfully with Apple, as well as partners and customers, to deliver intuitive, private and secure access solutions for employees and tenants through employee badges in Apple Wallet. This solution on both the Seos credential technology and built-in security features of Apple devices enables administrators to manage access to buildings efficiently and effectively with confidence. HID supports the credential in Apple Wallet with its latest NFC-enabled HID Signo Reader.
This is a testament to the company's continuous commitment to meeting or exceeding new and evolving customers' requirements around user experience and security standards.
In addition, HID works with customers from a variety of industries, and although each industry has its unique challenges, a common challenge for all customers is safeguarding their physical and digital environments. Customers need solutions that can provide trusted access for the right people at the right times with the highest level of security for facilities, assets, networks and resources. This is particularly important in today's hybrid working environment, where there is an increased requirement for safe and secure mobile access.
These observations are reflected in the findings of the 2022 State of Physical Access Control Report, which found that the top challenges facing organisations revolve around security and convenience, with 40% of respondents citing "protecting against the threat of security vulnerabilities" as a top challenge. As the threat landscape continues to evolve, how to best secure digital and physical environments is a challenge HID's customers continue to face.
There are a number of market trends that are shaping the future of access control. Currently, physical access control systems (PACS) are a business asset that must work harder than ever to deliver the access data required by an organisation. Today's PACS need to be flexible and efficient to meet new and evolving requirements.
Mobile access is a key feature in high demand, with 41% of respondents citing that mobile access would be one of the top three features required in a new access control system. Another 51% believed it would be one of the top three trends shaping the industry going forward. Other key trends include the importance of interoperability and open standards, as well as contactless solutions and sustainability. These industry trends and considerations are contributing to customers' adoption of HID's technologies.
"Everyday millions of people use our products and services to securely access physical and digital places. We make it possible for people to transact safely, work productively and travel freely," says Steve Katanas, Regional Head, Mature Markets, ANZ, Physical Access Control Solution, HID.
"Our trusted identity solutions give people convenient access to physical and digital places and connect things that can be identified, verified, and tracked digitally.
Our newest and most technically advanced products continue to support technologies that improve user experience. Backward compatibility is important to help our existing customers and partners transition to the latest and more secure solutions. The user experience is front of mind for HID."
The COVID-19 pandemic has necessitated the need for contactless access and introduced a new sense of awareness of how people interact with one another and objects. As a result of the pandemic, mobile access solutions show high adoption for touchless/contactless solutions.
The pandemic and its consequent impact have led to significant changes in fundamental organisational practices. Millions of people around the world suddenly switched to remote working, and as a result, the changing requirements of access control systems for security, facilities, and IT teams simultaneously shifted faster than ever before. Today, many of these working practices remain, creating a new, hybrid way of working.
This approach to hybrid and remote working has exacerbated some already existing challenges in the access control market and driven companies to adopt new technologies sooner than they may have done otherwise.
The demand for contactless access control solutions will continue to increase over time as people return to the workplace with higher safety expectations.
Coupled with this, in many cases, employees are using whatever facilities are closest to them, including meeting rooms and other facilities. Disparate solutions often govern access to these, and access control methods do not necessarily work smoothly. Using HID Mobile Access makes it possible to bring all systems under one governing solution without needing to upgrade the entire system at once.
In that sense, a customer might equip certain staff with HID's mobile access control solution for modern, smooth access, but employees with an older proxy card can still access the same premises.
"We are on a path to have a strong and successful 2022, despite market challenges. This is driven with longer term transformation to accelerate strategic supply chain planning, sourcing, and purchasing," Katanas adds.