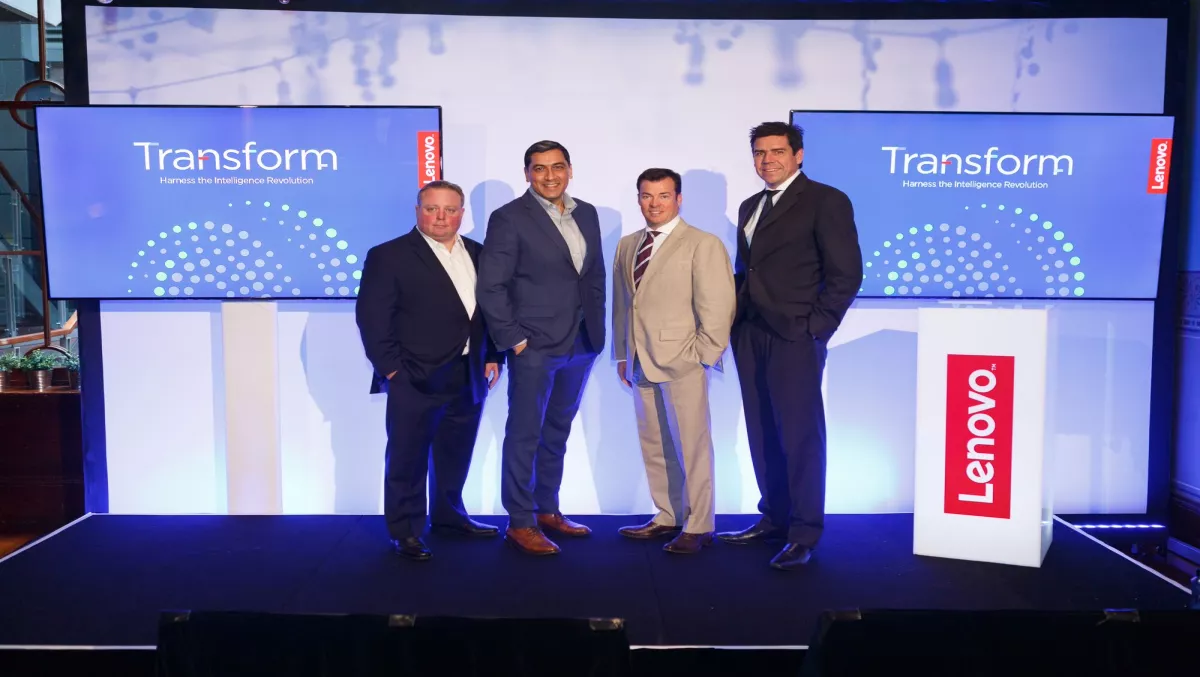 Exclusive interview: How Lenovo is keeping up in a competitive cloud marketplace
FYI, this story is more than a year old
Lenovo has definitely gone through some changes over the past year, essentially restructuring its business in order to realign itself for the digital transformation and data center markets.
Although the company now believes it is now more efficient than ever and is well poised to take advantage a complex and fluid marketplace.
We sat down with Rob Makin, Lenovo Data Center Group director for A/NZ to find out how Lenovo's business model has changed, how their offerings are unique and where the growth areas are looking forward.
How has Lenovo altered its business operations over the last year, what are some recent changes?
In terms of recent changes, the first transform that we did in New York at the beginning of June was significant in that we announced our Data Center Group (DCG). Although a couple of other things happened with that as well, as both the structure of the data center group and our strategic direction on that, as well as a couple of new brands were announced.
Probably one of the biggest ones was the System x brand that we acquired from IBM has now morphed into two brands, the ThinkSystem brand and the ThinkAgile brand.
The difference between these two brands is ThinkSystem is our traditional 3 tier architecture - so that's server, storage, networking - and ThinkAgile is our engineered appliances. These include our partnerships with the likes of Nutanix, DataCore, Nexenta, Cloudian and Microsoft in the software-defined space and Azure stack.
We also talked about the strategic direction of the data center group, and we're focusing on 5 key areas. The first two are infrastructure and software-defined appliances, which are represented by ThinkSystem and ThinkAgile.
Third, we have a particular focus on High-Performance Computing (HPC), as we're the fastest growing HPC vendor, which also incorporates artificial intelligence, which is definitely a growing market. The fourth area is underpinned by our services space and the fifth incorporates our strategic alliances, such as with SAP hana and our other alliances in that space.
So that's the structure of the business and it kind of transforms all the way down into the A/NZ region. In the A/NZ business we've scaled the DCG business up to over 60 people now, and that allows us to address the local market more accurately. These people represent sales, channel, technical sales, subject matter experts and marketing, so this allows us to address the disruptive market that is the data center world now.
How do you see Lenovo's data center offerings as unique solutions that will effectively puncture the competitive market?
If you compare us to our core competitors and look at areas of growth in the market, including the cloud space, HPC and traditional architecture, the fastest growing area by far is the hybrid cloud.
We're addressing that with our ThinkAgile product range, which is a differentiator because we believe the journey to the fully software-defined data center is happening, and businesses have to make this journey in order to keep up with digital business demands.
We think we're best positioned to help organisations do that because - unlike our competitors - we don't have a large legacy 3-tier business, we don't have large SAN or networking businesses.
So we can move faster because we don't have the restrictions from our shareholders or venture capitalists in order to maintain these high margins of legacy equipment. We can invest in our solutions and we've got over 40 new industry benchmarks across these appliances, which is showing that this is not just putting software on an industry standard server.
Customers are only going to keep up with new business demands is if they look at software-defined approaches, whether it be fully hyper-converged, or software-defined storage all the way through to a complete software-defined data-centre.
We're getting some fantastic traction across A/NZ with all four our partners including Nutanix, DataCore, Cloudian or Nextenta, and as business adopt these technologies they can scale more quickly with better manageability.
What range of clients are you targeting with these solutions?
We have a portfolio that addresses from SMB all the way up to high-end enterprise, so everything from one of the big four banks to large government agencies. I can't divulge information or names just yet but we've just put our ThinkAgile brand products into two of the largest Queensland government agencies, which replaced traditional 3-tier architecture and also a very large NSW government agency as well.
In terms of the corporate sector, we're very proud to have some of the largest retailers running our Hana platform. These corporate customers include companies such as Harvey Norman and Villiage Roadshow, but it really quite a broad segment that we are targeting. From an SMB point of view, our Nutanix HX range and HX express range drives a hyper-converged node at a price point that allows SMBs to adopt this technology.
Our routes to market are quite different with these sectors. We have a direct touch within the corporate and public sector and obviously, we leverage our channel, and we're investing in our value partners, so that they're trained and enabled in helping us to build the market.
Is hybrid cloud the biggest growth area? Do adoption of hybrid cloud solutions far outweigh other areas?
Well, I can only reference the analysts, so if you look at the proportional amount of growth there are really two areas, public cloud and hybrid cloud, which will grow at a similar level over the next 4 years.
In terms of the A/NZ market, in particular, there are only so many workloads that will go to a public cloud, as there are still concerns about data integrity in that space. We're yet to see any mass adoption of enterprise application workloads in a public cloud environment, and you really have to break it down to a workload level.
Things that run well in public cloud are typically native applications that are designed, built and developed in the cloud. So it's a question of whether organisations really should be hosting their eCommerce or content management systems on-premise, and you can absolutely do that, but there is definitely a lot of caution taken in that regard.
How significant will the Software-Defined infrastructure market be going forward?
IDC predicts it will be about 25% of the infrastructure market, but it is difficult to define. If you look at hyper-converged growth, it's typically looking at the compute market, so the server to hyper-converged market. However, if you look at what hyper-converged does, it includes storage, and you haven't even included the next iteration of software-defined networking.
So it's an interesting space, but we're seeing strong triple-digit quarterly growth numbers out of our software-defined space. That's a real testament when you consider that there are organisations that would have had a lot of legacy 3-tier architecture, and organisations such as large government agencies don't move to software-defined without a compelling reason. This isn't the trendy sort of test-dev app developments, this is core workloads.
Related stories
Top stories