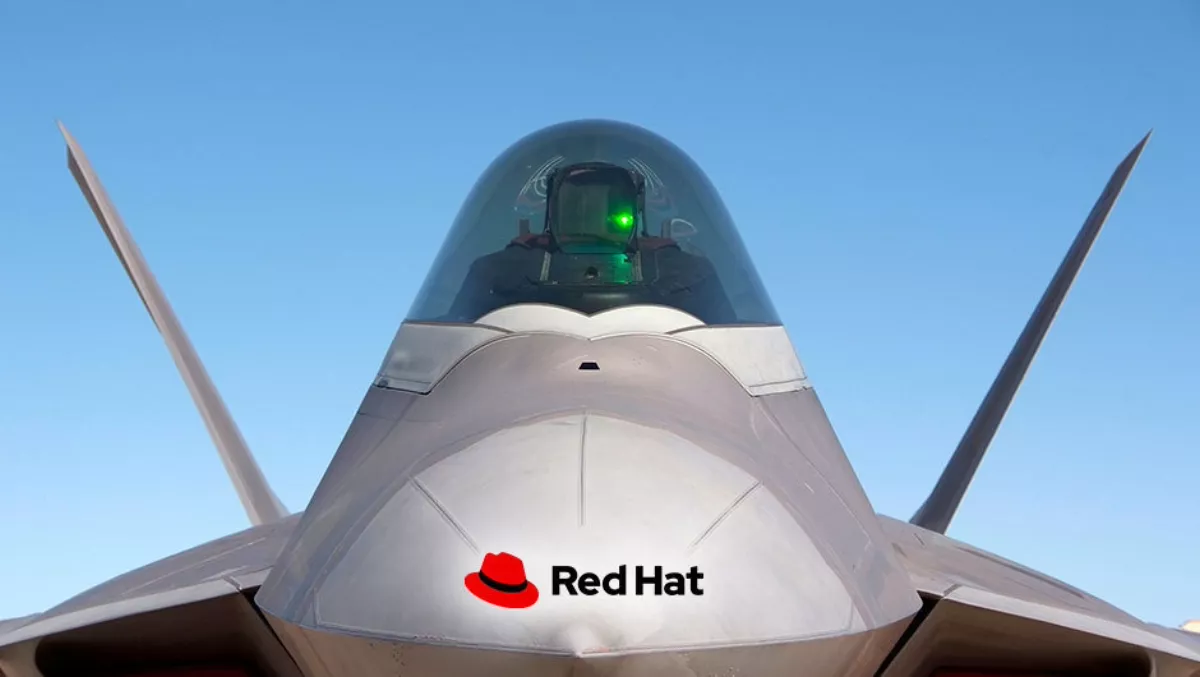 F-22 Raptor fighter jet project turns to Red Hat
FYI, this story is more than a year old
Lockheed Martin is a leading global defence and aviation manufacturer. They in 2005 started service of the F-22 Raptor fighter jet, which began replacing the F-15 Eagle and F-16 Fighting Falcon planes.
In total, the programme has cost over USD $67 billion with each aircraft costing upwards of $150 million.
The traditional waterfall development process was not getting critical capabilities to the warfighter fast enough. It previously took five to seven years to identify requirements and release new capabilities for the existing architecture, initially built in the early 1990s. That time-consuming process, along with code quality and integration issues, led to onerous rework and customisation, resulting in a platform that no longer met Lockheed Martin's expectations for software-led innovation.
To speed up delivery of the new software-defined capabilities of the F-22 Raptor, Lockheed Martin has partnered with Red Hat.
Red Hat is a global leader in open source software. It's most well known for its enterprise Linux operating system, although in recent years it has expanded its enterprise software offering.
Red Hat operates an Open Innovation Lab which has been instrumental in the F-22 Raptor project.
More specifically the F-22 software development scrum teams have adopted Red Hat's OpenShift Container Platform. They believe it has helped them improve their ability to forecast for future sprints by 40% and put them on track to deliver new communications capabilities three years ahead of schedule.
Following a discovery session and architectural review, Red Hat stood up an environment based on Red Hat OpenShift Container Platform, the company's trusted enterprise Kubernetes platform. OpenShift is optimised for developer productivity and frictionless innovation while helping customers address the IT challenges of security, operations management, and the integration of applications and container management. OpenShift is
powered by the trusted foundation of Red Hat Enterprise Linux, one of the industry's most certified operating systems and the first with support for Linux container technology to receive the Common Criteria certification, making the platform well-suited to meet the high standards for security set by Lockheed Martin and its customers.
"Lockheed Martin developed one of the fastest fighter jets in the world and needed a development process to match that speed. Through its work with Red Hat Open Innovation Labs, Lockheed Martin has been able to integrate DevOps practices like domain-driven design and lean thinking into their environments. Now, reduced planning times are allowing for faster release cycles that can deliver significant benefits to the U.S. Air Force." says Paul Smith, senior vice president and general manager, Public Sector, Red Hat
"When you have a world-renowned platform like the F-22 Raptor, adversaries are constantly looking for ways to counter it. This means we must constantly add capabilities and improve the F-22. And we must do it faster than ever before. We needed to transform our own organisation and how we did things. By working with the Red Hat Open Innovation Labs team, we changed everything ‒ our toolchain, our process, and most importantly, our culture. With our new culture firmly rooted in DevSecOps and agile, and a more flexible platform based on Red Hat OpenShift Container Platform, the F-22 team will continue its work to ensure the Raptor meets America's defence needs." says Michael Cawood, vice president, F-16/F-22 Product Development, Lockheed Martin