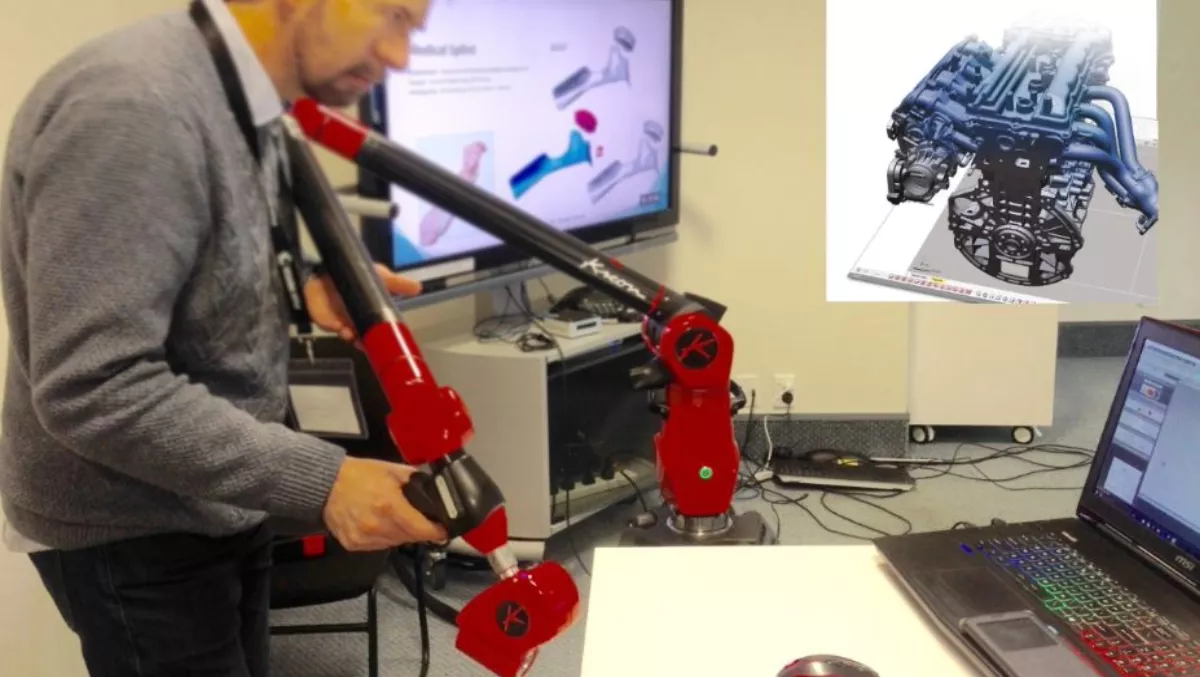 How to choose the best end-to-end solution for your 3D scanning projects
FYI, this story is more than a year old
Fuji Xerox New Zealand (NZ) is the authorised distributor of Kreon 3D Scanning technology and 3D Systems scanning software in New Zealand. The Kreon 3D scanning arm enables users to easily generate high-quality 3D images from physical objects (even those with shiny paint or metal surfaces) with incredible speed and precision to 22um (probed)and 42um (non-contact).
Professionals involved in the design, reverse engineering and inspection of parts and products use the Kreon Arm in conjunction with Geomagic Software. Components of the Geomagic software suite designed for reverse engineering, quality control and design are DesignX (DX) and ControlX (CX). These are part of a larger approach on behalf of 3D Systems to provide an end-to-end solution from the beginning of the product design cycle to the final product quality inspection before the product goes on to end use applications.
Geomagic DesignX – Reverse Engineering Software
Geomagic DesignX is the most comprehensive reverse engineering software that combines history-based CAD with 3D Scan data processing, allowing feature-based, editable solid models compatible with your existing CAD software. It is purpose built for converting 3D scan data into high-quality feature-based CAD models.
Its combination of mesh editing and point cloud processing, solid modelling, advanced surface modelling, allows you to scan virtually anything and create manufacturing-ready designs.
DesignX (DX) has a user interface layout much like most common CAD software. It uses familiar history-based modelling tools found in all major CAD programs. It is intuitive to use with helpful popup explanations of tools.
It has automated feature extraction for scan data allowing a combination of solid bodies and mesh-fit surfaces for rapid remodelling. There are quite a few examples online and expert help and support from the team at Fuji Xerox NZ.
You can equip your CAD department by adding 3D scanning and reverse engineering into your regular design process. DX has a great feature called LiveTransfer that outputs complete models with feature trees in most popular CAD software packages. There is even a direct plugin for SolidWorks.
DesignX allows designers to create products that cannot be made without reverse engineering. Customised part designs that require a customised fit with the human body, such as artificial limbs, personalised grips, etc. Create components that integrate perfectly with existing products. Recreate complex geometry that cannot be measured any other way.
Capture digital libraries of stock parts for use when needed without having to keep physical spares. DX has all the firepower you need to take on the most challenging projects.
Geomagic ControlX – Inspection Software
Geomagic ControlX (CX) is a comprehensive inspection automation platform for streamlining in-line and repetitive inspection processes that use 3D scanners and other portable metrology devices. With this feature-rich software platform, you can easily program CAD comparison, GD&T and go/no-go operations to be performed automatically on any type of part.
3D Systems realise that the market is shifting to Scan-Based and CAD-based inspection methods. With CX, you can create purpose-built inspection processes utilising CAD data that do exactly what you need. You can run on-screen guided inspection routines that allow different operators to follow the same procedure on every inspection.
The on-screen prompts logically guide the operator through each required measurement with live data results to ensure features are correctly measured. You can use a CAD file as your reference or if that is not available, you can use a scan of an actual part as a reference.
CX has a powerful, easy to use, visual scripting language and customisation capabilities that let you automate scan processes. This dramatically speeds up the processing of acquired data sets. For example, parts can come off an assembly line for quality inspection, clamped to a jig for inspection, then scanned and aligned, ready to probe with instant data results on-screen.
Then at the click of a button, an inspection report can be generated and exported. The report template is highly customisable to suit a company's requirements. Hours of manual inspection can be reduced to minutes with this technology solution.
You can rely on your inspection results. Geomagic ControlX has geometry calculation algorithms that have been tested by America's NIST, Britain's NPL and independently certified by Germany's PTB metrology authority as Class 1 accuracy. These approvals allow world leading manufacturers to trust ControlX to measure their parts every day.
Fuji Xerox NZ is showcasing their 3D scanning solutions at the EMEX conference in May. Watch their live product demonstration at 4048 stand.
Related stories
Top stories