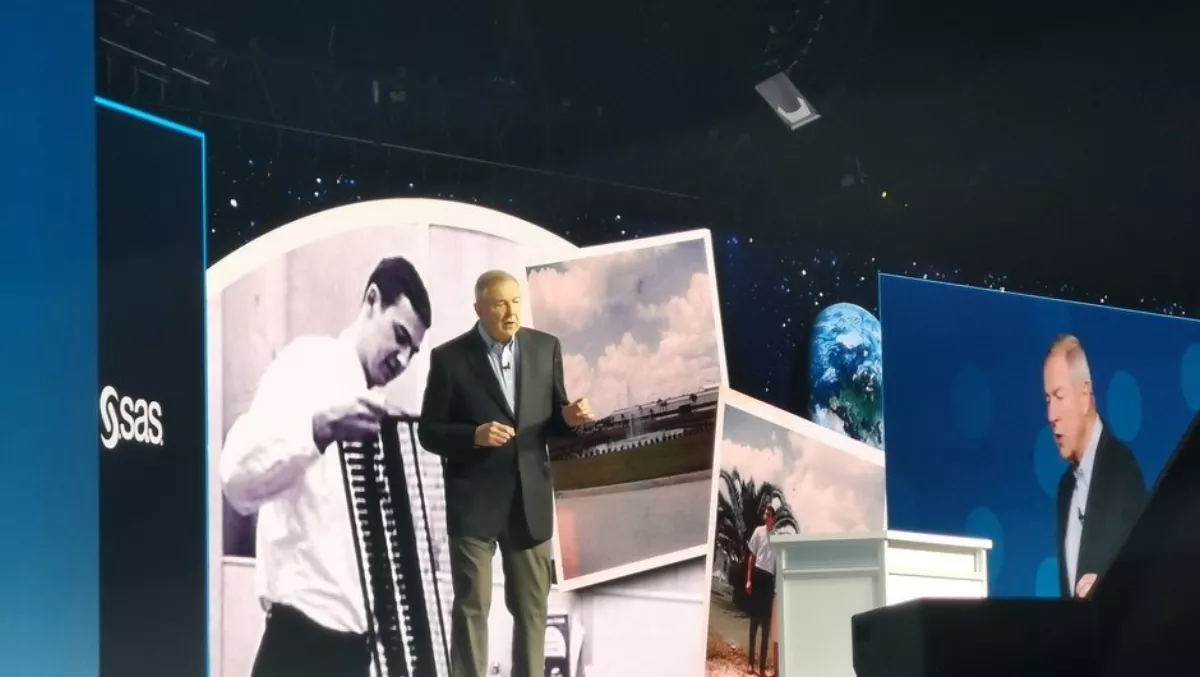 How SAS aims to deliver analytics everywhere, for everyone
Wed, 1st May 2019
FYI, this story is more than a year old
With all the hype around artificial intelligence (AI) and digital transformation, SAS is keeping it real. "Analytics in Action" is not only the theme of this year's SAS Global Forum but a promise.
At their analytics conference, SAS and its customers are sharing 'real-world' examples of the impact of advanced analytics, AI and machine learning, computer vision, natural language processing and more.
SAS also offers training to data scientists, business executives, and students and professors as they seek to transform a world of data into a world of intelligence.
SAS CEO Jim Goodnight says, "There's a renewed focus on data and analytics today, driven by increased computing power, a more connected world, and powerful technologies like AI and machine learning.
"Our challenge is to make use of all data to solve the biggest issues. SAS provides analytics for every kind of user that's open to all the technologies they have. And these powerful analytics that can help them anywhere, in any business, and scale to the size of any problem.
Many industries and types of users, one platform
At SAS Global Forum, SAS demonstrated how it is automating tasks like model building and deployment, so people can be more creative and strategic. And SAS will show how this automation applies across a variety of industries, such as financial services, health care and government.
The SAS Platform and the AI technologies built into it let everyone take part in analytics, from business users and executives to data scientists and statisticians.
The SAS Platform is also open to every tool in an organization's analytics environment, from a host of SAS solutions to open standards to open source software.
The SAS Platform provides a single place to manage and support every phase of an organization's analytics journey, from initial gathering and preparing of data, through development, management and enterprise deployment of powerful analytical models.
Now with SAS Intelligent Decisioning, organizations can develop next-best-action strategies by rapidly configuring, automating and deploying models in real time.
Extending the SAS Platform with Intelligent Decisioning helps companies continually learn from their data and deploy the highest-yielding models to achieve optimal business decisions. With SAS, companies can be confident that enterprise decisions are smarter, effective, personalized and timely.
Analytics everywhere
SAS supports organizations dealing with the challenge of digital transformation, as banking, education, shopping, money and computing change from physical assets into data.
With the SAS Platform, organizations across industries can drive digital-transformation strategies and optimize their operations, create a superior customer experience and power productivity.
Many organizations are struggling to leverage all their data through analytics. To meet this need, SAS has built model management and governance capabilities into the SAS Platform. Additionally, the SAS Platform can manage and govern models build in R and Python.
It creates a central repository where users can select the best model for their business need. The SAS Platform also provides IT and business oversight to ensure the models get deployed.
Analytics for everyone
Automating data-driven problems plays a key role in managing the challenges around digital transformation: data quality, lack of talent and operational support.
SAS helps banks automate customer services, from precision marketing to improved loan decisions to enhanced fraud detection. New analytic capabilities combined with natural language processing (NLP) explain how a model arrives at its decision, making that interpretable and explainable.
Different levels of automation from SAS in the data preparation and modelling process allow organizations to fit the analytics to the skills of the users.
For a data scientist, this means the ability to automate different steps of the analytics lifecycle, including data prep, feature engineering, modelling and deployment. For a business user, this means generating insights in an automated fashion, with just a few clicks.
SAS is also investing in educating the next generation and training the current workforce for a transformed, analytics economy.
This investment in education, in line with SAS' announced $1 billion investment in AI, includes new SAS Viya for Learners, free software that brings the latest AI software to students and professors.
And SAS offers pricing structures to fit every type of analytics customer, so they can start small and scale, applying advanced analytics to specific challenges or enterprise-wide efforts.