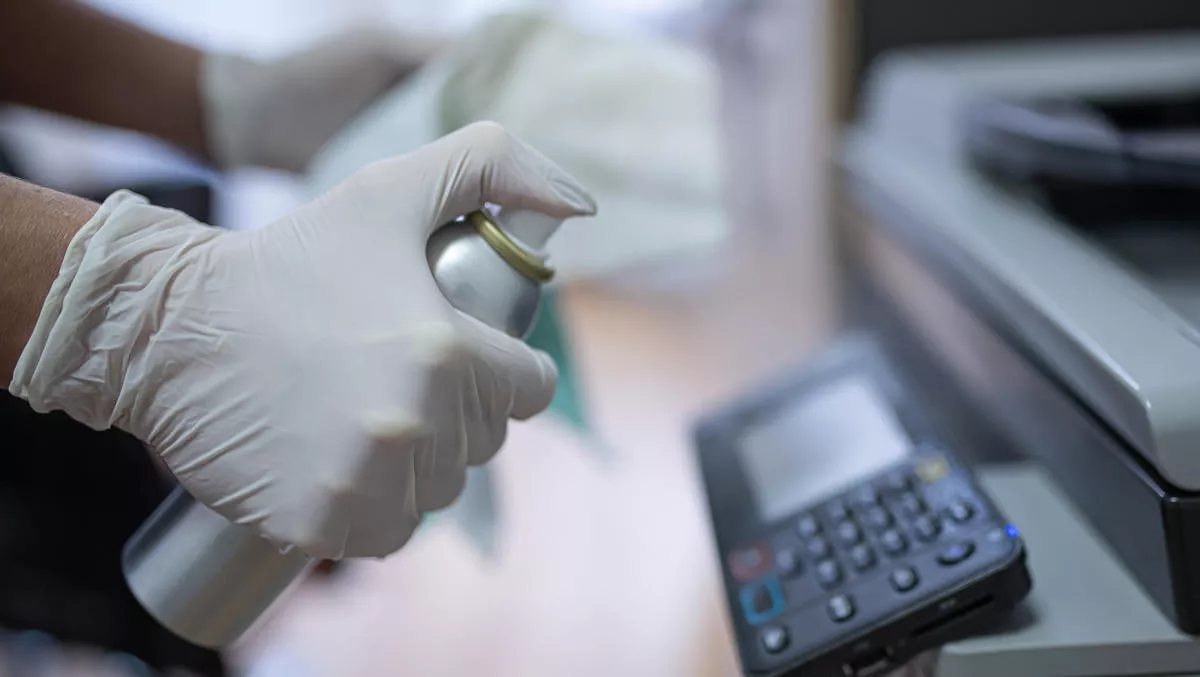 How to keep office equipment safe in the COVID-19 era
Tue, 24th Nov 2020
FYI, this story is more than a year old
The virus that causes COVID-19 can remain active for hours or even days on hard surfaces such as office printers, keypads, and other devices. This means that, as workers return to the office, business owners and managers must have a plan for minimising the risk of COVID-19 transmission via these devices.
Organisations are taking steps to manage their return to the office safely. Some businesses are taking a staged approach to bringing staff members back. Others are working in shifts to limit the number of people in the office, and still others are sticking with a remote model for most workers with people coming into the office when strictly necessary.
In addition to basic hygiene procedures like mandating the use of hand sanitiser and encouraging the use of masks, organisations can minimise the risk of cross-contamination and infection when employees are using shared devices. Multifunction devices (MFDs) remain an essential business tool, so keeping them clean as employees return to work is critical.
Remote access
If an employee is unknowingly infected with COVID-19 or the flu, for example, they can inadvertently leave traces of the virus on the keypad or other parts of the MFD.
To avoid this, businesses can use the remote access functionality of the MFD, controlling it via users' own tablets and smartphones. This means no one needs to touch the MFD physically but can still access all of its functions.
Personal stylus
Where remote access isn't available, employees could use their personal stylus to use the multifunction panel without ever touching it with their fingers. Any stylus can work for this, including those that work with other devices such as tablets.
Pull printing
Often, when people send documents to the printer, they can forget they've done so. This can result in printouts being left unclaimed on the printer for extended periods, which can compromise document security. Or, the person may resend the job, resulting in wastage due to duplicate printouts.
A pull-printing solution requires a user to authenticate the job by swiping their ID card or fob at the printer before the job will be released. This helps maintain security, reduce paper wastage, and avoid unnecessary physical interaction with the MFD.
Cleaning
Like everything in the office, it's essential to keep the MFDs safe by cleaning them regularly. This includes the panel (screen and keys), document feeder and document glass, and the handles of paper trays.
The best way to do this is to use a soft cloth that's just damp with isopropyl alcohol (IPA) or ethanol for disinfection. The fabric shouldn't be too wet, or it could damage the electrical components. It's not advisable to use sprays containing solvents, as these will damage the MFD. And, it's crucial to wear vinyl gloves when cleaning the MFD.
COVID-19 has caused a heightened awareness of hygiene, and many people are understandably nervous about going back to a shared working environment. With these few simple precautions, organisations will be able to use their MFDs with confidence while minimising the risk of disease spread.