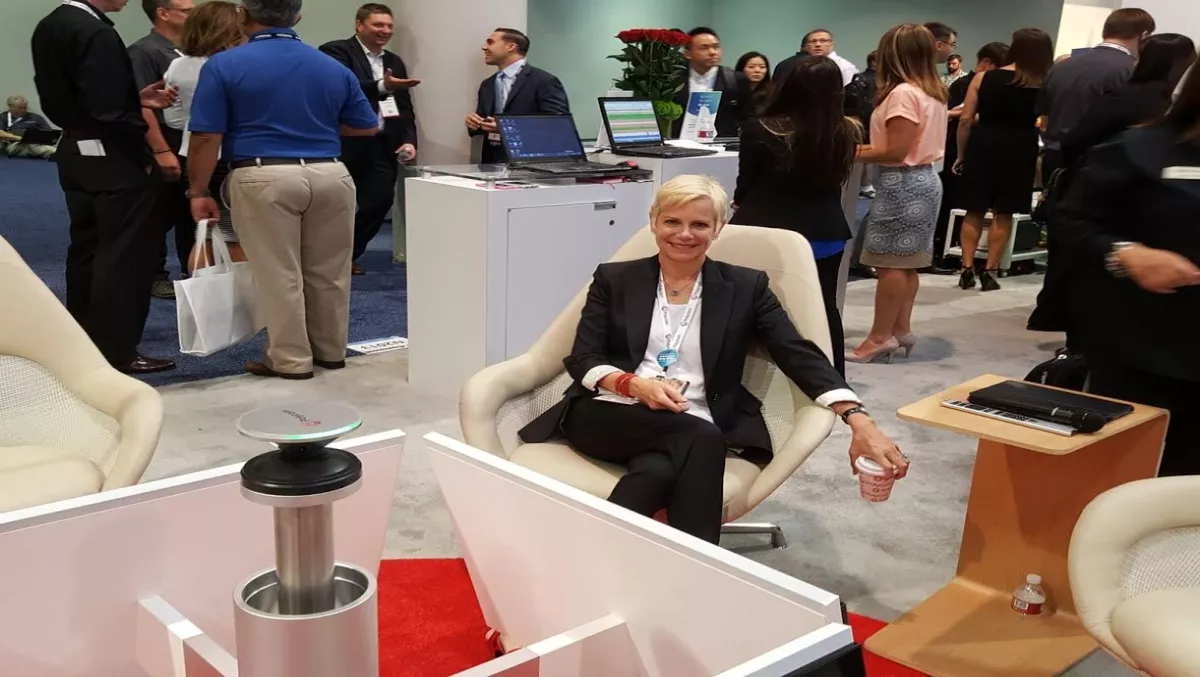 How the 'workplace of the future' optimises employees, collaboration & your office
FYI, this story is more than a year old
Offices are shrinking and collaboration is growing. Hot desking is now a common approach to flexible and mobile workforces, but how do organisations make the most of the gradual evolution to a digital and flexible environment that isn't constrained by borders?
Amy Barzdukas, Polycom VP Global Solutions Marketing and evangelist for 'workplace of the future', says it's all about helping customers and partners view the workplace a little bit differently.
Collaboration is influenced by the size and setup of office environments in many different ways, and Barzdukas says customers are still looking to drive what she calls 'consistent corporate culture'.
"As you think about open office where people don't have a preset work environment, so it's a hot desk or people have to find a spot to sit down and work. People then choose to work remotely more often."
"One of the concerns that customers have is 'how do you drive the culture to be consistent? How do you make sure that you are seeing people and enforcing the same kinds of approaches and attitudes, keeping people's spirits up when it's a very different environment," she says.
Those issues aren't really considered in a traditional office environment, where hierarchies are the norm. Barzdukas says it's now time to think about the people, more so than the space itself.
She says that with the rise of remote working, there needs to be a focus on the type of work employees need to accomplish and provide the best environment for them, whether offsite or onsite.
"Some of the best companies that I've talked don't really think about work from home per se, they think about work from the best place. They're putting the interests of what the employees are trying to do and putting that together with how they've thought about the workspace and the technology together to enable that kind of work."
On the topic of privacy, she says that with workspace flexibility comes the responsibility to provide more private environments, through open seating and higher walls to the seat, or greater availability of huddle rooms, or smaller focus zones.
"Those are for privacy and not everyone is comfortable out in the open. There are introverts in the world who need to be able to have a more quiet, protected space in order to be as productive as they need to be. If employees find that they aren't able to have that protected space for the type of work that they need to do, that's a great conversation to have with management," Barzdukas says.
How the three different collaboration types change the workspace
She explains that collaboration comes in three types: informative, collaborative and generative.
"Informative collaboration is relatively straightforward - 'I'm sharing an update'. Everyone needs to know the status of the project so that they can go on with their work, and know where everything stands. The tools are not particularly complicated, whether they be audio or video conference calls. You want to be able to share the content, share the update, and people move on."
"Evaluative collaboration is more complex because you're actually needing to make decisions. You're not merely receiving or delivering information, but now you're actually being asked to operate on that information," she explains.
She says that discussions about pros and cons of a specific workplace idea is one example of how this type of collaboration works. This requires better content sharing and making sure people feel included.
"Generative collaboration is particularly interesting because studies show that people are more collaborative when they sit with peers in a circle. "
She says that is very hard to achieve with existing collaboration technology, because it tends to form a hierarchy - especially at rectangular tables where someone is generally head of the table.
"When you break away from that and have technology that really enables group brainstorming, ideating and teeing ideas off each other, that's a whole different kind of collaboration."
Polycom's focus
Barzdukas says that Polycom's focus is on the workplace, experience and the workflow. To do this, the company is ensuring the spaces have the right technology, depending on employees' needs and the task at hand.
She says that employers and employees report that they're better able to use technologies when they operate more like the things that they use in their consumer lives.
"So if you can make it as easy to use as a smartphone, people are much more likely to use it. What you want is for people is to use technology without spending 10 minutes at the start of each meeting figuring it out."
"Everything is integrated into the workflow that you know, which makes it much easier to use. For example, we integrate directly into Skype for Business outlook environment where you just click to join a meeting. It's staying in the workflow regardless of what endpoint you join. That makes it easier, seamless, dynamic and part of the culture," she explains.
"We know that innovation and collaboration have a direct impact on the economy. The more we can enable people to be productive, they become more innovative and the economy benefits. At Polycom, our focus really is on enabling the workplace of the future today, and we're committed to providing the breadth of the technology that can help employees be as productive as possible. It's a really exciting time to be in the business."
Related stories
Top stories