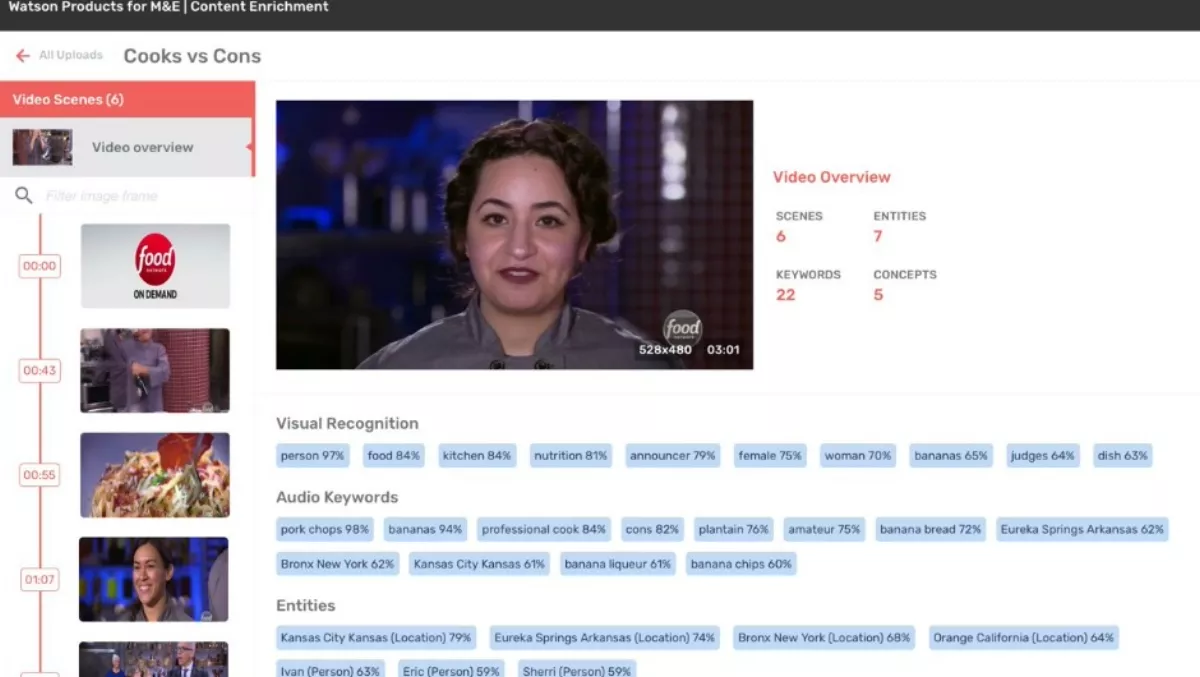 IBM Watson sets sights on video in the cloud
By Sara Barker,
Thu 27 Apr 2017
FYI, this story is more than a year old
IBM is taking its Watson technology to video analysis, this time for the benefit of video producers.
The company will roll out a Watson-enabled cloud service that will extract insights from video with an analysis level 'not previously possible'.
Watson's cognitive capabilities will provide deep analysis and extract metadata such as keywords, concepts, visual imagery, tone and emotional context.
IBM states that because the AI engine can analyse concepts, language, emotions and visual analysis, the semantic cues can help the platform segment videos into logical scenes.
Behind the scenes, the service uses Watson APIs such as Tone Analyzer, Personality Insights, Natural Language Understanding and Visual Recognition.
According to IBM, there is now a deeper understanding of both content and context.
"We are seeing that the dramatic growth in multi-screen content and viewing options is creating a critical need for M&E companies to transform the way content is developed and delivered to address evolving audience behaviours," comments Steve Canepa, general manager for IBM Global Telecommunications, Media and Entertainment industry.
Video producers will be able to identify each scene to attract viewers and advertisers for campaigns.
Last year IBM Research used Watson APIs to create a 'cognitive movie trailer' to demonstrate how it can learn from previous trailers. It was able to find what made those trailers effective and use them to create its own trailer.
"Today, we're creating new cognitive solutions to help M&E companies uncover deeper insights, see content differently and enable more informed decisions," Canepa continues.
IBM Watson has also recently been applied to cybersecurity and corporate device management in the last few months.
Watson spent a year learning cybersecurity language from more than one million security files. The result will help security analysts use natural language research reports, the likes of which were never accessible to security tools.
IBM expects the latest Watson content enrichment service to be available later this year.