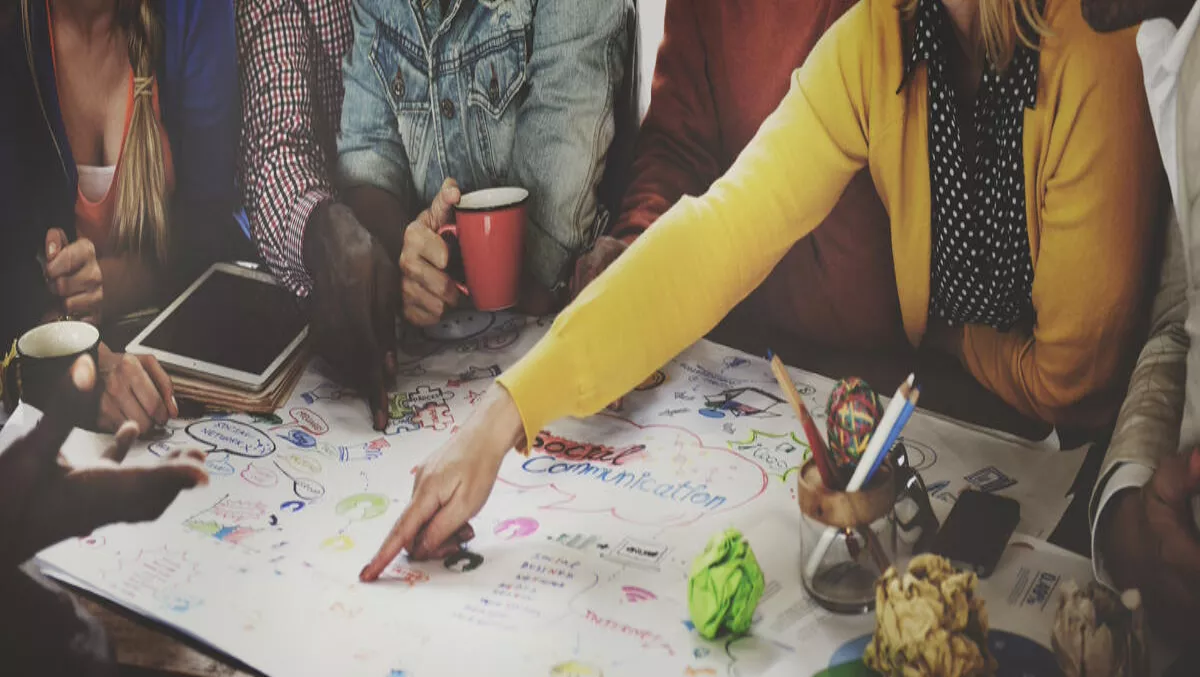 Innovation Pools & Waterfalls: PwC designs workplace of the future
FYI, this story is more than a year old
PricewaterhouseCoopers (PwC) has called on a Melbourne design studio to turn three of its offices into 'workplaces of the future'.
The Melbourne studio of US design and technology Downstream will transform PwC's Melbourne, Sydney and Brisbane offices.
Downstream Australia general manager, Nathan Bell, says PwC approached the company with a vision of being the world's leading technology-enabled professional services network.
"Downstream helped identify the design and technology elements to realise this global vision, and created something previously unseen in Australia."
Downstream focuses on redefining spaces, and fusing design and technology to create innovative solutions to impact how we behave and experience environments, to develop digital "signature experiences."
Examples of the digital 'signature experiences' include the Media Fountains, which act as smart wayfinding totems while also broadcasting event information and interactive data visualisations.
The Welcome Wall
In Sydney and Brisbane, the Welcome Wall acts as a future digital concierge, providing fast check-in for clients that prefer this option.
When in ambient mode, the Welcome Wall comes to life as series of digital totems that playback artful, rich media content.
"Making these signature experiences an authentic part of the architecture and overall client journey was a major design consideration," continues Bell.
"We want people to experience and connect with them in a direct and meaningful way, and we always try to ensure people have an emotive response to our spaces that benefits their visit and therefore creates value for the supporting brand."
"In keeping with that innovative vision, PwC wanted to go beyond 'merely functional' tech. They wanted to create experiences with the potential to inspire."
The Waterfall
"This desire delivered The Waterfall, a floor to ceiling digital stream of insights - interactive thought leadership, ideas, people and events."
"The Waterfall flows through the four client collaboration floors in Sydney and Melbourne and is an epic digital and architectural statement."
The Innovation Pool
"The Sydney office also features the Innovation Pool, a digital led space designed to encourage client exploration and interaction in understanding how technology supports solving important problems with both digital and physical artefacts.
"Each experience has a specific purpose, vision and reason for being."
The mobile app
These signature experiences are further enriched through a public mobile app called 'PwC Open', which will launch to PwC's clients in later this month.
The app acts as a client's environmental control andminsights "briefcase", and provides various features, including personalised visit agenda, events registration, spatial map and orientation guidance.
It also enables personalisation, such as auto recognition at check in, dietary preferences and the ability to 'take-away' digital insights saved from the Waterfall or Innovation Pool.
Bell concludes, "We know from experience that smart, connected spaces with plenty of optionality are integral to delivering diverse solutions."
"Intelligent environments foster thought leadership, so for PwC, this gives them and their clients a global competitive edge."
"When people experience, first hand, data, content, technology and responsive interiors coming together to cultivate a progressive, solution oriented workplace, it can give the user a unique perspective or help draw new connections on a problem or issue they're trying to solve."
Related stories
Top stories