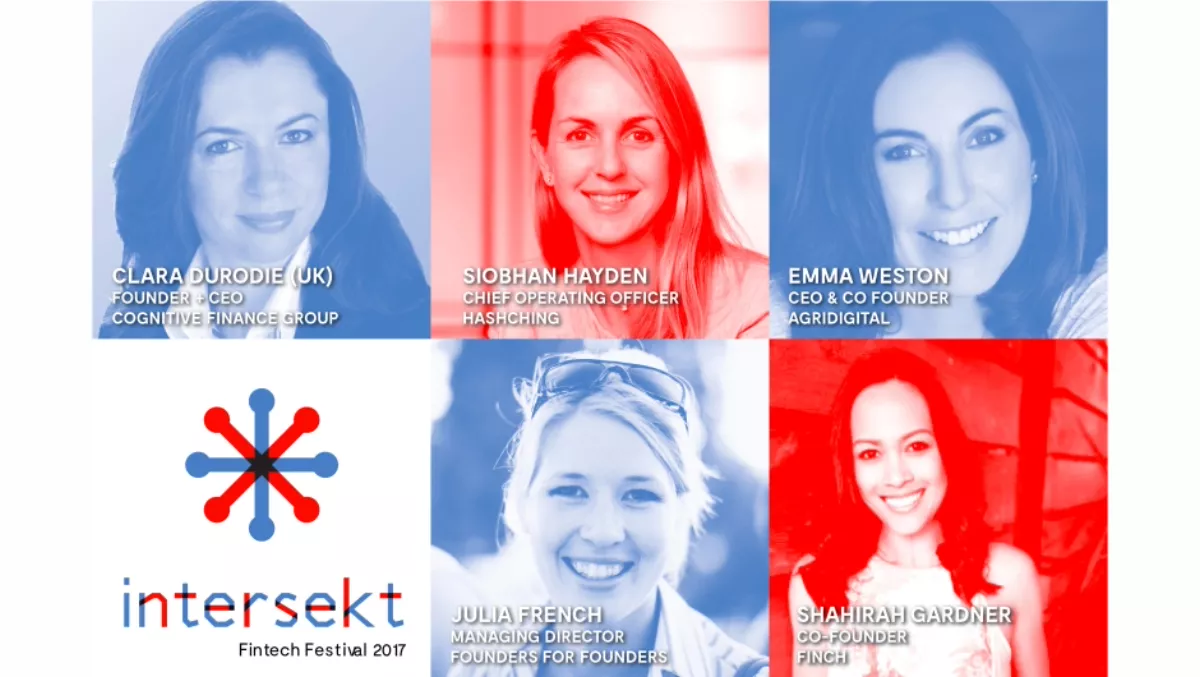 Intersekt fintech festival promises world-first gender equality commitment
FYI, this story is more than a year old
Australia's inaugural fintech festival will have what is believed to be a world-first gender equality target, as part of an ongoing campaign to drive increased levels of female participation in Australia's most important startup sector. FinTech Australia today announced that the Intersekt fintech festival would be seeking to have an equal number of female and male speakers. Intersekt is being held in Melbourne, Australia from October 27 to November 3. It includes a two-day Collab/Collide Summit (on November 2 and 3), a three-day hackathon, two community days and a one-day blockchain event. The State Government of Victoria is Intersekt's presenting partner, with other partners including York Butter Factory, Next Money and FinTech Victoria. "FinTech Australia has an extremely strong commitment to gender equality and we are delighted to be able to put this in practice at our first national fintech festival," says Vanessa Ronan-Pearce, FinTech Australia events and partnerships director and Intersekt programme director. "Our commitment to speaker gender equality at the Intersekt festival underlines the importance we place on driving increased levels of female leadership and participation in the Australian fintech industry." Danielle Szetho, FinTech Australia CEO, says, "Australia's fintech industry - like so many other international fintech and startup industries - could be doing better in this area. Our 2016 EY FinTech Australia census revealed that just 13% of our fintech founders are women." "We've already changed our constitution to ensure there are a minimum of 30% female board members. Our equality commitment at Intersekt is a natural further step in our campaign to showcase the incredible work being done by women in fintech, and encourage other women to join our exciting and growing industry. "We are also very excited that we are leading the world when it comes to a gender equality commitment at a fintech festival," Szetho adds. Megan Caywood, UK's Starling Bank chief platform officer, welcomed the gender equality commitment.
Caywood will be speaking at the Collab/Collide Summit on the future of banking. "It's fantastic to see that Intersekt is supporting female leadership in fintech," Caywood says. "Endless data shows that diverse teams make better decisions, and yet we still see that the number of females in leadership positions is far from equal and isn't representative of the number of women capable of filling those roles. "We've seen more and more women getting graduate degrees and undergraduate degrees and that are striving to take on increased levels of leadership, and it's so important to have initiatives like this to drive increased levels of female leadership and support gender equality," Caywood says. On November 2, a Women in FinTech panel session will be held as part of the first day of Intersekt's Collab/Collide summit.
This panel session will explore and debate the key issues with female participation in fintech. The session will hear from Clara Durodie (Cognitive Finance Group, UK), Emma Weston (AgriDigital), Shahirah Gardner (Finch), Siobhan Hayden (HashChing) and Julia French (Founders for Founders). As far as FinTech Australia is aware, it will be the first to have a gender equality commitment for a major nation or city fintech festival. This is supported by an analysis by FinTech Australia of the published agendas of other national and major city fintech festivals for female representation, which shows that female speaker representation ranges from 10-40%.
Related stories
Top stories