For the entire sporting industry, the last 12 months have been anything but bustling as arenas remain empty, leaving fans forced to watch the action at home. Yet through adversity comes triumph, which was especially the case for Australia's tennis industry.
For this year's Australian Open, Tennis Australia knew it was going to be a trying time, with snap lockdowns and restricted capacity a new reality for the tournament. Which is why it was decided to take the tennis experience virtual, enhanced by some cutting-edge technology and AI insights provided by digital innovation partner Infosys.
With almost 40 years of IT behind its belt, part of Infosys' ethos is to continually up skill its staff and offer solutions and services to accelerate digital for its clients. The company isn't interested in creating a shiny new toy with zero value - so what about creating a new toy that brings value to the tennis industry - and its fans, players, coaches and partners.
We spoke to Infosys associate vice president and head of the Infosys Tennis Platform, Raghavan Subramanian to find out why tennis, and how it helped to bring the sport to a whole new level.
Tennis, he says, has a broader global following compared to other sports such as cricket, which is more interesting to countries like India and the Commonwealth nations. This broad appeal and the ability to build and enhance digital experiences was one of the reasons Infosys selected the sport as its digital innovation focus over 5 years ago.
In a media statement, Tennis Australia's chief revenue officer Ben Slack said the last year has stressed the need for meaningful digital engagement between tournaments such as the Australian Open, as well as its players, coaches, partners, the media, and the fans.
"Our focus this year is delivering new digital experiences and insights that are accessible for everyone involved, regardless of where they are currently located.
These digital experiences have plenty to offer - from 3D court analytics to simulated fan experience and AI-based insights on backhand drop shots - as well as an AI shot of the day cut and packaged for use by the Australian Open media team - Infosys has a unique approach to bringing the tennis experience to life.
"If you look at the industries that leverage technology, media is up there amongst the top. Media and sports go together very well - it's immediately visible, and sports provides fantastic unscripted drama. These industries look for cutting-edge technology, and it's a perfect way to benchmark your leadership. This attracted us most to partnering with Tennis Australia and working on The Australian Open," says Subramanian.
Every professional sport generates insights in terms of players' strengths, weaknesses, movement on the courts, actions, and inactions. This is a phenomenal amount of data that players and coaches can use to review their game. This data provides crucial insights that can make the difference between a win and a loss on the court.
"We all know how important it is for the coach to be able to guide the player in terms of what they should do and how they should anticipate their opponent. So Infosys uses AI and videos to deliver these insights in what is considered to be the first of its kind.
Next-generation tennis technologies
These technologies cover four key areas:
3D CourtVision – allows individuals to watch tournament matches in an animated form, with data overlay for each shot from speed and spin to serve placement. This gives viewers a simulated recreation of the match, complete with viewing perspectives and shots.



AI Video Analysis – performance analysis by each area of play (aces of receiving points, drop shots or volleys).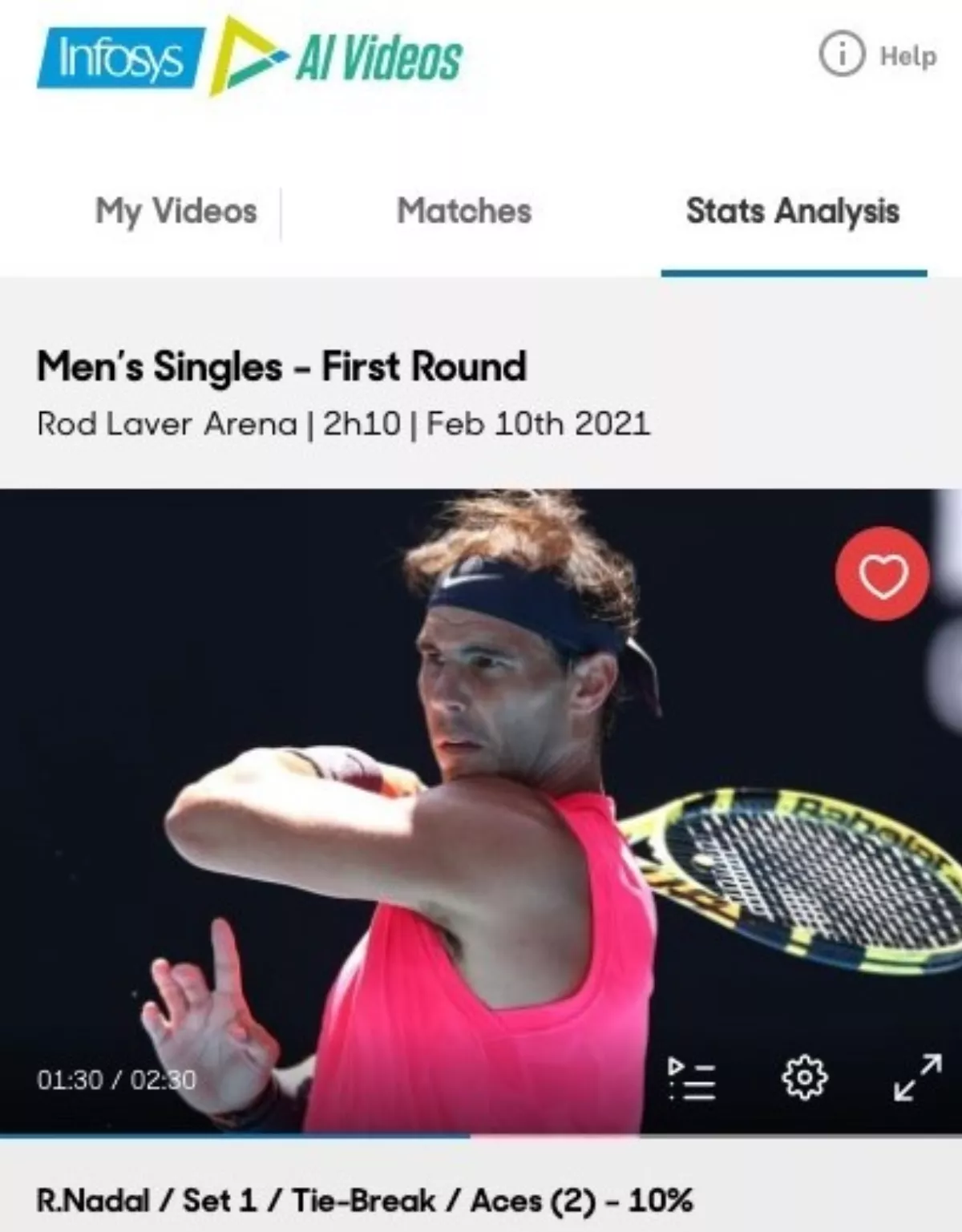 AI Shot of the Day - For the AO media team, AI Shot of the Day uses machine learning to rapidly identify match highlights, using multiple data points that are objective (such as fastest serve) and subjective (player emotion, crowd reaction and cruciality of the shot in context to the match).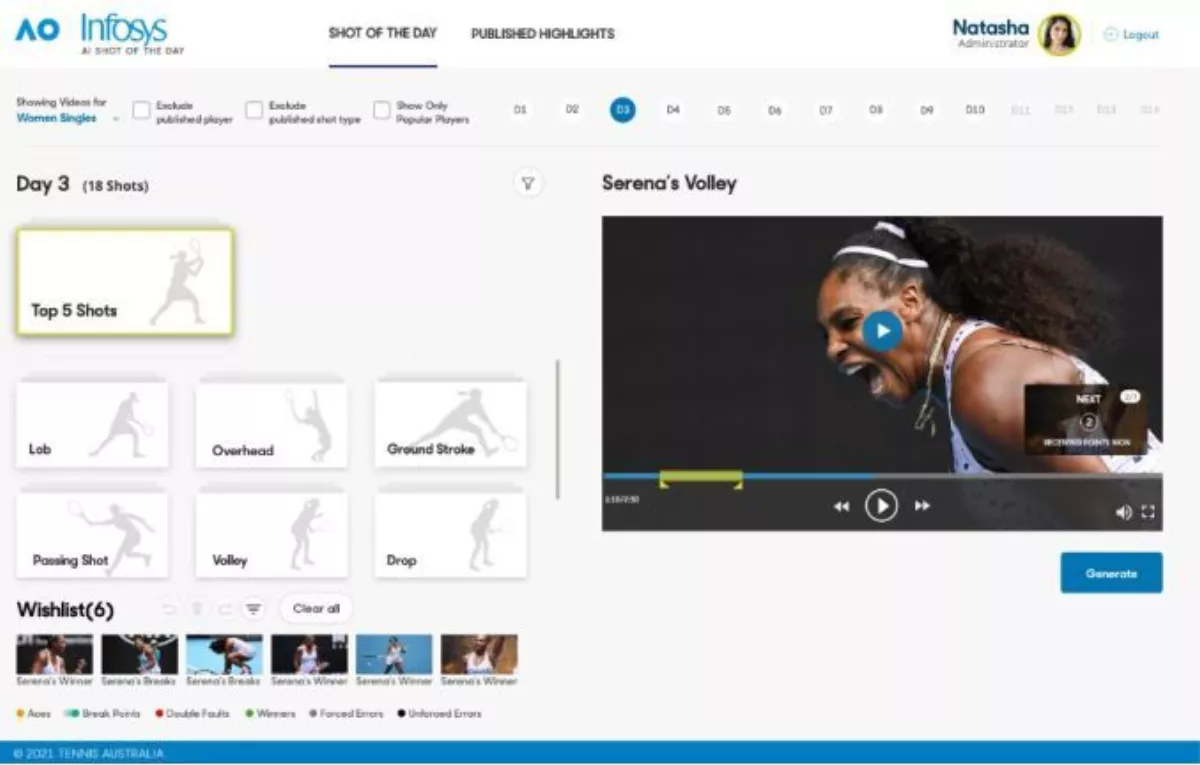 AO Virtual Slam - transports every fan into Rod Laver Arena with 3D court views and data, simulating the experience of playing at the Australian Open.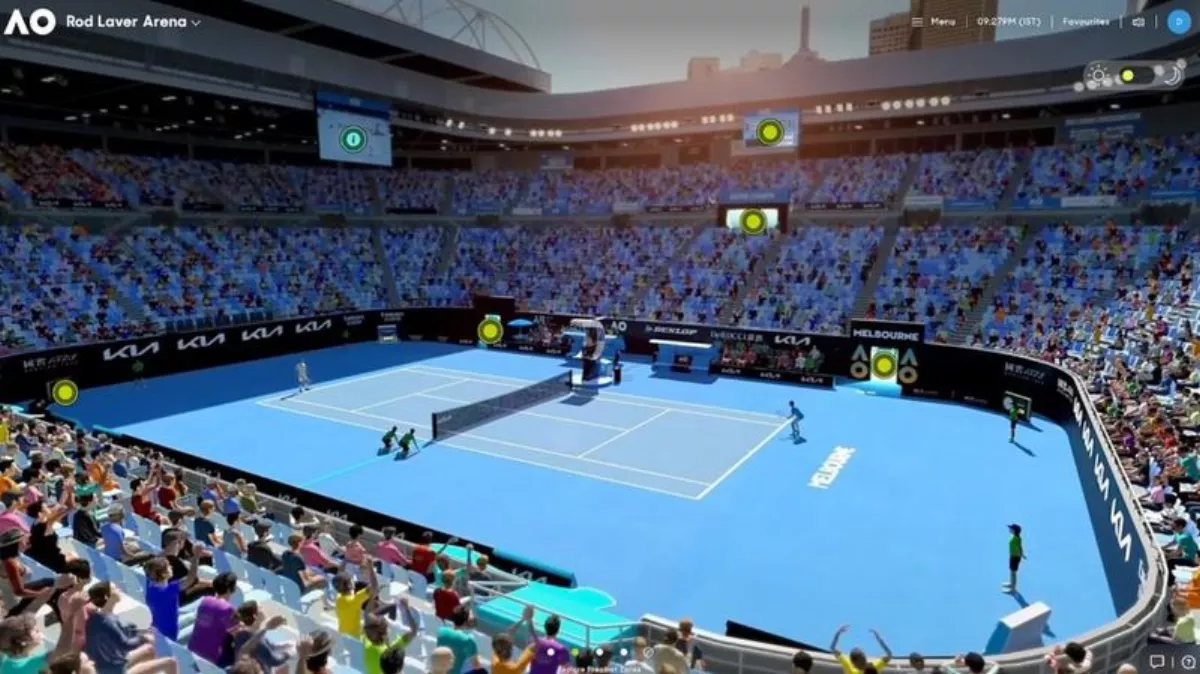 3D AO Virtual Hub - powered by Infosys Meridian, the Virtual Hub is a premium experience for partners and sponsors unable to attend with travel restrictions, to access exclusive events, behind the scenes tours, tennis clinics, legend interactions, 360 match viewing and more.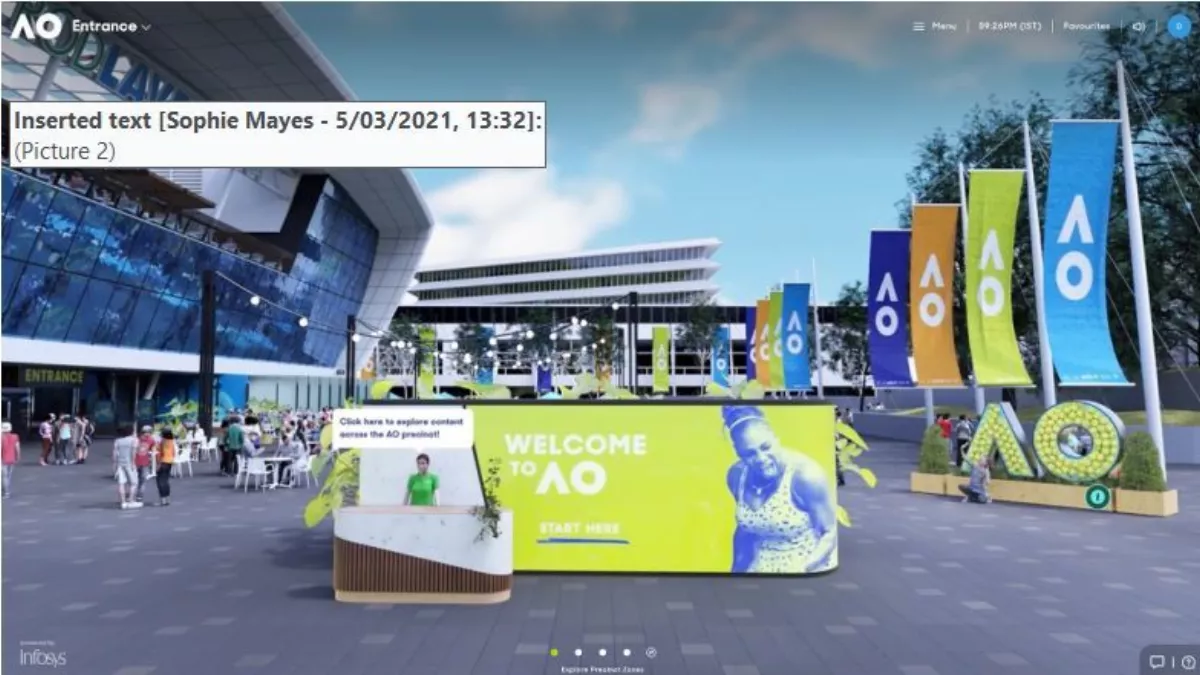 Subramanian provides a demonstration of some of the technologies, and how the insights are collated through a mixture of on-court statistics, AI, and Hawk Eye data. The prowess of AI technology becomes immediately clear.
AI Video Analysis is the most data-driven technology, delivering player assessments including winning backhand drop shots or handling volley shots in long rallies. Coaches can now guide players, no matter where in the world they are.
That's not to say that every coach will agree with assessments and who had the advantage in every serve, Subramanian admits, but they will doubtless appreciate the comprehensive analysis of every game.
He adds, "We use visualisation as a very active tool. Many organisations look at visualisation to communicate the results, but we look at visualisation to solve a problem. So, if you can visualise information in an interesting fashion, then you can actually solve problems, rather than solving a problem and using visualisation as a passive tool to display results.
The applications for these kinds of statistics collation and analysis, as well as AI, go far beyond tennis. Subramanian hints that it could be extended to other sports, and the possibilities are endless.
With data at their fingertips, Tennis Australia moved quickly to bring the Australian Open to a new level of digital - but will other sports sectors do the same?
"We know sports bodies can take a long time to deliberate and embrace that change, but that is a philosophical challenge."
For now though, Infosys' ongoing partnership with Tennis Australia is nothing short of a Grand Slam.
Learn more about Infosys here.