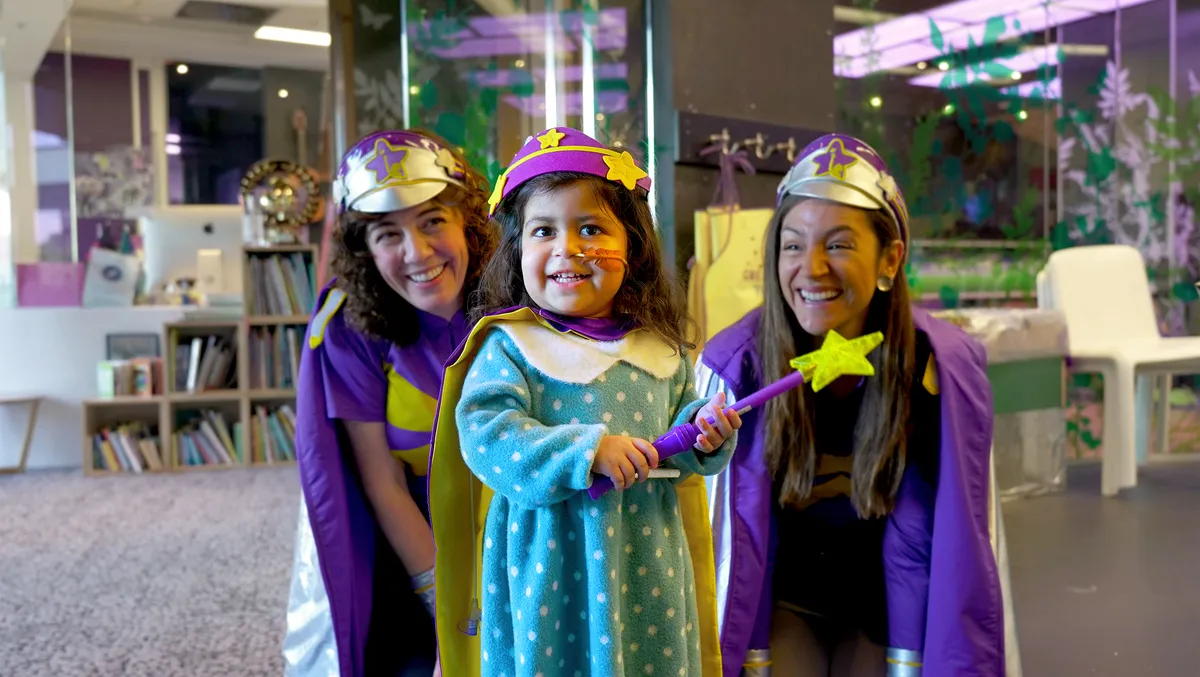 IWD 2023: Starlight's CEO celebrates 20 year milestone
Louise Baxter, CEO of Starlight Children's Foundation, reflects on its long-term impact and growth as she celebrates 20 years with the company.
"What we do is so simple yet so powerful. Starlight brightens a seriously ill child's life in the darkest of times," Baxter says.
"Starlight transforms the hospital experience, connects children who are feeling isolated and entertains, bringing fun, laughter and joy."
Reflecting on her 20 years with Starlight, Baxter notes there are three key drivers of growth and success which stand out during her tenure and are all enabled by a great team:
Clarity of purpose through your vision, mission and values
Value relationships in every aspect of every business
The power of communication and great storytelling – everything you say or do underpins or undermines your brand
Starlight exists to brighten the lives of seriously ill children and their families at a time when they need happiness the most.
The company is embedded in the Australian healthcare system as an essential service, now in every Children's Hospital in Australia, supporting more than 140 indigenous and remote clinics and communities, and known as Australia's number one and most trusted Children's Charity.
Baxter's positive impact has seen Starlight grow from strength to strength.
Purpose, vision and mission
Baxter has been pivotal in aligning and engaging teams with Starlight's vision, mission and values. She was integral in introducing the company's single value… which is to shine.
Further, Baxter believes the incredible people behind Starlight's programs and innovation and their clarity of and connection to purpose have played a pivotal role in Starlight's longevity.
"What binds us all is a shared passion for our purpose…to brighten the lives of seriously ill children and young people and their families. To shine brightly for sick kids," Baxter says.
"Our Starlight team members, partners, paediatric healthcare partners, donors, supporters and volunteers are all remarkable in their commitment to Starlight's vision for every child to experience a happy childhood, and importantly, aligned to our strategy, the road we take."
Relationships and business acumen
Baxter describes the moment she decided to join Starlight as a "moment of truth", deciding there must be something valuable and rewarding she could do with her years of knowledge and skills in sales and marketing.
When she first joined Starlight as Head of Partnerships, Baxter led a team delivering 130% revenue growth, significant improvement in profitability, and she built the brand to a level 83% brand awareness without any media spend.
These achievements were supported by building strong relationships and understanding the need for mutual benefit. Understanding the importance of business acumen.
After a short return to the corporate world, Baxter's dream job came knocking when she was asked to return to Starlight as CEO in May 2009.
"Often the perception in the For Purpose sector is [that] it is a step into the slow lane. This could not be further from the truth," Baxter says.
"Business acumen is everything in this sector. We need to be smart with our resources, be more efficient and constantly innovative.
"I describe it as 'eternal start up mode' and I love this about our sector."
Importance of storytelling
Baxter has led Starlight through some of the most challenging times, including the post-GFC environment and the recent pandemic.
Always a marketer, she recognises the power of storytelling in garnering support, advocacy and building a brand people trust. Baxter introduced the ability for team members to 'Get Connected' with the impact of Starlight first-hand and supports the need for partners and donors to have similar experiences, be it face-to-face or virtual.
Over the years, Baxter herself has built connections with many Starlight children.
Having been with the organisation for 20 years, she has many connections who return to Starlight as adults with a desire to enable hope and happiness for other kids.
"Nathan Cavaleri, one of our very first Starlight Wish kids and proud Starlight ambassador, had his Starlight Wish granted to jam with Mark Knopfler from Dire Straits. He went on to become a successful musician," Baxter says.
"To this day, he talks about the fact that even as an adult, when he experienced moments of being challenged, he would think back to the positivity of Starlight to help him get through.
"Australian of the Year, the very able Dylan Alcott AO, who was also a Starlight Wish child and past Starlight Ambassador has gone on to achieve much success.
"He openly shares his story of undergoing major spinal surgery as a child and having to lie face down in hospital for six months, and how Starlight was there to lift his spirits, transform his hospital experience and help him look forward to something on the other side of his hospitalisation.
"Dylan came to us several years ago with the idea of playing tennis for 24 hours straight to raise money to help other kids like him. And we did it.
"Not every child grows up to become a celebrity. But every child still has hopes and dreams and so many tell me the parts of hospitalisation they remember are the happy times when Starlight was there," Baxter notes.
What Starlight does to bring happiness and mental wellbeing to seriously ill children, it also does for its people, to enable them to be at their best.
"Because when our people are at their best, Starlight can be at its best for the children and young people we support," Baxter says.
Baxter also notes that thanks to Starlight, Australia's Children's hospitals are unique. Nowhere else in the world will you see a child roaring with laughter at the antics of Captain Starlight or a teen completely engrossed in a Livewire music or art project.
"I'm incredibly proud of the life changing and positive impact of Starlight," she adds.
"And I'm humbled to be part of such a remarkable team. Every day I'm inspired by the children and young people we support."