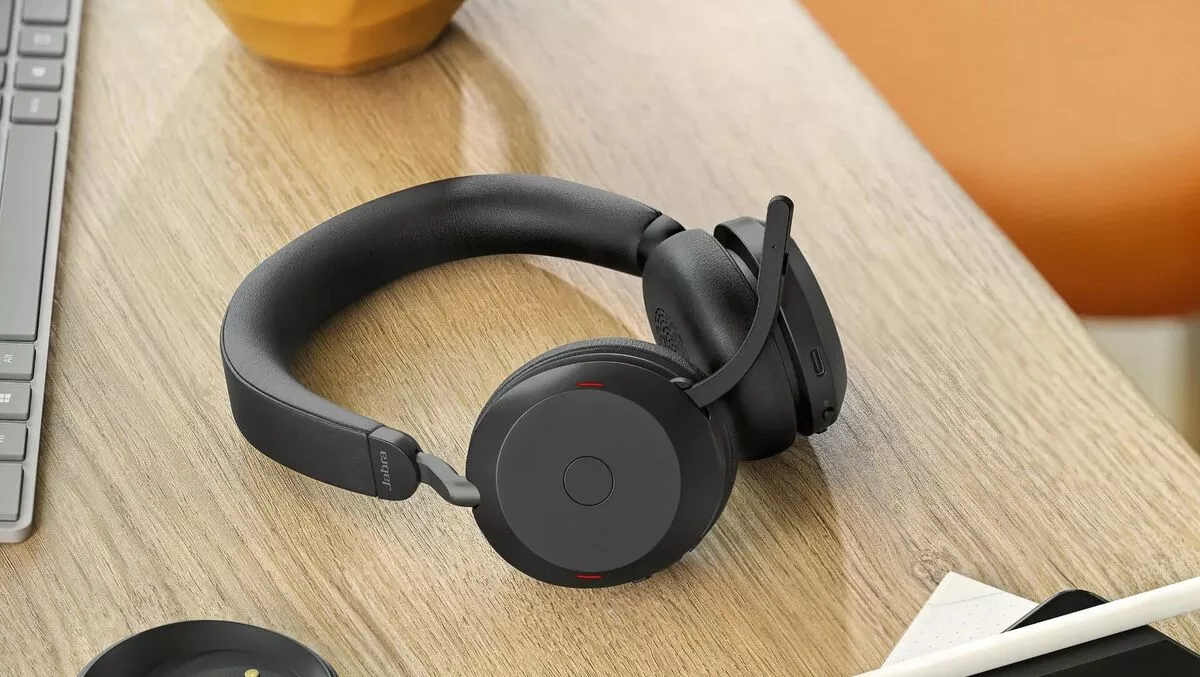 Jabra's Evolve2 75 headset is engineered for hybrid workplaces
FYI, this story is more than a year old
Jabra's latest addition to the popular Evolve2 product range is now available, promising a superior sound and more active noise cancellation than its predecessors.
The Jabra Evolve2 75 is a headset engineered for the hybrid work environment in the office, at home, and on the go.
In these working environments, staff need to be as productive as possible, which means they need the right equipment. Consider the home work environment, for example. Staff may be tempted to use their old consumer-grade earbuds to take work calls, but will end up at the mercy of technology not built for purpose, resulting in poor connection, distorted audio and a frustrating communication experience.
Using uncertified UC and devices can contribute to limited productivity, communication, and focus. These impacts can have detrimental implications for staff, customers, partners, and business outcomes. This is why it is important to consider enterprise-grade audio technologies, no matter where staff are working.
According to Jabra's ANZ managing director David Piggott, communication is the top skill sought out by employers this year. But, he warns, communication has changed over the last couple of years during the pandemic, and now it is heavily dependent on technology. To communicate effectively in a virtual space, tech needs to be purpose-built to overcome challenges unique to different environments.
"The background noise of lawnmowers and dogs barking can on occasion be laughed away, and you can generally repeat yourself if needed to your colleagues. However, if your job relies on your ability to speak, persuade, and deliver messages, using non-enterprise-grade audio technology is akin to playing cricket with a tennis racquet," he says.
Jabra has long been at the forefront of enterprise grade audio-technology. Their original Evolve series proved to be incredibly popular, engineered specifically for office workers looking for comfort, communication, and productivity.
The latest Evolve2 series presents a significant step up in technology, building on the ever-popular groundwork established by Evolve to be purpose built for hybrid work. The Evolve2 75 is a significant step up from its predecessor, featuring cutting-edge technology advancements that enhance the classic Evolve range without reinventing it.
The Evolve2 75 is the first in the Evolve line of headsets to feature Jabra's fully adjustable Advanced Active Noise Cancellation (ANC). Users can choose the appropriate level of ANC for their environment, and with the touch of the HearThrough button, users can cancel ANC to let the sounds of their environment back in again.
Jabra says the Evolve2 75 also offers 26% more noise cancellation than the Evolve 75, thanks to Jabra's new chipset and Dual Foam technology.
The Evolve2 75 also features a flip-down boom arm to capture a user's voice. The arm has been specifically designed to be shorter than the Evolve 75, and it meets Microsoft's Open Office requirements and can filter out ambient sound in offices or loud indoor areas. With a 30-metre range, users also have the freedom to move about without being tethered to their workstation.
Under the hood, the headset is fitted with eight microphones. These work in tandem with Jabra's algorithms to distinguish between a user's voice and background noise, resulting in the sharpest-sounding calls.
The Evolve2 75 also includes an integrated 360-degree 'Busylight' to let others know when a user is in a call or needs to focus.
The headset is optimised for leading unified communications platforms and perfect for the new standard of hybrid working.
To find out more about the Evolve2 75 and other Jabra offerings, click here.