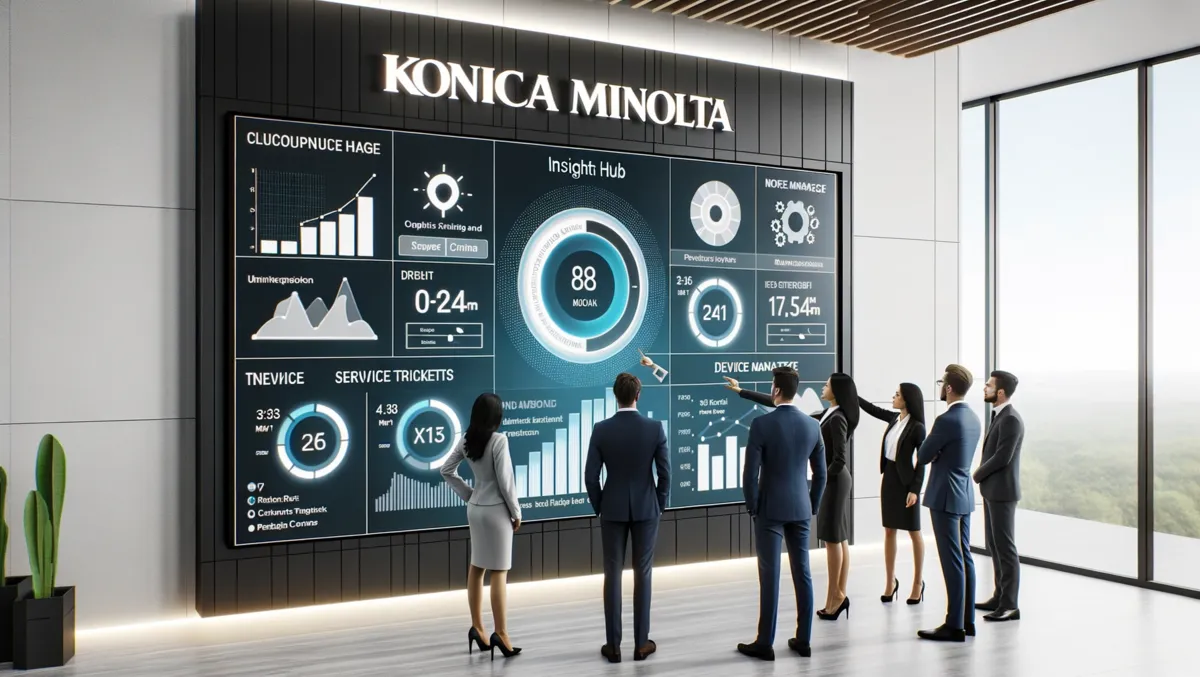 Konica Minolta Australia launches Insight Hub for enhanced IT services
Mon, 23rd Oct 2023
By Sean Mitchell, Publisher
Konica Minolta Australia has announced the launch of its innovative platform, the Insight Hub. This locally-developed platform is designed not only to augment print services but to advance Konica Minolta's role as a partner in providing managed IT services. Positioned as the first step in a customer experience-led transformation, the Insight Hub promises a unified customer experience.
The Insight Hub's primary function is to assist clients in becoming more data-centric, beginning with their devices. It facilitates two-way communication, providing real-time status reports on IT service tickets and tracking for technology dispatch or maintenance. The platform is designed to optimise support and operations by integrating an application programming interface (API) into a client's IT service management (ITSM) system, thereby eliminating the double handling of tickets and accelerating resolution times.
Ted Garner, chief strategy officer at Konica Minolta Australia, expressed the company's intentions behind the launch. He said, "Konica Minolta is known for its premium brand and best-in-industry customer service. Clients work with us for a reason, and we want to continue to add value to our partnerships. The launch of the Insight Hub is based on the culmination of customers' print and IT challenges along with the demand for data, insights, and services. Konica Minolta's Insight Hub puts power back in the hands of our clients and lets us collaborate more meaningfully to give shape to their entire transformation journey."
The Insight Hub is more than just a portal, offering a complete digital service with real-time performance managed services, better device management and comprehensive invoice management. In addition, the platform assures unrestricted user access, being invoiced on an account-based fee and not locked to individual licenses.
Further enhancing the user experience, clients will have access to a dedicated customer experience manager (CX manager) to guide them through tailored solutions complementing their technology roadmap. As Ted Garner was keen to emphasise, "The Insight Hub connects technology, process, and people, giving clients greater levels of self-service, coupled with direct access to a dedicated CX manager to review trends in data and assess wider customer behaviour to resolve challenges more holistically."
In its quest for efficiency and effectiveness, Konica Minolta Australia first implemented the Insight Hub within its own operations, becoming the first enterprise customer of the new service. General manager of technology, Antoniette De Marco, proudly declared that "Konica Minolta Australia was the ultimate proof of concept and test case."
The Insight Hub is intended to build on established customer relationships by extending Konica Minolta's well-regarded customer service beyond its traditional frames, offering a single holistic experience for clients' digital futures. Seen as the first step for customers to self-serve Konica Minolta management, it is anticipated to unlock more IT services and support that can function as extensions of their own IT teams.