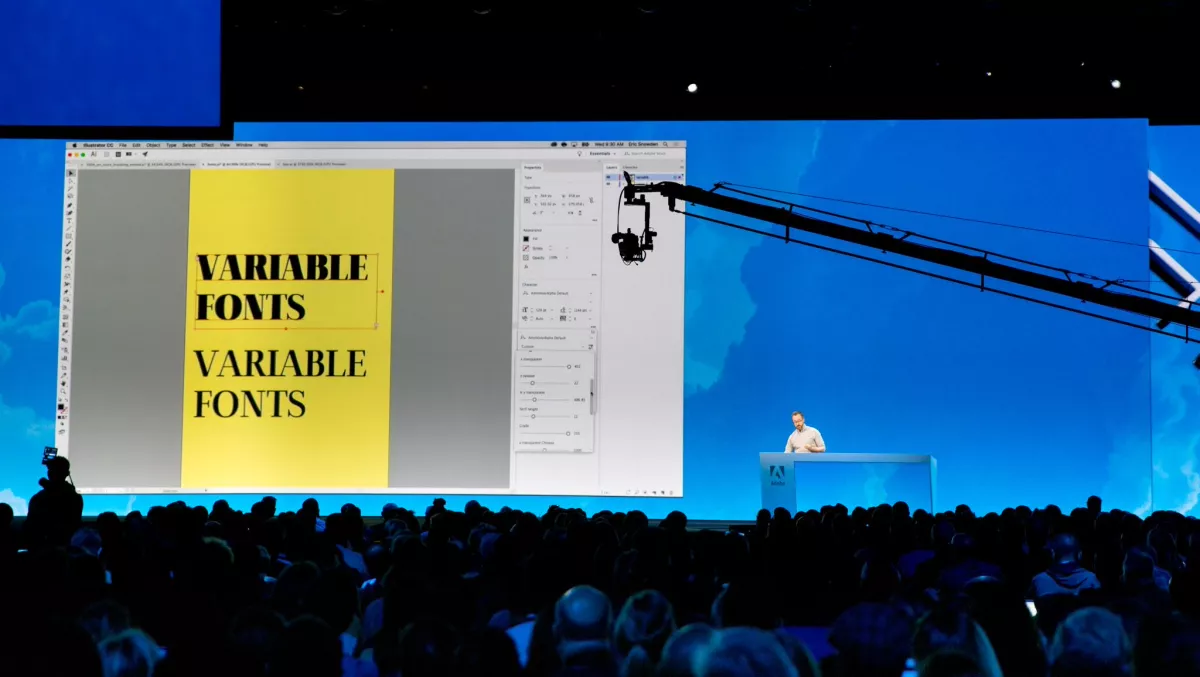 Max 2017: Adobe Creative Cloud gets a refresh
FYI, this story is more than a year old
Adobe has announced an array of updates for existing apps within its Creative Cloud suite.
The announcements came from the opening keynote at the software company's Max event in Las Vegas Nevada.
Techday is on the ground at Max 2017, which this year has seen a record attendance of over 12,000 attendees from 63 countries.
Some of the applications that received updates and new features include Adobe Photoshop, Illustrator, and Premiere Pro as well as new functionality for Adobe Stock and Spark.
Photoshop
Adobe Photoshop received a few updates, most significantly to its brush organisation and management, tutorial features and a new smooth brush tool.
Brushes can now be organised in folders, which is designed so users can find a certain pallet of brushes more easily, depending on the type of project or brush set.
There is also a big expansion on the tutorial features within Photoshop, which are now more intuitive and helpful, and can guide your mouse to help you construct basic edits.
It also features a new pen curvature tool and smooth brush tool, the latter of which allows for much smoother brush strokes, as it uses Adobe Sensei - Adobe's AI platform - to increase accuracy.
Illustrator
Adobe says Illustrator now launches 30% faster and now has support for up to 1000 art boards, up from 100.
The application features a new essentials workspace and unified properties panel, which aims to simplify users' workspaces by intuitively providing contextually aware options that users can utilise when they select text or images.
At the keynote, Eric Snowden Adobe senior director of design, Creative Cloud & Document Cloud said this development was significant as it makes Illustrator less complicated to look at, and increases manageability.
"If you have used Illustrator in the past, you may have layout - especially on a small screen - that can look a little complicated or intimidating, with panels all over the place."
"Our new unified properties panel makes working in Illustrator much much faster."
Premiere Pro
Adobe's video editing tool received motion graphics templates earlier in 2017, and Adobe announced an extension of this feature, now including support for what they call responsive design based motion graphics templates.
This will allow users to leverage and reuse motion graphics templates on any video, regardless ofsize or aspect ratio, as well as the ability to use time-based animation regardless of duration.
Motion graphics templates will also be available in Adobe Stock, including the availability of a 'masters collection' which will include templates from renowned motion graphics designers.
Stock
Adobe Stock also received a few other enhancements, including expanded search by image functionality and advanced search features.
It also expanded its asset collection with over 100 million assets including photos, illustrations, videos and vectors.
Adobe also added 3D models to Adobe Stock, for integration with its new Dimension app, which lets users take 3D models out of Adobe stock for mockups and photo-realistic visualisations.
Spark
Adobe Spark - Adobe's suite of visual storytelling solutions for mobile and web- added what they call premium features.
Spark for mobile includes 3 applications - being Spark video, page and post - and can be used in conjunction with the web application, allowing for the ability to construct visually appealing stories on the web or on social media.
Spark with premium features allows users to remove the Spark branding that is present on Spark creations, and replace it with custom branding and flesh out the look of the branding within the application stack online and on mobile.
Related stories
Top stories