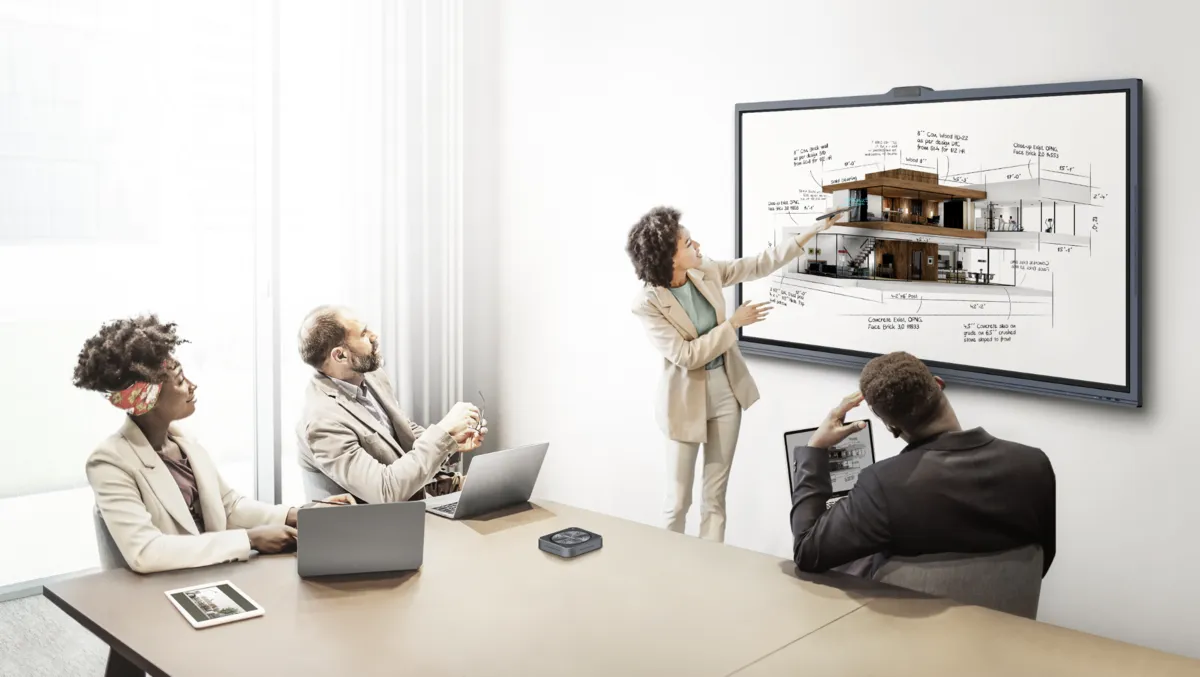 MAXHUB's V6 Series range to enhance ANZ hybrid workforces
FYI, this story is more than a year old
Many workplaces across Australia and New Zealand have spent a significant part of the year adapting to new hybrid work environments.
A study this year from ADAPT found that despite a large uptake and focus, 70% of ANZ companies still struggle with the hybrid work concept, and only 38% of digital leaders have successfully evolved organisational culture to fit the connected workplace.
So what should businesses be doing to change these statistics and strive for better outcomes?
Unified Communications have become a crucial part of creating a successful modern workplace and are a key way to enhance a hybrid workforce and promote better solutions within an organisation.
As proven leaders in the collaboration space, MAXHUB continues to find innovative ways to help enterprises reach their full potential. The company has recently released its latest innovation in Interactive Flat Panel (IFP) technology with the V6 Series, which allows businesses fully meet their professional needs in Web 3.0.
An IFP acts as a collaboration solution tool that, in today's world, is non-negotiable for internal discussions as well as client and customer interactions. These powerful devices, equipped with advanced hardware and software, are the muscle behind productive and intuitive communication, offering a business the flexibility to collaborate like never before.
Following on from its industry-leading V5 Series, MAXHUB's innovative, next-generation successor is ready to take the world by storm. The V6 Series employs cutting-edge technology in a stylish, elegant design that feels at home in any smart office space. Powerful tools offer users a first-class video-conferencing, screen-sharing, and collaboration experience.
The new series comes in three models which fully meet the needs of Web 3.0. The MAXHUB V6 Classic Series, which has been designed with daily office collaboration in mind, can help anyone from start-ups to multinational organisations.
The MAXHUB V6 ViewPro Series provides an advanced video-conferencing experience where professional organisations can have access to immersive, cross-space collaboration that means business.
And finally, the MAXHUB V6 Transcend Series will meet every challenge with a creative solution. It demonstrates the highest efficiency standards and is the gold standard in professional excellence.
Pushing the boundaries of technical ingenuity, this diverse range in the V6 Series allows for creative freedom, efficient teamwork, and maximum productivity.
Catering to every co-creation scenario, the panels are equipped with advanced hardware and powerful data-processing capabilities for guaranteed high-quality performance.
95% Screen-to-Body Ratio
The V6, with its full-screen design and ultra-narrow, 11mm bezel, has achieved a world-first with its screen ratio of 95.2%. Users now have more visual play space to get creative, deepen team engagement, and improve collaboration. The device can integrate seamlessly into distinguished corporate environments.
Dual-camera design
Dual-camera design allows authentic, intuitive communication that's just like meeting face-to-face and is available in the V and V6. A 48MP, ultra-wide-angle camera combined with a 3X optical zoom, 8MP camera provides flawless speaker-tracking and crystal-clear imagery, restoring the human connection even in large conference rooms where participants may have previously felt excluded.
High-performance display
Professional-grade, 4K, the ultra-high-definition display is another vital feature that allows teams to work cohesively. The IFPs have △E≤2 colour accuracy and a 90% NTSC colour gamut, ensuring vivid, natural graphics that delivers on the exacting standards of creative-industry specialists. Users can also easily adapt the screen effects according to the content on display for a more enjoyable visual experience.
Top-Drawer camera
The V6 series comes equipped with a 48MP, ultra-wide-angle camera that provides high-resolution clarity. With a 25% increase in its photosensitive area and a 37.3% expanded field of view, every meeting participant is seen. Its auto-framing feature helps achieve the best angle so nobody feels left out. There is also the addition of Wide Dynamic Range (WDR) technology, so high-end image integrity is preserved no matter the lighting limitations of an office space.
Supreme sound quality
Crystal-clear voice clarity is ensured with 8-array microphones and 2° ultra-precise voice source localisation that helps maintain focus on the speaker. AI voice-tracking paired with AI noise-reduction technology also guarantees accurate, uninterrupted, and intuitive conversations that flow naturally.
Better screen-sharing
The V6 range brings meeting efficiency into the contemporary workspace, making awkward plugs and cables a pain point of the past. Using MAXHUB Share software, screen-share wirelessly from up to 4 devices simultaneously – without losing any of the panel's 4K resolution – and co-design on problem-solving and project-planning with ease. This technology allows for greater flexibility, where users can control presentations directly on the IFP or manage the panel from a personal device.
Streamlined access
Equipped with the fully upgraded MAXHUB OS 6.0 system, users can have the V6 up and running and ready for action in no time. Its easy-to-use interface makes it convenient to "wake up" and connect remotely with the MAXHUB Dongle, while the OS provides easy access to whiteboarding, video-conferencing apps, and wireless projection. To further enhance the user experience, users can personalise the customisable homepage with frequently used apps, striking wallpaper, or a company brand.
Energy conscious
With grave climate concerns and costs affecting the ANZ market, it's crucial to have an ESG focus. The MAXHUB V6 ViewPro and Transcend series have both obtained international Energy Star Certification, helping future-conscious businesses protect the environment and save on costs.
With the V6 Series, ANZ users will be able to comfortably and confidently navigate a hybrid work environment and create better outcomes for staff.
Going beyond collaboration, users can future-proof their business for unlimited success with this groundbreaking new development.