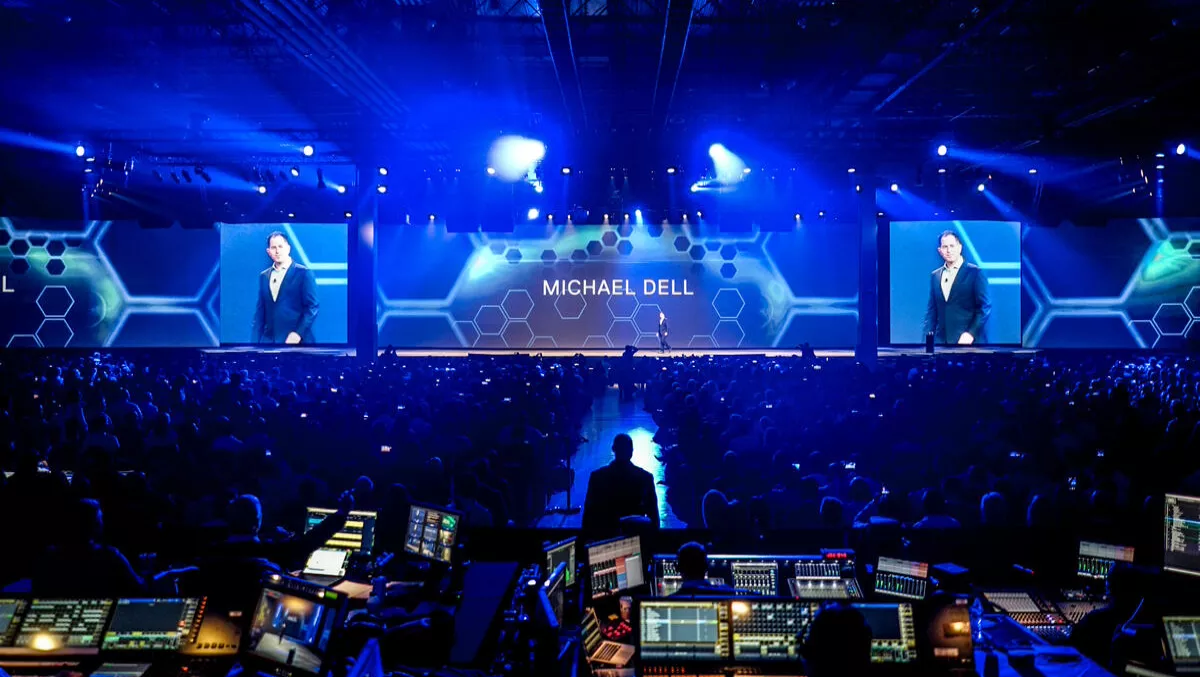 Michael Dell, magic & Minecraft - highlights from the Dell EMC World opening keynote
FYI, this story is more than a year old
Dell EMC World 2017 is well and truly underway. The event started with a keynote by Dell EMC CEO Michael Dell.
The introduction also included Jeremy Burton, chief marketing officer, Dell, who invited his young son, Henry Burton, on stage to demonstrate the functions of the Dell EMC ServerCraft game: a Minecraft world set inside a data center.
Burton also set the tone for the event by outlining the theme: Realize - Realize your digital future.
CEO of Dell EMC, Michael Dell, continued the tone, discussing the digital future for organisations, and how Dell Technologies fits into this future.
"Making digital transformation happen, making it real – that's why we created Dell Technologies, that why we've combined together the innovations of Dell, Dell EMC, Pivotal, RSA, SecureWorks, Virtustream, VMware into one family of strategically aligned businesses.
"This unique structure allows us to innovate like a start-up, but with the scale of a global powerhouse.
Dell continues on the topic of digital transformation but now from the perspective of industry executives, leaders, technologists and CEOs.
Dell says that CEOs don't need to be convinced that there is a digital transformation because they see digital structure everywhere.
"CEOs want their companies to become technology companies, and every business unit wants to become a platform.
"You need an Internet of Things strategy, you need a cloud strategy, you need a workforce strategy, and security – well that's the greatest concern of all," Dell explains.
Digital transformation software is elevating everyday businesses, like from taxis and travel, to insurance, by getting them online, Dell explains.
"Those products and services generate massive amounts of data which can be used to make products and services even more capable and market orientated.
One the other end of the spectrum, Dell moves on to discuss competition in the industry to underline the necessity of companies becoming digital.
"In every industry, your competing with start-ups. They have long developed their technologies and methodologies. And they're more sophisticated, in many cases, in using data and tools to eject smarts into their applications.
Dell narrows down on digital transformation to discuss the cloud – which he stresses is not a 'place' anymore, but a way of doing information technology.
"To clarify, when I talk about cloud, cloud is not a place, but rather a way of doing information technology. We already live in a multi-cloud world, and we need more so in the future.
From the public, private and hybrid cloud to software as a service, the multi-cloud world we live in will be even more cloud concentrated in the future, Dell states.
"It will all come down to optimising workloads, moving and securing them and managing them efficiently.
Dell goes on to say that organisations with a public cloud first and only strategy may find themselves uncompetitive in the long term.
Dell explains that this is because when on-premises systems are modernised, they become software defined, which enables automation and unprecedented levels of efficiency.
"Many customers have already told us that public cloud is twice as expensive as on premise, especially for a predictable portion of their workloads," he claims.
This is where Dell ECM technologies come in.
"We understand – you've got a data center that's full of applications and infrastructure that you've deployed over the last 20 years or so and it needs modernising – it's got to be faster, more reliable, more efficient, and done right – the savings from that IT transformation can actually fund your new digital to cloud transformation.
Dell adds that the real magic happens when we bring together our innovations – which leads him into introducing the new 14th Generation PowerEdge servers.
But this wasn't the only talk of magic on stage - Dell was joined by magician David Blaine for a performance that include Dell, audience members and a Dell EMC server.
To conclude, Dell says, "as we look ahead, PC's provide a powerful, distributed infrastructure, Internet of Things, Artificial reality and virtual reality.
"To make it extremely clear, once again, the PC business remains core to our mission and our strategy, it's how work gets done.