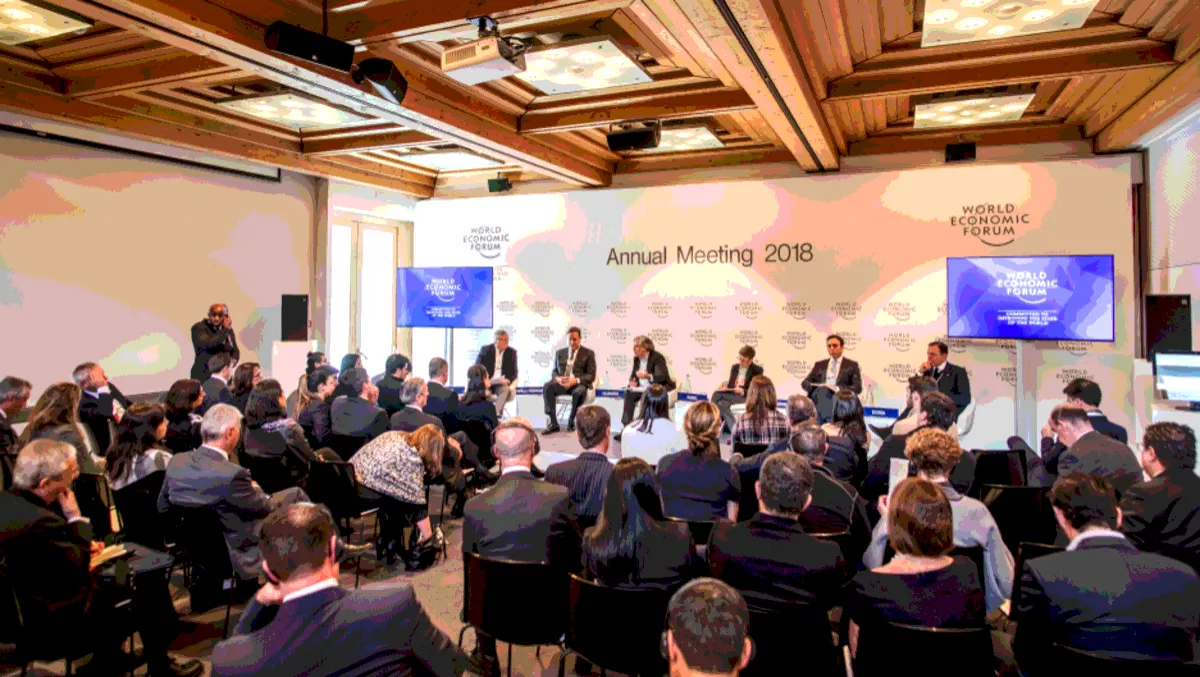 New IT training initiative targeting 1m people launched by World Economic Forum
FYI, this story is more than a year old
A new drive targeting one million people around the world for training and resource opportunities has been launched by the World Economic Forum.
The IT Industry Skills Initiative has the goal of providing an answer to the global skills gap and addressing job displacement arising from automation and the Fourth Industrial Revolution.
A concerning report from the Forum reveals that one in four adults reported a mismatch between the skills they have and the skills they need for their current job.
To address this, the Forum hopes to provide one million people with resources and training opportunities on the SkillSET portal by January 2021.
Conceived by the Forum's IT Governors community under the chairmanship of Cisco CEO Chuck Robbins, the founding partners are Accenture, CA Technologies, Cisco, Cognizant, Hewlett Packard Enterprise (HPE), Infosys, Pegasystems, PwC, Salesforce, SAP and Tata Consultancy Services.
"We need responsive solutions and coordination from all parts of society – governments, citizens and private industry alike – to re-envision an educational system based on lifelong learning that can fully prepare workers for the jobs of the future," says founder and executive chairman of the Forum Klaus Schwab.
"This initiative is a clear example of industry leaders taking concerted, collective action to address a major social challenge at scale."
Chairman Robbins says technology has opened up many new avenues for growth, but this does have some negative connotations.
"We are also seeing how innovations such as artificial intelligence and automation can impact the workforce. It is important for all of us to recognise that without the talent we need, none of us would be successful," says Robbins.
"This initiative brings together the capabilities and strengths of all of our companies to help educate the high-skilled workers needed for jobs now and into the future. It is our obligation to make sure that people with jobs across every industry are given the means to learn new skills and remain competitive."
The coalition has created a free platform of online tools to streamline the process of reskilling adults with the initial iteration of the portal to be available in April 2018.
Initiative partner companies are now opening up key elements of their individual training libraries into one centralised portal, giving users access, free of charge, to the most up-to-date, self-paced training materials from leading global IT companies, ranging from general business skills to introductory digital literacy to more advanced topics such as cybersecurity, big data or internet of things.
A number of the founding partners have commented about the initiative, including:
Accenture chairman and CEO Pierre Nanterme
"People need innovative ways to learn new skills in order to remain relevant and adaptive as the pace of technology change accelerates. For example, AI offers enormous opportunities for growth, but success will increasingly depend on humans collaborating with intelligent technologies. By accessing a broad range of 'new skilling' techniques, people will be better placed to work with machines and help businesses pivot to new growth models."
CA Technologies CEO Michael Greoire
"Technology is both the tool and the canvas and carries the huge promise of improving how we live and work. The counter side, however, is some degree of wariness by those who fear it disrupting their livelihoods, which is both understandable and expected. We are focused on a large-scale, proactive solution that encourages continuing education to empower and inspire today's and tomorrow's workforce. We must engage with technology in a way that creates new opportunities, both at an individual level and in the aggregate."
Cognizant Technology Solutions CEO Francisco D'Souza
"The workplace issue of the 21st century is a worldwide shortage of qualified technology talent driven by a massive skills gap, which we must address together on a global scale. The pace of technological change has education systems struggling to keep up in delivering learning experiences that are relevant, immersive and readily available as workers seek to expand their skills. The future of talent development depends on new models, ways of thinking and initiatives like this one that engage individuals as lifelong learners and provide them with opportunities for continuous reinvention."
Infosys CEO and managing director Salil Parekh
"Our relevance, in an increasingly digital future, will depend on our ability to learn and evolve lifelong at the pace of technology. Democratizing digital literacy is an essential first step to make technology a force for good that moves us all forward."
Pegasystems founder and CEO Alan Trefler
"Throughout history, we've seen technological advancement bring both opportunities and challenges as society adapts. With technology so central to how we live and work today, it's critical that we enable people to acquire the skills required to be successful and to help society move forward in a positive direction."
PwC International global chairman Robert E. Moritz
"All over the world, people are asking themselves how they are going to prepare for their future, whether it's a new job, new responsibilities, or needed new skills. By working together across the public and private sectors, our hope is to enable new opportunities for people to carve their own paths, develop new skills, and future-proof themselves. By sharing our Skills Assessment, we believe more people around the world will be empowered to learn and grow professionally throughout their lives."
Salesforce vice-chairman and president Keith Block
"As the Fourth Industrial Revolution spurs incredible innovation, it is our responsibility as business leaders to ensure that the benefits created by this opportunity – now and in the future – are accessible to all."
SAP CEO Bill McDermott
"Our focus on building digital skills will unleash amazing potential in dreamers from all backgrounds. Instead of fearing automation, we should be optimistic about the exciting possibilities when people and machines work together. Bigger than artificial intelligence, we are entering a new frontier of 'augmented humanity'."
Tata Consultancy Services CEO and managing director Rajesh Gopinathan
With the advent of the Fourth Industrial Revolution, enterprises are leveraging the combined effect of emerging technologies to transform their businesses. Employees will also have to transform their skills and adopt newer ways of working to participate in today's opportunities that are as enormous as in any of the previous generations. It is important for enterprises to make investments in reskilling and upskilling employees and prepare them for digital-age careers."
Related stories
Top stories