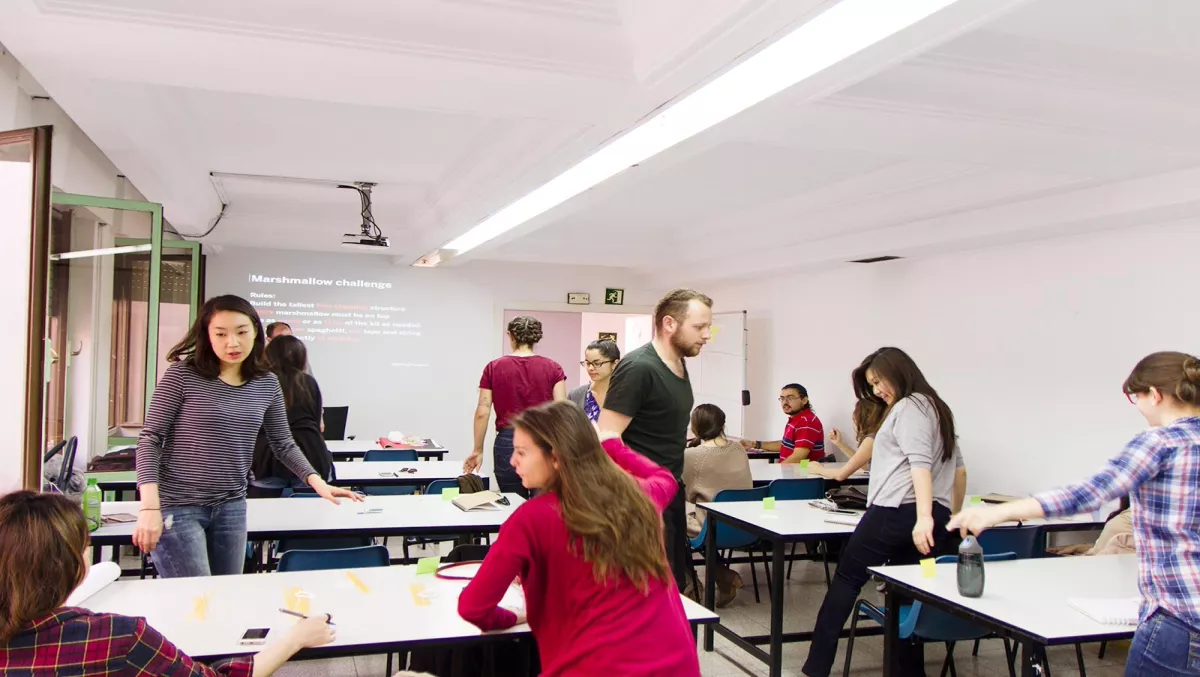 Is office culture hurting your chance at success?
Wed, 13th Jul 2016
FYI, this story is more than a year old
Tech startups are on the rise and many more people looking to build a startup and become a budding entrepreneur looking up to the founders of companies the likes of Mailchimp, Moz, and EventBrite. There are still ongoing debates on if office culture is the way to go anymore with remote working/telecommunication on the rise increasing by the year.
Office culture is a killer, it can be dull, boring, and non-motivational. The majority of the time you're sitting with people you don't know or like, but have to try and get along for the sake of the company. The iconic water cooler becomes the go-to place to air your grievances, whilst you swelter at your desk because you're being unproductive.
Well-established companies are now accepting remote workers with the likes of Apple, American Express, and HP hiring telecommunication workers it is becoming an ever more popular trend.
At Process Street, we are a remote team, with motivated employees who work to the best of their abilities when they want and when they can. If you want to know why remote working is better for tech startups than office based, then read on.
Better lifestyle
Remote working provides employees access to controlling their lifestyles around their work. They can either work on a beach or in a gothic church, they can exercise and take as much time off as they wish. This in all results in employees being happier at work resulting in a more productive employee. It can also lead to the employee being more loyal to the company and never think about quitting, which keeps a consistency throughout the company as there will not be a lot of chopping and changing.
Technology has advanced
The only pro side of working in an office is the fact that you can communicate and hand in work without any delays. Nowadays, though, we have many ways to stay connected to the internet and the less used phone ensuring that communication is not an issue. Wi-fi connections and mobile data networks are available in many countries throughout the world whilst coverage areas are increasing by the day.
With programs like Microsoft Office 365 it allows you to collaborate with colleagues in real time, even if one of you is in the office and the other is at home. Another great tool for remote working is Slack which is great for general communication.
Save money
A good part about having employees work in an office is that they're all together in the one space, which allows for easier communication and works collaboration, but is it needed?
Do you need to have the marketing team in with the development team just so everyone is in the same place? The majority of the time those departments will never work together or speak to each other so it makes no sense to why they should pay commuting costs for that reason.
With working remotely there comes a lot of cost saving, from paying commuting costs for employees to providing free lunch or coffee, paying for their expensive equipment which can include laptops, uniforms, stationery and more. This in all saves money for tech startups which makes it a good reason to go remote. It is a winning solution.
Hire the best talent
Again, with everyone in the same room it can provide a pro, especially in the development and design department as they can collaborate and share their ideas and work easier. Although there is many con sides to this for each candidate that is available to work in your city or country, there are hundreds more around the world who have more experience and can work for cheaper due to cheaper living expenses in different countries. On top of this, onboarding employees remotely can be a quicker and easier process than doing so on-site.
Why limit the most important ingredient for your business to succeed? It's inevitable that more skilled workers will embrace a remote working lifestyle, and it's the companies that can accommodate the lifestyles of these talents that will become the market leaders in the future.
Remote workers are more productive
As a fan of the remote working lifestyle, I've come across many blog posts and studies that state remote workers are more productive than those who work in an office environment. Although it is still being debated by many people, from personal experience of working in office environments and remote settings, I would back up the fact that remote workers are generally more productive as they're in control of their own lifestyle.
When I work in an office, I feel pressured into doing anything whilst my coworker's positive attitudes feel forced and unnatural making it difficult to work in and focus on my targets. Working remotely helps me bounce ideas off others easier as everyone is in happier moods and they feel more productive.
As you will be able to tell, I am a big fan of the remote working lifestyle, it has many benefits to it, for example; why on earth do I want to sit in boring meetings, meet face-to-face with people I don't like and wear suits when I can wear my PJ's in bed and just be as effective and productive? My productivity levels have increased whilst working remotely and I've learned more as I am comfortable in the environment I am working in.