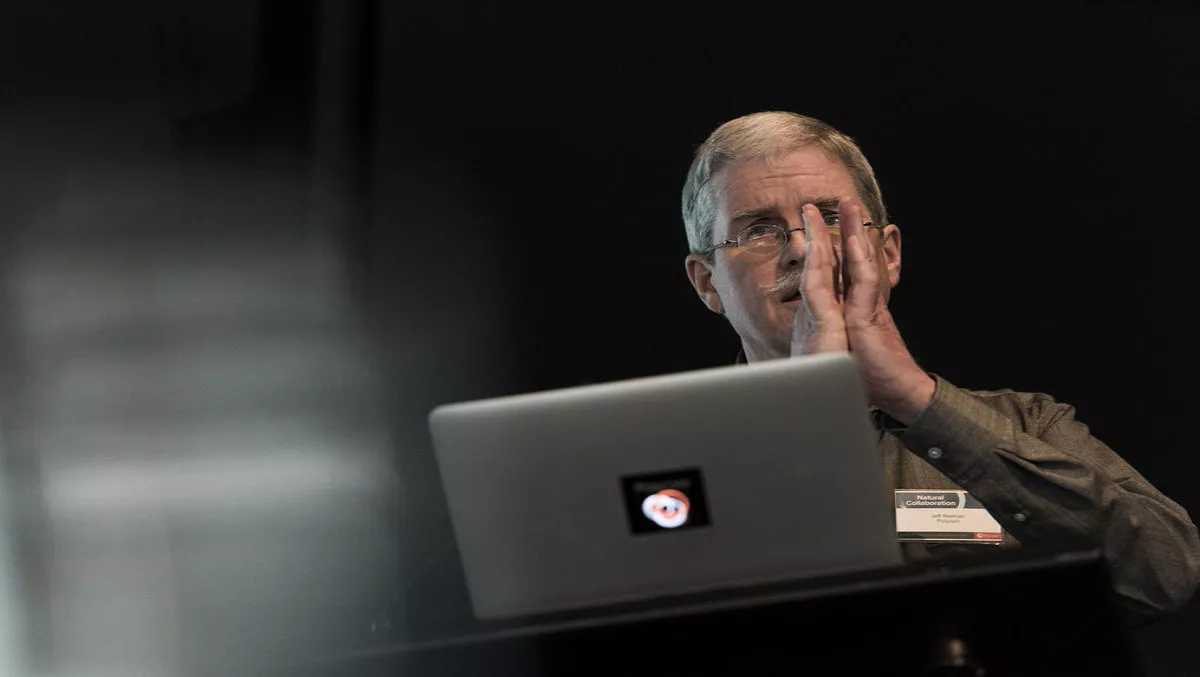 Polycom's Jeff Rodman on starting small, innovation & success in Silicon Valley
FYI, this story is more than a year old
Jeff Rodman is the Co-Founder and Chief Evangelist at Polycom and is also considered one of the world's leading technologists and a founding father of Silicon Valley.
He recently made a trip to Australia to discuss the power of innovation and idea creation within the age of digital transformation.
We were lucky enough to pick his brains in between a very busy schedule to find out what it's really like being one of the top dogs in tech and how his journey to the top started.
"As a kid, I loved playing the piano, playing with electronics, and all the darkroom stuff involved in photography - when it still depended on a real dark room and chemicals," he explains.
"When I got into college, I knew I had to decide what to do for a living, and realised that I could support a music hobby by being a professional engineer much more easily than the other way around – I just wasn't that good a musician."
Rodman says that as it turned out, applying technology to sound and images became yet another passion.
"I think it adds a depth of perspective that's often missing when people just design products to fill a hole in the product line," he explains.
So with a passion for technology that started from a very early age, it was only natural that Rodman would make his way to the San Francisco Bay Area and kick start the wild ride that is Polycom.
"I first came to Silicon Valley from Los Angeles in 1980 with my soon-to-be-wife. The first thing that struck me when was how much driving down the streets of San Jose was like reading data book titles on my bookshelf: Intel, AMD, National, HP, Cypress, and a lot I hadn't yet heard of," he explains.
"Silicon Valley felt like it was still mostly hardware then, and for most of us the internet existed only as direct point-to-point data lines and dial-up modem links – not much of an internet at all, in other words.
However much like today, the spirit of invention and innovation was very much alive in the early days – the evolution of the microprocessor is just one example of this."
And then came Polycom.
"Its founders, Brian Hinman and I, built this really innovative videoconferencing company called PictureTel, which developed video compression concepts that are still at the root of DVD and streaming internet video today," he explains.
"Time had passed though, and we wanted to build a company that did more: not just bringing video together, but bringing people together. We wanted to enable all the ways that people want to communicate, including voice, and video, and visual, text and so on."
Rodman says they eventually set their priorities to create a voice product first – they thought of the goal as the "best speakerphone ever"- and with a lot of digital signal processing and innovative acoustics, they did it.
"We kept adding more products, more complete integration, more ways to let people collaborate, but we also put a lot of work into enabling other companies so the industry would grow more coherently, both through partnerships and by being really liberal about releasing our communication methods into the public domain," he explains.
"We knew what we wanted to achieve, which was to connect people, and we did this by using technology already at hand; in a few cases, technology that was visibly approaching. We always evaluated risk and reward so we're keeping quantum computation out of our huddle-room video systems for the time being."
For the future tech leaders of Australian and New Zealand, Rodman says its okay to start with a big vision, but commence your journey with a small slice of it at first.
"We could have gone much bigger on day one, launching whole developments for video and graphics and networking - but we would have risked dilution. The result would have lacked focus and quality and connection to the original vision," he explains.
"And that's if there was any result at all – I think we would have just burned through a lot of money. Doing one thing at a time and doing it really, really well has always been key to Polycom's best successes.
Understand your goals, and keep evaluating and refining them. They don't all need to be moon shots. Something simple, done really well, can be much more successful than something complex that doesn't really serve a market."
For organisations hoping to climb the ladder of success, digital transformation seems like it is a key element these days. However, Rodman believes the term has lost meaning along the way.
"It's defining a major change by a single vague – or extremely broadly described - technology, and that doesn't really teach you anything. The introduction of digital technology has been a continuing process for decades, and what matters most is not whether something is digital, but how well it does its job," he explains.
"How it's using whatever its technologies may be to deliver reliability, robustness, security, and to perform whatever its key features may be."
On the topic of success, Rodman stipulates that nobody can be the best at everything, it's all about recognising your strengths and using those to leverage strengths in others.
"I think that the Polycom and Microsoft partnership is a stellar example. We are doing is a lot of work extending what is already a pretty impressive a set of integrations with Microsoft Office 365 and Microsoft Skype for Business," he says.
"One of the things we are doing is putting increasing effort into strengthening relationships with partners, and particularly, as we are moving into enabling more over the cloud. While Polycom has a cloud solution of its own; what we are starting to do is look at other cloud solutions out there," explains Rodman.
Looking ahead to the future, the Silicon Valley local says tomorrow's technology needs to be flexible enough to meet the demands of different work styles and collaboration requirements ranging from group brainstorming to talent acquisition and training.
"Likewise, the ability to collaborate seamlessly is expected to be an integral factor in the design of future workspaces. Expect more open meeting spaces, huddle rooms and personal workspaces; as well as home offices," he says.
"Empowering innovators wherever they are, and bringing them together in virtual teams that work across geographies is also a major opportunity."
Related stories
Top stories