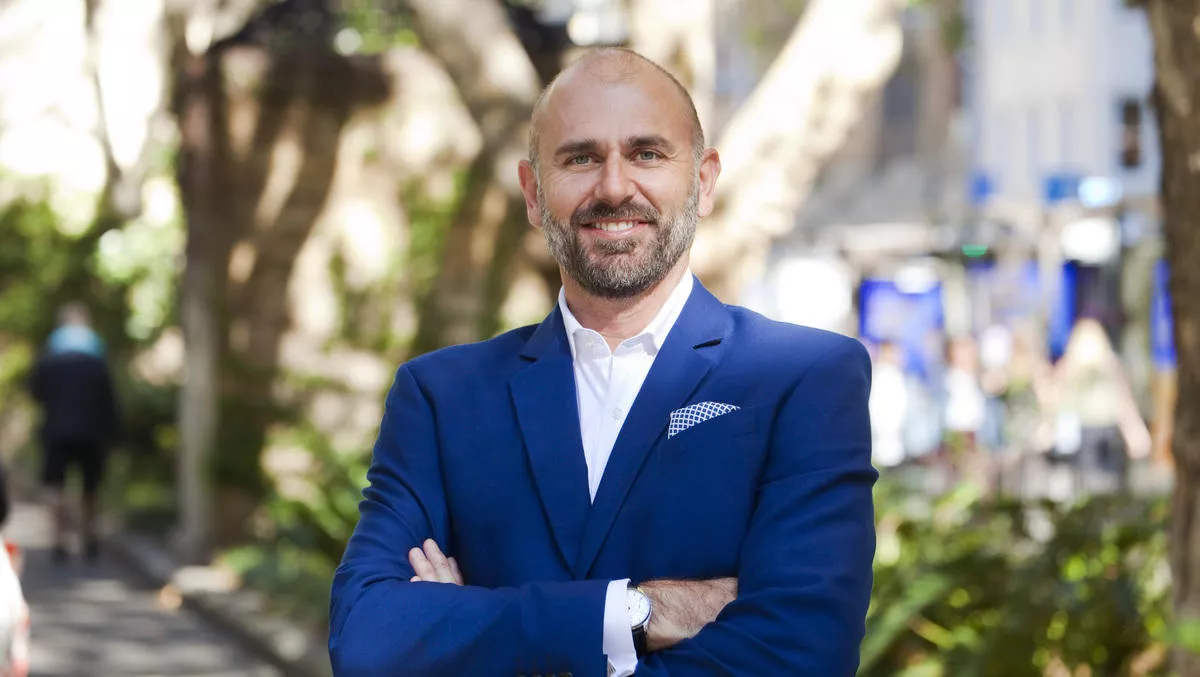 Q&A: UiPath's Andrew Phillips decodes RPA for the modern business
FYI, this story is more than a year old
Robotic process automation (RPA) is one of the driving forces behind a massive simplification of every organisation's most laborious, repetitive, and manual processes.
According to Gartner, RPA is a core component of hyperautomation, a top strategic technology trend for 2020, including complimentary technologies such as AI, ML, citizen development and process discovery.
We spoke to UiPath ANZ vice president - managing director Andrew Phillips to find out more.
In one of your keynotes from #UiPathTogether, you explain that RPA is about 'eliminating the boring and the banal'. Could you elaborate on that?
People do a lot of tasks every day in their jobs that they don't like. In fact, there's a reason that they don't appear on official job descriptions – no-one would sign up to many jobs if they realised how many repetitive, mundane and boring tasks are needed. And that covers all sorts of jobs from entry-level to a CXO.
With hyperautomation, organisations can identify, digitise and automate any task that is of low value for humans to do. Once you take away all the boring tasks that people don't want to do, you're left with the interesting and meaningful tasks that people want to work on and what companies want their employees to be doing.
UiPath has achieved some notable accolades from the likes of Gartner this year. Could you talk a little about your position as a leader in the 2020 Magic Quadrant for RPA?
We're extremely proud to have been named a Leader again in Gartner Magic Quadrant for RPA, as we believe it shows our commitment to helping our customers achieve success with automation. At this current moment, when embracing and scaling automation is key to improving business resilience and agility, we are seeing the importance of accelerated digital transformation. In short: execution is critical because the time to automate is now.
Gartner recognised UiPath as the July 2019 Gartner Peer Insights Customers' Choice for Robotic Process Automation – a collection of independent user reviews. We believe being named a Leader in the 2020 Gartner Magic Quadrant for RPA reinforces these customer ratings. We're incredibly grateful to our customers for their continued support and to Gartner for their impartial analysis of the RPA landscape.
What is it about your company's portfolio and strategy that has elevated you above what is a competitive and often crowded market?
In short, it's the positive customer feedback. The Gartner Peer Insights' results highlighted this – customers enjoy working with UiPath and voted with their budgets. We have worked hard to deliver on the requests that customers and partners have told us they want. Our customers wanted us to move up the hyperautomation chain so we developed a Process Discovery tool. They also wanted more "fully-baked" solutions from us in specific areas and we developed a solution for Document Understanding and Contact Centres to name just two. With the recent Series E funding round, we will continue to iterate on behalf of our customers to help them eliminate the boring low-value tasks they don't want their people doing.
How do you work with your partner community?
Our partner community has been immensely supportive and engaging with us and our customers. They have brought us new customers across Australia and New Zealand, in the public and private sectors.
Our partners have built the capability to successfully automate processes for our customers and developed best practices on how organisations operate automation at scale. They also bring unique value to our customers with their intellectual property in many different use cases, such as supply chain, regulatory compliance, customer service and operations.
In return, our partners have been rapidly growing their revenues and workforce, and leveraged automation to build new practices in AI/ML and BPM.
UiPath recently raised $225 million in a Series E investment round, putting UiPath's value at around $10.2 billion. How will this funding help to support the company's local operations in ANZ?
The funding will be used for expanding R-D - improving or increasing features in the current technology.
Continued focus on education as our goal is to bring automation to 1million citizen developers around the world. Companies in ANZ tend to be early adopters of new technology - many of our new technologies have been deployed first by ANZ companies.
As we walk the road to recovery, the organisations best positioned are the ones most adaptable to change who are using automation to thrive and get back to revenues and employee numbers quicker.
Recently you announced integrations with the likes of AWS and Box, which bring RPA into cloud infrastructure and storage. What else is ahead for the company – globally and in ANZ?
Our upcoming release will deliver scalability and resilience for hyperautomation, an entirely new level of flexibility with Automation Cloud, innovative citizen developer capabilities that continue to democratise automation, and an entirely new application development layer that extends the reach of human and robot collaboration to every worker.
We will continue to provide out-of-the-box integrations with many leading IT organisations. We have already announced connectors to Salesforce and ServiceNow where bots can be launched natively within those applications. Further to the Box announcement we have also partnered with Alteryx, a leader in analytic process automation and with AWS to complement our partnership with Azure. The instant demand for these integrations and partnerships are a strong indicator that hyperautomation is being deployed right now within customers globally.
Is there anything you would like to add?
A recent poll in the UK found, unsurprisingly, that 100% of CEOs wished they had automated more before the COVID-19 pandemic. While simple to say in hindsight, today is the best time to have an automation-first mindset that will help organisations bring forward the date that they are back to pre-COVID-19 levels of revenue or productivity.
RPA, and increasingly hyperautomation, has been proven by thousands of customers across the globe in every industry and with virtually every workload. Companies can get started in just weeks their first production workload with an ROI measured in months, not years. The time to automate is now.
The future is here - are your people ready?
The Future of Work: A Pandemic Spotlight has revealed that the global COVID-19 crisis has accelerated digital transformation initiatives and acted as a catalyst for increased automation investment. This shift is being powered by intelligent automation technologies, including RPA. Click here to read the report.