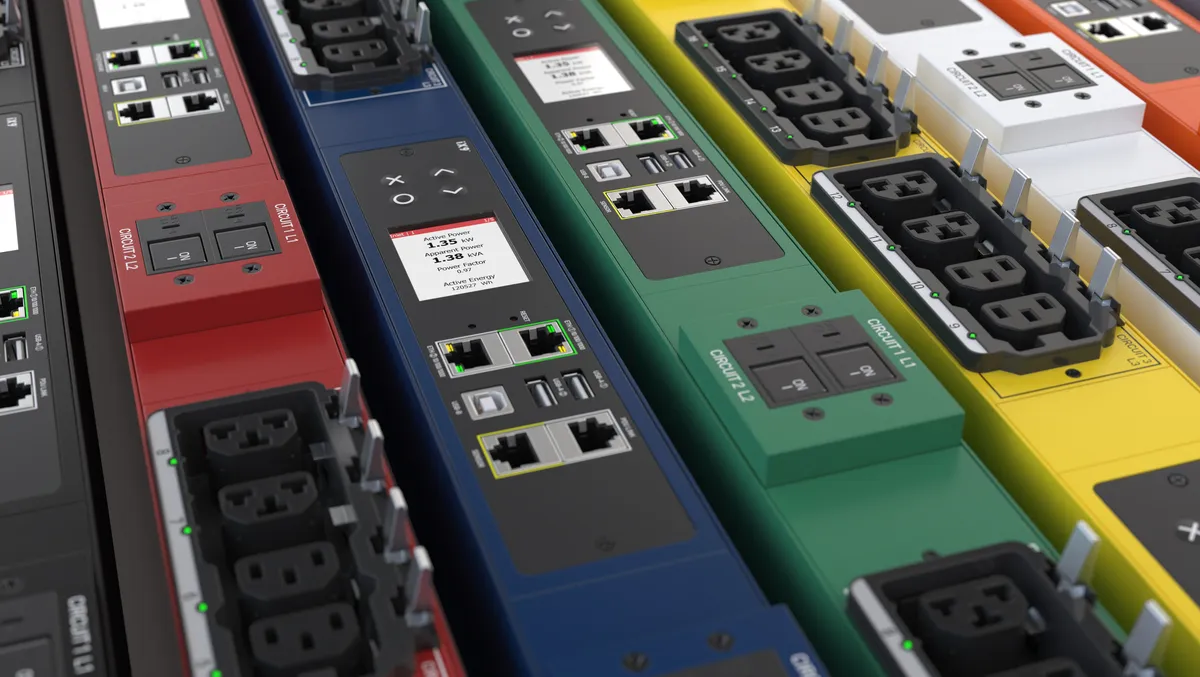 Raritan continues to drive innovation with its PX4 PDUs
Wed, 2nd Aug 2023
By Tom Raynel, Managing Editor
The Data Centres of today require the highest level of digital infrastructure to establish and maintain their operations. A vital part of this infrastructure is Power Distribution Units (PDUs). PDUs provide standard electrical outlets for data centre equipment and control electrical power for data centres. However, their applications don't have to stop here, and Raritan has the solution.
Raritan is a proven innovator of power management solutions, and their PX4 PDUs are no different. However, where normal PDUs only come with base features, Raritan's PX4s go above and beyond.
Raritan's PX4s come with an incredibly diverse range of features, including outlet-level power monitoring and control, environmental sensors, and remote management capabilities.
These features allow the PX4 to be the ultimate power optimiser in data centres. Efficiency and dependability are essential in data centres and mission-critical environments, and the PX4 gives those assurances as an advanced power management solution.
Another useful thing about PX4s is that they can be managed from afar. Rather than having to manage traditional PDUs in person, Raritan's PX4 can be monitored remotely – enabling data center operators and managers to reduce manpower resources for day-to-day operations.
With Raritan PDUs, you can meter at the inlet, which provides a view of power usage and capacity at the cabinet level; at the outlet, which allows you to see power consumption at the device level; and at the branch circuit, which offers early warning if a circuit is becoming overloaded, providing maximum efficiency throughout the system.
While these features on their own would be very helpful, Raritan does not stop there, with other optional features including:
Sensors for temperature, humidity, airflow, air pressure, water, and more, which help to safeguard mission-critical equipment.
Seamless integration with power monitoring software for actionable insights on energy trends and power capacity.
USB ports for WiFi networking, daisy-chaining, connecting webcams, easy configuration, and turning a mobile device into an at-the-rack display.
Full-coloured chassis that make it easier to identify power feeds.
Locking outlet and power cord systems that prevent accidental disconnects.
What problems are solved by having these features?
With a breadth of features, it may come as a surprise to know there are some organisations that don't see the need for PDUs like the ones Raritan offers. But it's more than just what features Raritan's PX4s bring; it's the problems it solves.
Power usage optimisation: Data centres often need precise control and monitoring of power usage to ensure efficient utilisation of resources and minimise energy costs. The PX4 PDU's outlet-level power monitoring and control features can help data centres optimise power usage and identify potential inefficiencies.
Environmental monitoring: Data centres need to maintain optimal environmental conditions, including temperature and humidity, to ensure the proper operation of IT equipment. The PX4 PDU's environmental sensors can provide real-time monitoring of these parameters, helping data centres maintain the ideal environmental conditions.
Remote management: Data centre administrators may need to manage power distribution and monitor environmental conditions remotely. The PX4 PDU's remote management capabilities can provide convenient access and control, allowing administrators to monitor and manage power usage and environmental conditions from a central location.
Mission-critical reliability: Data centres require high levels of reliability and uptime. The robust and reliable design of the PX4 PDU can help address the challenge of maintaining uninterrupted power distribution in mission-critical environments, minimising downtime and ensuring continuous operations.
By addressing these challenges, Raritan's PX4 PDU can provide data centres with advanced power management capabilities to optimise efficiency, enhance reliability, and improve overall performance.
So what are you waiting for?
For more information on the PX4 PDU and how it could help your business, please visit the link below.