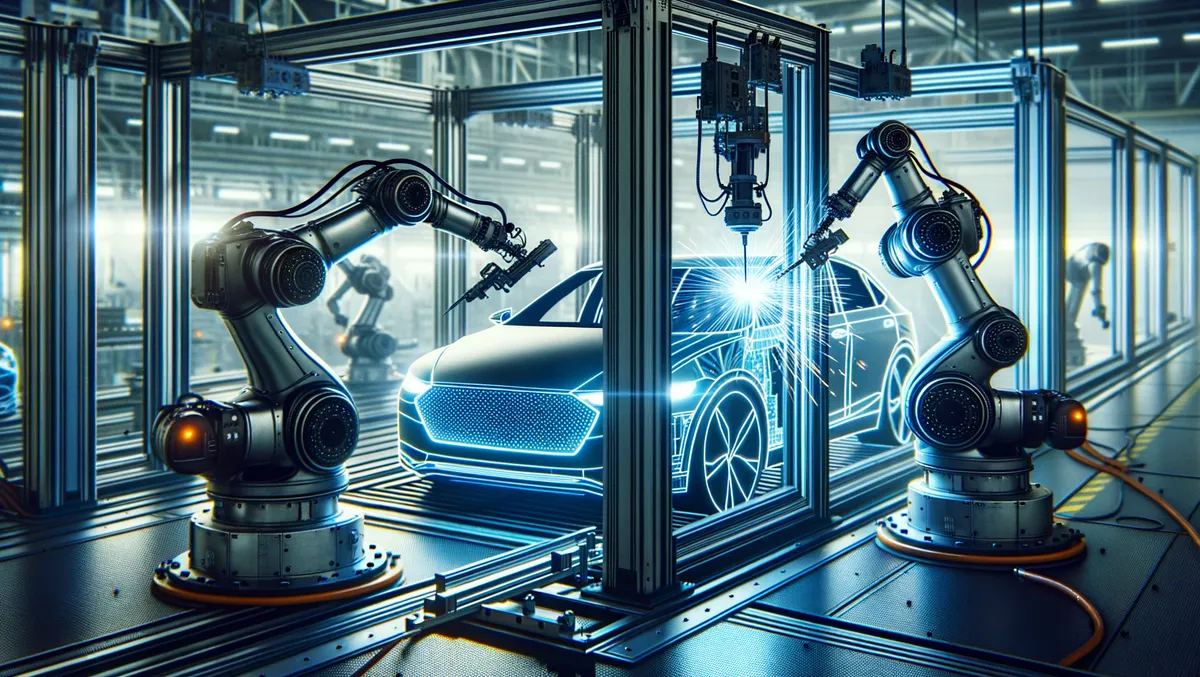 Realtime Robotics launches service to optimise robot work cells efficiency
Realtime Robotics has launched its new Optimisation-as-a-Service solution, designed to enhance the efficiency and speed of operations in bottlenecked robot work cells.
A pioneer in autonomous motion planning for industrial robots, Realtime Robotics uses its proprietary software to analyse a work cell's CAD file, identify areas of efficiency, and optimise operations.
Volkswagen, the global automobile manufacturer, has already benefited from this technology. In a proof-of-concept project for electric vehicle manufacturing, Volkswagen Commercial Vehicles employed the optimisation service to improve the cycle time in a 2-robot cell used in welding car doors for the ID. Buzz vehicle line.
The technology enabled the detection of bottleneck areas and provided recommendations based on the manufacturer's specific parameters. This did not interfere with ongoing production, and as a result, the automotive manufacturer was able to implement improvements and cut cycle time by several seconds.
Realtime Robotics can swiftly create and examine hundreds of thousands of possible robot paths. This process determines the best motion sequences based on key considerations such as target assignment and robot reach. Thanks to automatically calculated interlocks, robots can operate within closer proximity.
Customers need only share their simulation CAD files for the bottlenecked cells. Following that, Realtime Robotics engineers apply proprietary algorithms and their expertise to optimise the work cell within weeks, minimising cycle times with accomplished paths and sequences. After validation, the results can be instantly shifted to the production floor.
Peter Howard, the CEO of Realtime Robotics, discussed the transformative impact of their Optimisation-as-a-Service offering. He pointed out that this service is especially valuable in situations where there is a need for quick enhancements in productivity within automation cells, avoiding the lengthy process of squeezing out incremental gains over months.
Howard emphasised the potential of their service to revolutionise manufacturing operations by optimising speed and efficiency. Importantly, he highlighted that this optimisation can be achieved without disrupting existing processes, presenting a novel approach that has the capacity to bring about lasting changes in the manufacturing sector.
Peter Howard expressed, "Our Optimisation-as-a-Service offering delivers results when you cannot spend months squeezing more productivity out of your automation cells."
"It has the potential to change forever how manufacturing operations are conducted, optimising for improved speed and efficiency without interrupting existing processes," says Howard.
Applying this service can help manufacturers increase their profits by maximising existing or new automation. Major automotive companies, among other manufacturers, can continuously exceed revenue goals using Realtime Robotics software.
The company, co-founded by Brown University robotics professor George Konidaris, has collaborated with various companies, including BMW, Schaeffler, Kawasaki, Siemens, and Mitsubishi. Toyota's venture arm is an investor in the firm.
The company's solutions expand the potential of automation, empowering robots to function together in unstructured and collaborative workspaces. They react to dynamic obstacles the instant changes are perceived.