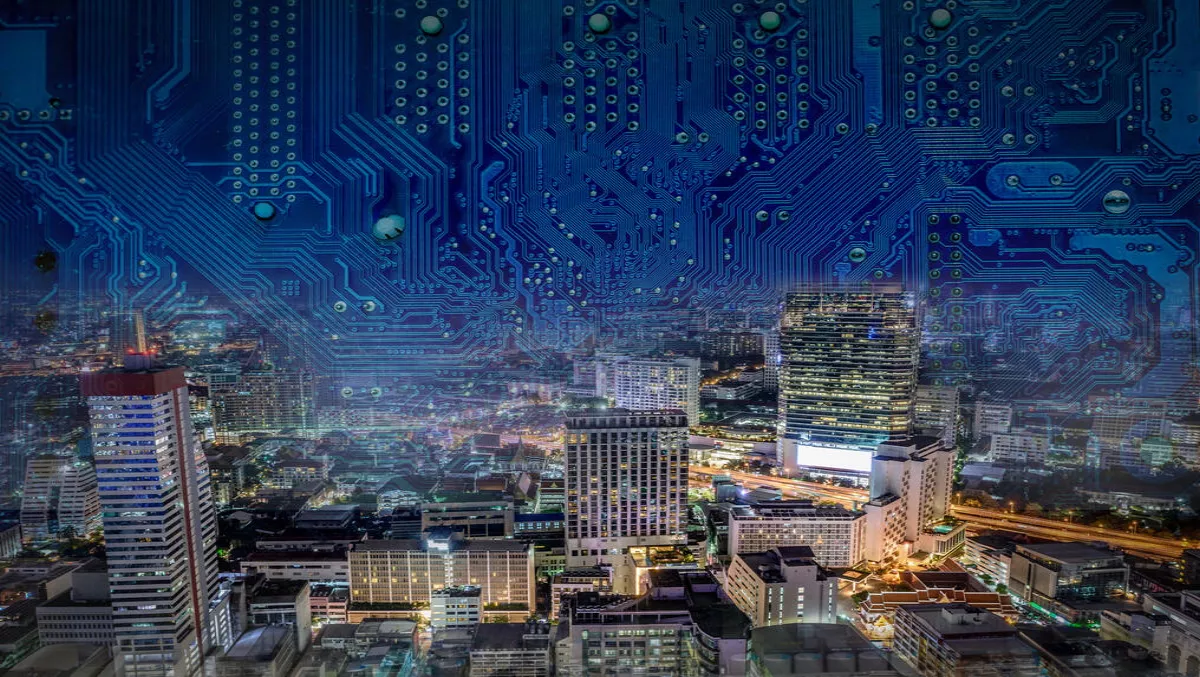 Revisiting the 7 bold predictions for the connected enterprise from 2017
FYI, this story is more than a year old
It's rapidly coming up on "predictions season."
But, before we start looking ahead to 2018, we thought we'd look back at the "7 Bold Predictions for the Connected Enterprise" we made for 2017 to see where these technology trends stand.
Here's what we see today:
2017 Prediction #1: The multi-cloud convergence hits a tipping point
Like the rest of the industry, we were pretty bullish about the future of the cloud, and in particular, enterprises' adoption of hybrid and multicloud infrastructures.
We predicted that in 2017, hybrid and multicloud would fundamentally change the way people and businesses operate as they migrate their IT to a usage-based service model.
We continue to see a huge amount of growth in cloud adoption by enterprises, with the Global Interconnection Index predicting that Interconnection to cloud and IT providers will increase at an annual growth rate of 160% between 2016 – 2020.
However, at the same time, edge computing is changing how businesses are using clouds, and everything else for that matter, which brings us to our second 2017 prediction: The rise of the digital edge.
2017 Prediction #2: The rise of the digital edge
Enterprises are seeing the digital edge as a new greenfield opportunity for re-architecting their IT infrastructures. And, why shouldn't they? There is an increasing number of social, mobile, analytics and cloud (SMAC), and more connected things working at the digital edge where commerce, population centres and digital ecosystems meet. The digital edge is where business happens and where most data is created and resides.
But the digital edge is not just a thing or a place, it is a mode of doing digital business. And, it's changing how digital technologies are being used. In his recent research note, "Maverick Research: The Edge Will Eat the Cloud." Gartner analyst, Thomas J. Bittman writes, "Today's focus on centralised cloud computing will shift to a focus on edge computing, and managing the architecture of applications and data from the cloud to the edge." In fact, at Equinix, we see businesses and cloud providers already re-architecting their IT services at the edge.
And to be successful at the edge, you need to enable private data exchange between companies. This requires what we discussed in our third prediction, an interconnected fabric that integrates a variety of diverse and distributed cloud and IT services and data sources.
2017 Prediction #3: The interconnected fabric emerges
When we made this prediction, we were thinking more in terms of bringing businesses' multicloud deployments together around the globe, but as it turns out it is much more than that. It also involves integrating multicloud orchestration (e.g., containers) and application development tools (e.g., APIs) together. And as we previously mentioned, this fabric must interconnect distributed data sources (e.g., IoT devices) and new dynamic data types (e.g., multimedia files) with workflow and analytics engines to increase productivity and gain greater business insights faster.
Interconnection is also the enabler for new opportunities between businesses and greater innovation when leveraging new digital technologies. In fact, according to the Global Interconnection Index, by 2020 the Interconnection Bandwidth capacity estimated to conduct scalable digital business, could grow to over 5,000 terabits per seconds, outpacing the overall growth of global IP traffic.
2017 Prediction #4: Getting security right becomes more important than ever
2017 has been an unprecedented year of cyber-attacks and data breaches. The digital security firm Gemalto reported a crippling number of cyberattacks in the first half of the year contributing to 1.9 billion records being either lost or stolen. With so many distributed connected devices sending and receiving data around the globe, the entry points for cyberattacks are growing and the surface area companies need to defend is larger than ever. In addition, bad actors are more sophisticated in their attack strategies and tactics. Our series of articles on deploying security at the edge outline how businesses can implement controls that act as much-needed guardrails for globally exchanging data.
2017 Prediction #5: The age of interconnected commerce
With blockchain increasingly becoming a part of the financial services playbook and digital payments the new norm, retailers (brick and mortar and e-stores), banks, payment services and distributed cryptocurrency "miners" need to be directly and securely interconnected to keep the global digital economy turning. With more than half of us buying goods online, and millennials driving global mobile wallet spend increases in 2017 to $1.35 trillion, interconnected commerce is going to continue to be a major trend, and drive how we all will be paying for goods and services well into the future.
2017 Prediction #6: Software-defined infrastructure and advanced networking expand
The new age, agile and programmable network backbones that we prognosticated would be spreading the globe are still evolving and making their way onto the worldwide IT infrastructure scene. Why the delay, given the immense amount of demand to move enormous amounts of data, specifically in and around the digital edge? Upgrading and expanding networks is a very difficult problem to undertake, even with 5G wireless, 100 GbE, and optical fibre network technologies coming onto the scene. And advances in and the acceptance of more agile software-defined networking (SDN) and network function virtualisation (NFV) capabilities don't mean you can just plug SDN and NFV into a legacy network and expect them to flawlessly integrate with all of the other protocols you're transporting. However, given that real-time data exchange and user interaction is so vital to doing digital business, the demand for more flexible, real-time Interconnection will only increase exponentially, along with increasing volumes of data.
2017 Prediction #7: The IOT Revolution
The Internet of Things (IoT) is emerging and evolving, and the networking infrastructures that are required to power and protect it are madly trying to catch up with the IoT technologies and deploymentsthat are going into Smart Cities, the Industrial Internet, and in just about everything that we can possibly imagine or touch. The IoT is also one of the major sources of the proliferation of data that is happening around us. Real-time, direct, secure Interconnection to move, process, analyze and protect this data is required to supplement the legacy networks that are not really fit to handle the IoT data explosion or continuous feedback from IoT analytics engines.
These digital trends will continue well into the future and we'll soon reveal some new predictions for 2018.
Article by Tony Bishop, Equinix blog network
Related stories
Top stories