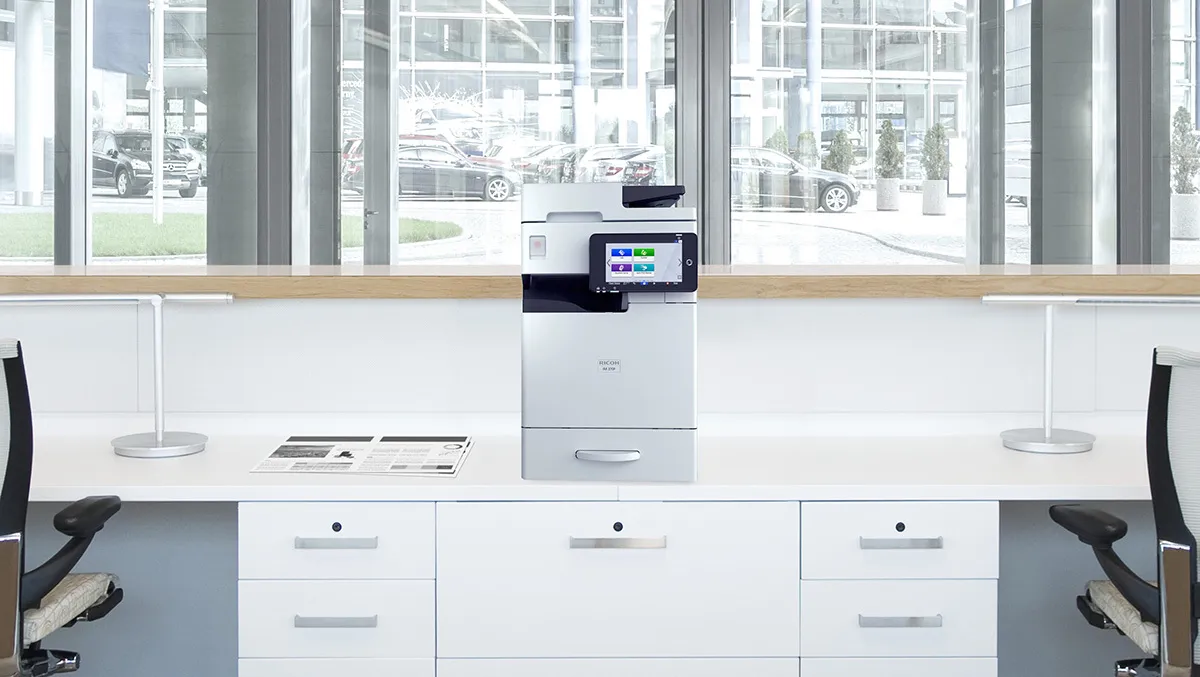 Ricoh Australia launches compact & secure B&W MFPs
Ricoh Australia has announced the launch of its latest range of black and white multifunction printers (MFPs), designed to support and optimise day-to-day business operations. These compact devices enhance productivity, increase data security, and are intended for businesses of all sizes.
The new devices: the IM 370F and IM 460F, are capable of copying, printing, scanning, and faxing as standard. They offer print resolutions of 1,200 x 1,200 dpi and brisk print speeds of up to 37 ppm and 46 ppm, respectively. Their compact size and low noise levels make them perfect for both large enterprises seeking convenient desk-size solutions and for smaller businesses in need of small form, high-capacity, and A3 capabilities.
The printers showcase impressive features, including an advanced Smart Operation Panel powered by the latest generation processor. It has a touch-sensitive capacitative panel, Bluetooth 5.2, and a significant memory boost for smooth and flawless navigation. Brightness levels and touch sensitivity have been optimised, improving access to the MFP's many resources and functions. This panel uses Android OS 10, a completely customised and engineered Android OS specifically for Ricoh MFPs, making these devices robust against cybersecurity threats.
Ricoh has also included the Always Current Technology (ACT) in these devices, allowing users to install the latest device functions and security patches, thus keeping devices up to date. Protections against cybersecurity threats, such as restricting users from printing PostScript or PDF files and implementing Transport Layer Security (TLS) 1.3, SNMP v3 support Windows and LDAP user authentication, have been vital considerations.
In terms of green credentials, these new MFPs show great promise. The outer mainframe uses 17% post-consumer recycled materials, while the toner bottles are made from 100% recycled plastic. In addition, the new Smart Operation Panel has energy-saving features which reduce power consumption in Sleep Mode by 45%.
The new MFPs are unique as they are compact desktop models yet still carry A3 paper-size handling. This, coupled with the Single Pass Document Feeder (SPDF) showcases the versatility of these new models, catering to diverse workflow requirements. Sul Koralege, Product Manager, Ricoh Australia, stated, "the new MFPs with the unique A3 capability enhance performance and productivity. They will support today's businesses looking to optimise office space and accommodate hybrid work styles."
Expectations are that the IM 370F and IM 460F will be appealing to both large and small enterprises looking for a comprehensive and efficient solution for diverse workflow needs. They support the transition between paper and digital workflows and also provide the latest data security standards. The flexibility offered by these new series of black-and-white MFPs makes them a beneficial addition to the modern workplace, empowering teams to easily print, share, and digitise workflows.