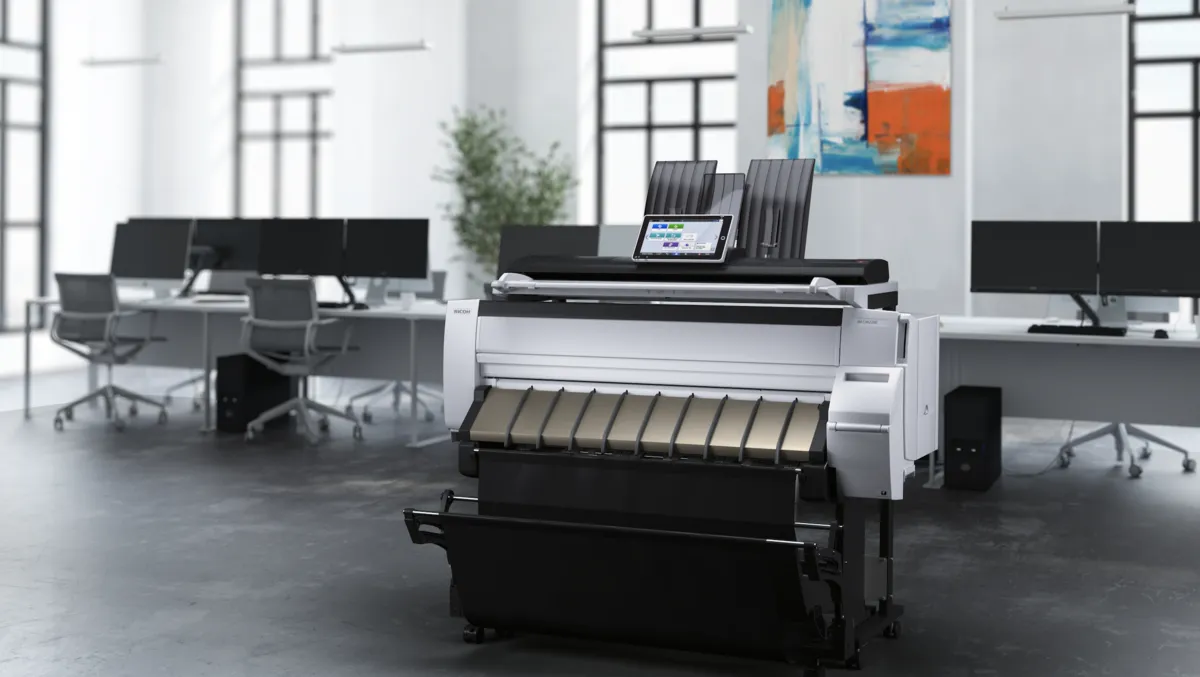 Ricoh launch IP CW2200 and IM CW2200 digital printers
CAD and Large Document users are expected to benefit from the launch of Ricoh IP CW2200 and IM CW2200 Digital Colour Large Format Printers.
The Ricoh IP CW2200 and IM CW2200 digital colour large format printers are said to make the agile and responsive creation of CAD drawings and other large documents (A1/A0) more efficient and secure.
The compact digital colour IP CW2200 wide format plotter is designed to enable high-quality output fast, effortlessly, and affordably. With a small footprint, the next-generation printer produces CAD drawings, from precise line drafts to boldly coloured 3D renders.
Ricoh says this new addition to its portfolio of responsive wide-format printers answers the market's increased demand for print-only systems.
The complementary IM CW2200 wide format multifunctional printer adds scanning and copying capability for documents up to A0 size.
Designed to offer more than a traditional printing and scanning solution, Ricoh says it can act as a secure document hub for technical files to share jobs easily and help enhance productivity.
The next-generation systems were built to align with today's architecture, engineering, manufacturing, and construction needs, as well as print rooms and government departments.
Henryk Kraszewski, Senior Product and Marketing Manager, Ricoh Graphic Communications, Ricoh Australia, says: "The Ricoh IP CW2200 colour wide format solution handles all high-quality oversized printing needs affordably."
"The Ricoh IM CW2200 makes more accessible work of considerable precision CAD documents or CAD drawings with fast scanning and copying, and digitising projects with automated scanning capabilities.
"This means less time at the printer and more time focusing on projects," says Kraszewski.
The ability to print A0 up to 1200 x 1200 dpi at 3.8 ppm black and white or 2.1 ppm full colour means the printer offers some of the fastest print speeds on the market.
Kraszewski continues: "Fast and easy to use, they boost productivity."
"Their versatility enables them to meet varied application needs and reduce outsourcing while costs can be reduced through labour savings.
"Environmentally friendly operation makes them an attractive operation for eco-conscious businesses, too.
"These benefits combine to offer clients a highly productive system that cost-efficiently responds to changing demands," says Kraszewski.
The Ricoh IP CW2200 and IM CW2200 comprise several enhanced elements designed to meet evolving needs.
These include fast scanning and printing at up to 35.3mm/s for colour and up to 106.7mm/s for mono documents and a new Smart Operation Panel with an intuitive colour touchscreen interface.
In addition, the innovative printers carry a new stack tray that can hold up to 10 sheets of A1 documents and an automatic paper roll setting that holds 175m rolls of paper and prints documents up to 33 metres long. In turn, this eliminates the need to hand-feed the paper.

Other key benefits included in both systems:
Ricoh's variable dot GEL-Jet Ricoh Piezo print heads and innovative GELJET pigment-based inks enable high image quality for precise detail. This delivers UV and water-resistant output that dries quickly for immediate use, indoors or outdoors.
Longevity as the permanent print heads eliminate the need for replacements, helping maintain a low total cost of ownership.
Flexible production for increased efficiency powered by Ricoh's open architecture USB SD Card workflow. Data can be submitted from different sources, including a USB stick, web tool, or the standard printer driver.
Ink Save Mode and short warm-up times aid the printers' environmentally responsible operation.
The RICOH IP CW2200 and IM CW2200 are both available now in Australia.