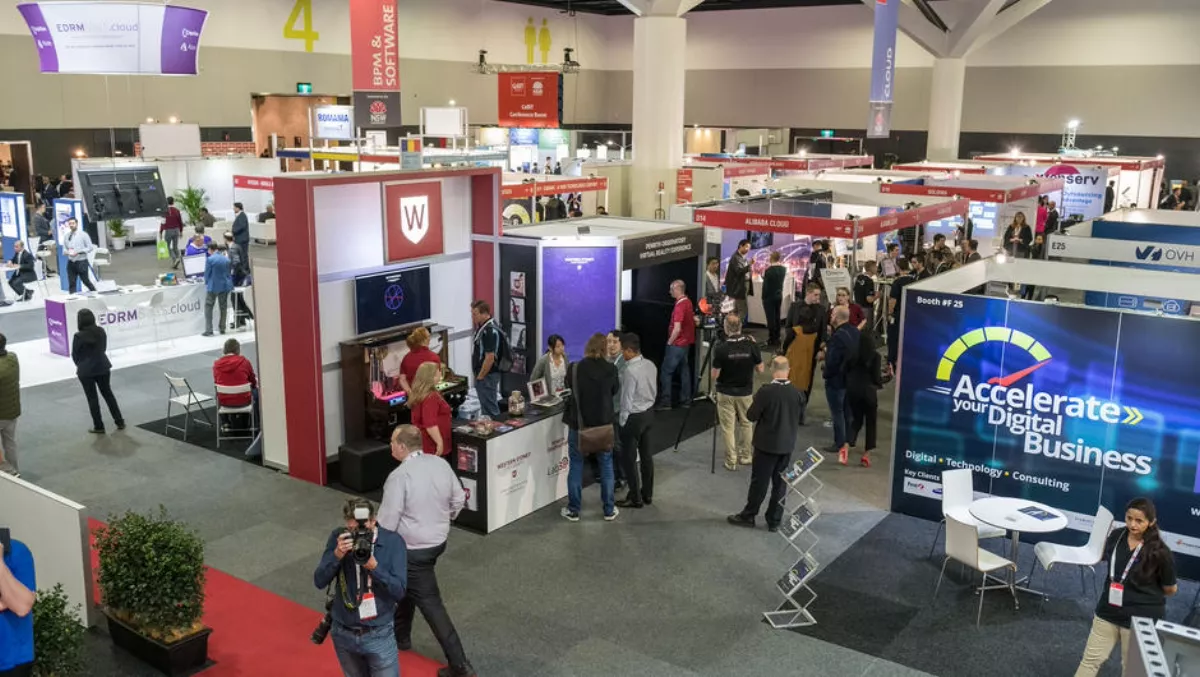 THAT'S A WRAP: the highlights from the 2018 CeBIT Australia exhibition
FYI, this story is more than a year old
The CeBIT Australia 2018 exhibition and conference came to a close last week, drawing a record attendance and over 200 exhibitors to Sydney's International convention centre.
The exhibition drew in a vast range of different vendors, showing off the very best of technological innovation with solutions that met the criteria of both large enterprise organisations and smaller B2B companies as well as government institutions.
Some of the exhibitors included Datacom, Panasonic, Alibaba cloud, Western Digital and Vodafone as well as public and government exhibitors including the NSW government, National Broadband Network and UTS.
There were also stalls consisting of international government organisations, with representatives from the Pakistani, Romanian and Indonesian governments, who were showing off technology that their institutions had implemented for public innovation and investment.
Ultimately, anything that might peek a businesses interest in terms of investment or implementation was on display, from rugged mobile devices from Xplore to the very best in cybersecurity innovation from Norton by Symantec.
The exhibition also featured a range of keynote speakers, accessible to all attendees with the free exhibition pass.
Notably, Minister for Finance, Services and Property Victor Dominello spoke on behalf of NSW Premier Gladys Berejiklian about how the state government is working to foster digital transformation and invest in technology.
He also used the opportunity to announce a new state government procurement tool, buy.nsw, which is designed to be a single point of contact for government to engage suppliers.
"Selling to government is certainly not easy. We have approximately 10000 suppliers, all of which are on-boarded through a plethora of portals across agencies," Dominello said.
"Our goal for buy.nsw is for it to be the first single government platform for all procurement. This will make it easier for government to find and compare suppliers while making it easier for suppliers to market their services."
Dominello speaking at the event
Similarly, Sydney Lord Mayor Clover Moore also spoke about some of the initiatives the city has implemented to help foster a culture of innovation for tech startups and entrepreneurs, as well as the economic and social benefits of bringing both large and maturing technology companies into Sydney.
Moore spoke about how the City of Sydney is investing in startups through its tech startup action plan.
"We want Sydney to continue to be one of the most innovative and livable cities in the world, so in 2016 we adopted our tech startup action plan," Moore says.
"The plan outlines how we will remain competitive by encouraging more people to become entrepreneurs, increasing opportunities for entrepreneurs to access both investment and talent, expanding hubs of office and event space, creating a better-connected ecosystem and reducing the regulatory barriers that startups face."
Another notable speaker at the event was Alibaba chief scientist and associate dean Xiaofeng Ren, who took a deep dive into the past, present and future of AI, describing it as an enabling force, rather than a replacement of intelligence.
He outlined what he sees as the fourth industrial revolution, which is the blending of the cyber and traditional world, highlighting technologies such AI-enabled facial recognition and intelligent 'far field" voice recognition working in a noisy uncontrolled environment.
Also delivering quite a captivating talk was Symantec CTO Hugh Thompson, who gave a global perspective on the coming trends in cybersecurity and the innovation required to thwart the standard set by cybercriminals.
Symantec CTO Hugh Thompson
Away from the keynote speakers, the exhibition also featured something called the FutureTech Stage, which featured a host of the world's most renowned industry experts on matters relating to things like the Internet of Things (IoT), FinTech, Artificial Intelligence (AI) and Machine Learning.
Among the many speakers on this stage were UTS professor and head of discipline for network and cyber security Ren Ping Liu, who spoke about IoT and blockchain technologies as well as representatives from the Sunshine Coast Council, who outlined how they are currently implementing a range of smart city technologies for both public and private benefit.
The FutureTech stage
The exhibition also featured a startup and pitchfest, providing the opportunity for CeBIT StartUp exhibitors to pitch their products to an experienced panel of judges in front of a large audience of fellow start-ups, investors and potential customers.
Overall, the CeBIT Australia exhibition truly featured something for everyone, no matter where you are in your technological maturity, all provided to attendees with a free exhibition pass.
Judging from the quality of 2018's event, it really needs to be one of the first things every organisation pencils in for their 2019 calendar.
Related stories
Top stories