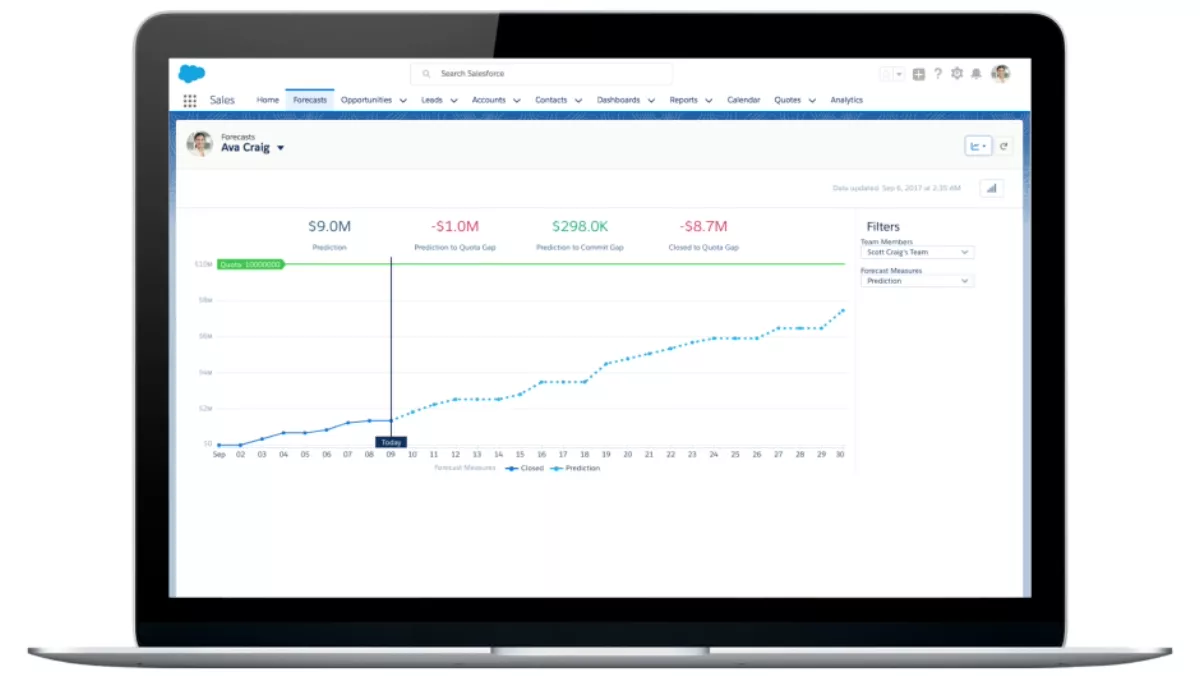 Salesforce announces AI innovation fund and Sales Cloud Einstein Forecasting
FYI, this story is more than a year old
Customer relationship management (CRM) cloud software provider Salesforce has announced the next generation of Sales Cloud Einstein, bringing AI to every step of the sales cycle, from building pipeline and closing deals, to growing the business.
With Einstein Forecasting, sales leaders gain visibility and intelligence to more accurately predict sales revenue at every stage in the sales cycle
In addition, Einstein Opportunity Scoring automatically prioritises high-value opportunities and Einstein Email Insights automatically identifies the most important emails, enabling sales reps to sell faster and smarter.
Einstein Forecasting
From the head of sales to the CFO, Einstein Forecasting delivers an innovation that drives business predictability.
Sales leaders still rely upon incomplete spreadsheets and antiquated systems to forecast sales projections, resulting in inaccurate forecasts, underperformance and a disconnected business.
In fact, less than half of deals close as forecasted, leading to missed quotas for sales teams and revenue shortfalls
Einstein Forecasting is a fully automated, out-of-the-box solution that uses all of a company's historical CRM data to take the guesswork out of forecasting.
Combining the art of data mining and science of machine learning, Einstein Forecasting is able to analyse, process and understand key factors like seasonality and historical performance to make highly accurate, individualised sales forecasts.
Additionally, Einstein Forecasting combines a mix of self-learning algorithms that learn individual and team forecasting behaviours, analyses whether they are consistently optimistic, pessimistic or on target, and then synthesises an unbiased analysis for the sales leader.
Then, Einstein uses special logic to translate the data behind each forecast into human language so sales leaders know what to expect from the pipeline and why.
With Einstein Forecasting, a regional manager for an insurance company, for example, can quickly view a dashboard to see if his team is on track to hit its sales numbers for the quarter or if any deals are in jeopardy.
With foresight from Einstein Forecasting, the regional manager and other sales leaders can take action with their sales agents before it is too late to get the quarter back on track.
Additionally, if the CFO of the insurance company is looking to expand the business to a new region but unsure if the company can take on the development cost, she can quickly tap into Einstein Forecasting to predict whether the company will have enough funding that month or quarter to take on the new region.
In addition, Salesforce also introduced Einstein Opportunity Scoring and Einstein Email Insights, ensuring sales reps stay focused on the most important deals.
Einstein Opportunity Scoring—Identifies, surfaces and prioritises the most valuable deals—those with the largest deal size, most executive engagement and more—directly within Sales Cloud. Additionally, Einstein continues to monitor deals in progress to identify any high-value deals that may be in jeopardy, keeping sales reps laser-focused on building pipeline and closing more deals. For example, with Einstein Opportunity Scoring a sales rep no longer has to spend countless hours sifting through opportunities. Instead, sales reps are able to focus on the deals most likely to close and add resources to deals that may be at risk.
Einstein Email Insights—With Einstein Email Insights every sales rep is armed with their own personal email assistant. Powered by natural language processing (NLP), Einstein Email Insights identifies the most important emails and recommends the best action or response, enabling sales reps and leaders to prioritise their inbox and quickly address customer needs. Proactive action and response recommendations enable reps to keep deals moving, from scheduling a meeting to sending a quote. For example, if a sales rep is returning from a full day of customer meetings to an inbox full of emails, they no longer have to dig through their inbox to find the most important emails.
New Salesforce AI innovation fund to fuel next-generation AI
To fuel the development of new AI solutions, Salesforce Ventures—Salesforce's corporate investment group—announced the new $50 million Salesforce AI Innovation Fund.
Fast-growing AI startups Highspot, Squirro and TalkIQ are the first recipients of funding from the Salesforce AI Innovation Fund to accelerate their development of transformative AI solutions on Salesforce.
"Artificial intelligence has the potential to make every company and employee smarter, faster, more efficient and more productive," says John Somorjai, Salesforce corporate development and ventures EVP.
"The new Salesforce AI Innovation Fund will help accelerate the development of transformative AI solutions that extend and complement Salesforce, helping our customers reach new levels of success."
Additionally, Salesforce Ventures has completed an investment in All Turtles, an AI startup studio that partners with founding teams and companies to build AI-centric products.
Salesforce will partner with All Turtles to co-create cutting-edge AI solutions built on the Salesforce platform.
Related stories
Top stories