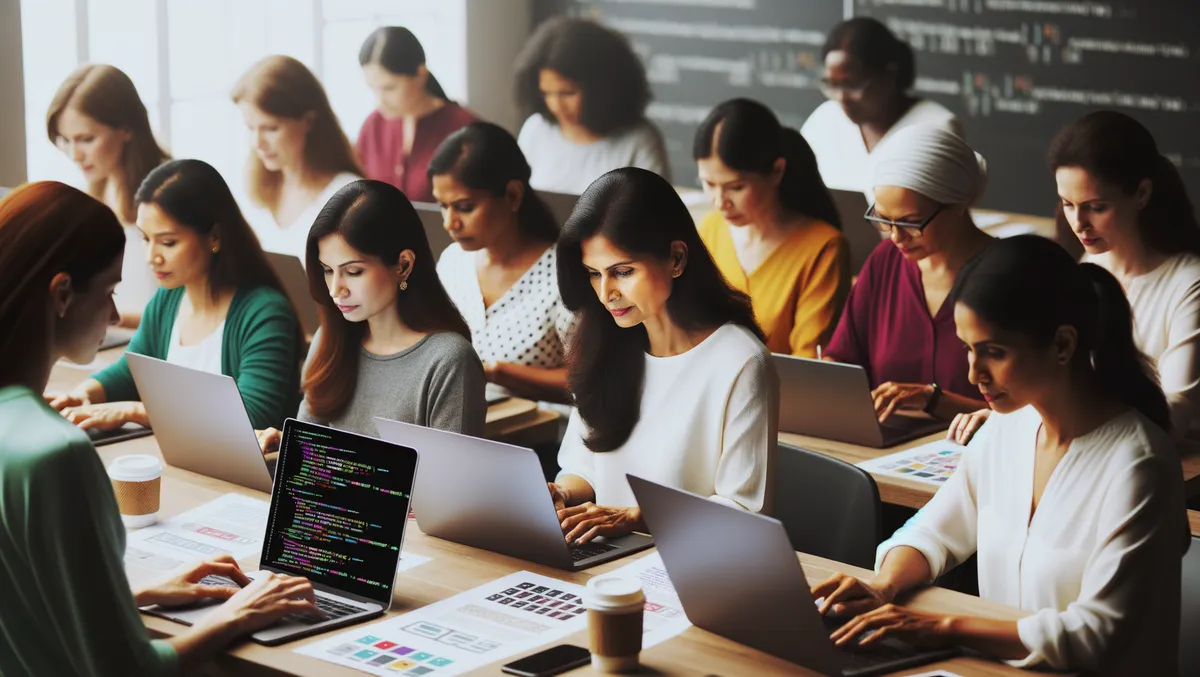 Salesforce fulfils pledge to offer 500,000 upskilling opportunities for women
Mon, 20th Nov 2023
By Sean Mitchell, Publisher
Salesforce significant moves within the Indo-Pacific Economic Framework for Prosperity (IPEF) Upskilling Initiative. The company has fulfilled its commitment to facilitating a substantial 500,000 upskilling opportunities for women. This advancement represents a significant stride towards bridging the gender skills gap and driving sustainable and inclusive economic growth across the Indo-Pacific region.
The initiative by Salesforce, aimed at empowering women with digital skills and education, was delivered via Trailhead, their free online learning platform, and a range of workforce development programs. Collaborative partnerships include renowned organisations such as India's NASSCOM, Indonesia's Nokentech and KOMINFO, and the Philippines' Ayala Foundation.
Reaching beyond its original promise, Salesforce delivered over 3 million opportunities within just a year as part of the IPEF Upskilling Initiative. Launched by the U.S. Department of Commerce in September 2022, the initiative's goal is to help women in the Indo-Pacific region gain access to education and digital skills training to promote economic growth. Salesforce has provided upskilling opportunities across numerous countries, including India, Indonesia, Thailand, and the Philippines.
According to the International Labour Organisation (ILO), women currently represent merely 25.1% of all employment in IT and other information services in the Asia Pacific region. With that stark fact in mind, Salesforce strove to bridge the gender skills gap, partnering with governments, public sector organisations, and nonprofits across the region to provide upskilling opportunities for women.
The support programs are operated via Salesforce's Trailhead Academy, which teams up with government organisations, universities and other learning institutes to promote a digitally skilled workforce. Specific upskilling initiatives include collaborations with Indian organisations NASSCOM, Giftabled, Skillible, and Pride Circle; Indonesian partners Nokentech and Ministry of Communication and Informatics; and the Ayala Foundation in the Philippines.
Salesforce is committed not just to developing new skills but also facilitating access to jobs through the Salesforce ecosystem. Women participating in these upskilling initiatives have access to the Trailblazer community, enabling them to learn Salesforce skills and connect with peers, experts, and job opportunities within the ecosystem.
Several individuals have already benefited from these upskilling efforts and have landed jobs within the Salesforce ecosystem. Hiral Kanani, previously an associate professor with over a decade of experience, successfully completed the Salesforce Platform Developer I certification and is now a technical instructor at Salesforce in India. Similarly, Sowthamini Subramanian acquired a job as a Software Engineer at Neer Info Solution after learning Salesforce Platform Developer skills through Skillible following a career break due to medical reasons.
In light of these promising developments, William Sim, Vice President, Trailhead Academy, Asia-Pacific, Salesforce, commented, "Salesforce believes that business is a platform for change and, as part of that effort, we are committed to bridging the gender skills gap in the Indo-Pacific region. The benefits of technology must be accessible to all, and diverse voices and talents must be nurtured in the global workforce. By delivering and exceeding our commitment to provide half a million upskilling opportunities, we are demonstrating a tangible impact on the lives and careers of countless individuals in these communities, and helping to unlock the potential of digital economies in the region."
U.S. Secretary of Commerce Gina M. Raimondo also expressed her delight at the progress that Salesforce and other private companies are making under the IPEF Upskilling Initiative to empower women and girls around the world.