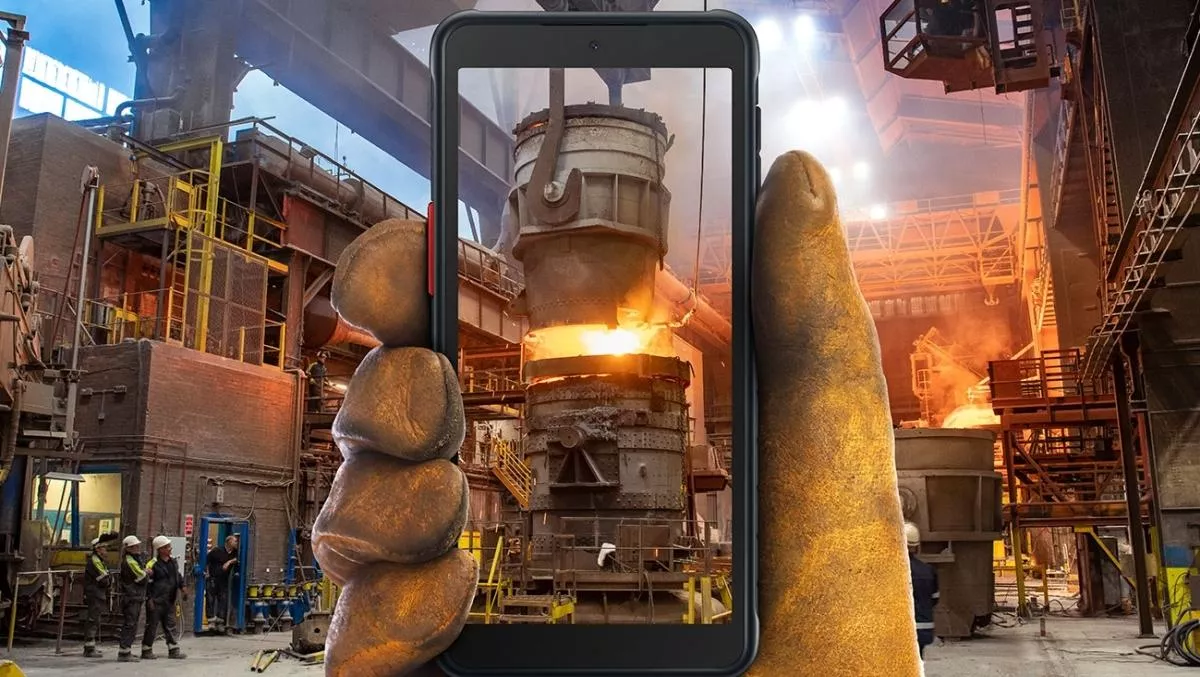 Samsung launches Galaxy XCover 5, a new rugged smartphone
FYI, this story is more than a year old
Samsung recently launched a new smartphone designed for use in rugged mobile environments such as factories and industrial settings. The Galaxy XCover 5 fits within Samsung's popular Galaxy smartphone line, bearing a much chunkier resemblance to its counterparts.
With dimensions of 147.1 x 71.6 x 9.2mm, The XCover 5 features Android 11, as well as a 5.3" HD+ TFT display, a 16-megapixel main camera and 5-megapixel front camera.
Hardware includes an Exynos850 processor, 4GB RAM and 64GB storage, all supported by a 3,000mAh removable battery and fast charging support through USB and POGO pins.
The phone also supports facial recognition for device security. A Glove Touch feature increases touch sensitivity allowing users to operate the device while wearing gloves for quick and convenient use.
An NFC chip allows the phone to be used as a wallet or transportation card, making it ideal for those who use public transport to commute to work, Samsung suggests.
A button called the XCover Key is a customised feature that offers single-touch access to your most frequently used apps such as LED flashlight, emergency calls or maps.
The Galaxy XCover 5 is able to withstand drops of up to 1.5 metres. It is also IP68 water- and dust-resistant, meaning it can remain under one metre of water for longer than 30 minutes.
"From helping healthcare facilities and retailers to manage inventory with barcode scanning, to mining and construction workers communicating onsite via the phone's Microsoft Teams Walkie Talkie, with all the robust features that make it durable in even the toughest conditions, the Galaxy X Cover 5 is a truly versatile device," comments Samsung Electronics Australia head of enterprise and government mobile business, Danny Mandrides.
The Galaxy XCover 5 is protected by Samsung's security platform Knox, which offers end-to-end protection and security. This will be offered for up to five years for device longevity and peace of mind.
"Samsung has invested heavily in developing its rugged portfolio of smartphones and tablets by combining our heritage in mobile innovation, security services through Knox, as well as hardware design and leadership. The Galaxy XCover 5 extends the range further with improved design and specs, as well as the introduction of Enterprise Edition software maintenance," adds Mandrides.
"Furthermore, with Knox Capture - Knox Suite, the device is not only designed to secure technology for enterprise use, but its barcode scanning tool enrichens the potential use cases and industries it can benefit.
The Galaxy XCover 5 will be available for RRP$449 in regions "including but not limited to select markets in Asia, Europe and Latin America, with availability expanding to other regions at a later date".