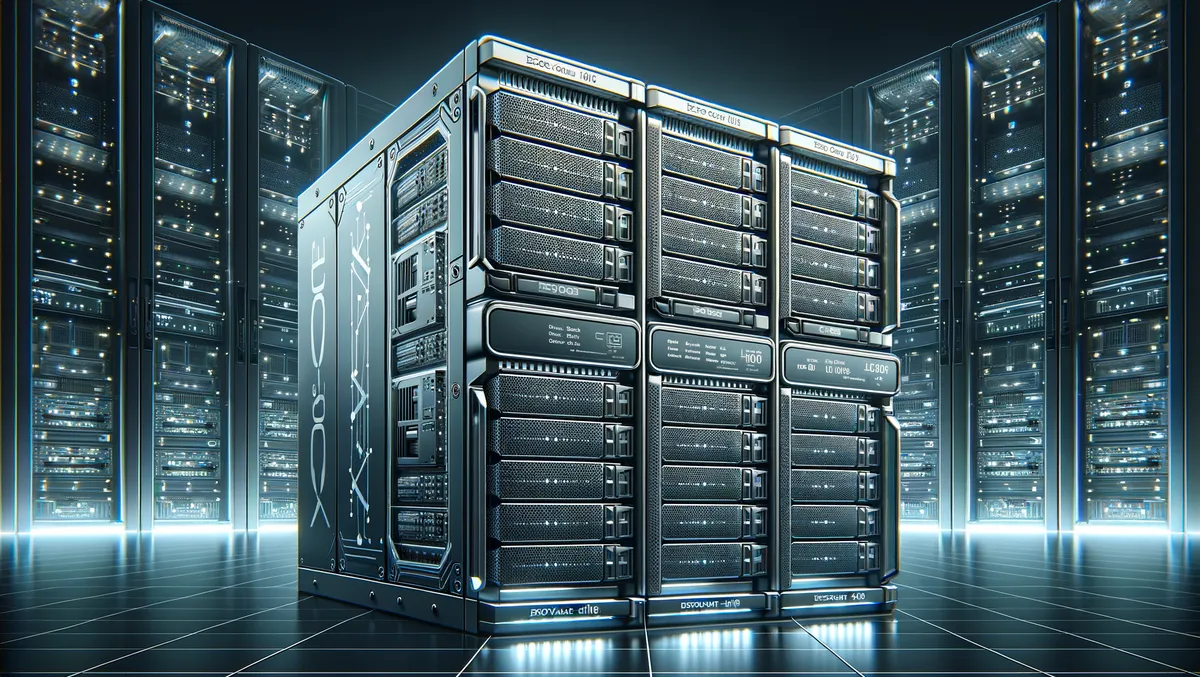 Seagate reveals Exos CORVAULT 4U106 with extraordinary 2.5PB storage capacity
Thu, 16th Nov 2023
By Kaleah Salmon, Journalist
Seagate Technology Holdings, a global authority in mass data storage infrastructure solutions, has unveiled its latest mass data storage system, the Seagate Exos CORVAULT 4U106.
With a remarkable storage capacity of 2.5PB, this high-performing multi-petabyte block storage system offers improved features such as increased rack density, extended lifecycles, and significantly less power per petabyte, contributing to a lower total cost of ownership (TCO).
Furnished with Seagate's high-capacity Exos hard drives, the Seagate Exos CORVAULT 4U106, combined with self-healing technology, has been lauded as the most efficient petabyte storage building block for large-scale data centre architecture.
The system introduces significant reductions of up to 50% in storage networking resources while also increasing rack power efficiency by 30%. Seagate's Autonomous Drive Regeneration (ADR) and Advanced Distributed Autonomic Protection Technology (ADAPT) drive these efficiencies. These innovations help cut downtime and optimise data centre resources like maintenance and human interventions, thereby reducing the carbon footprint and e-waste.
Alexander Ruebensaal, the CEO of ABC Systems AG, underscored the formidable challenges confronting institutions engaged in science, research, high-performance computing (HPC), and higher education, where the twin pressures of substantial data storage requirements and constrained budgets loom large. In response to these challenges, Ruebensaal spoke highly of Seagate's Exos CORVAULT, a solution that has proven instrumental in navigating the complexities of data storage.
Ruebensaal specifically praised the unique design of Seagate's Exos CORVAULT, emphasising its efficacy in delivering tangible benefits for its customers grappling with multi-petabyte datasets. Notably, the implementation of this solution resulted in a remarkable 80% reduction in total storage costs on an annual basis. These cost savings encompass a comprehensive spectrum, including technical, operational, service, and maintenance expenses, presenting a stark contrast to the financial landscape of previous options.
The CEO highlighted the significance of these substantial savings, pointing out that they can now be strategically reallocated to directly support scientists and researchers within these institutions. By alleviating the financial burden associated with data storage, Exos CORVAULT empowers institutions to channel resources towards advancing scientific endeavours and facilitating groundbreaking research.
Alexander Ruebensaal said, "The data storage requirements and budget constraints for science, research, high-performance computing (HPC), and higher education institutions are considerable."
"For our customers' multi-petabyte datasets, we turned to Seagate's Exos CORVAULT. Its unique design enabled them to cut their total storage costs by up to 80% annually, including technical, operational, service, and maintenance expenses, compared to previous options."
"These great savings can be reallocated to scientists and researchers," says Alexander Ruebensaal.
While already available in a 2PB Conventional Magnetic Recording (CMR) configuration, the Seagate Exos CORVAULT 4U106 is now set to be offered in both 2PB and 2.5PB Heat-Assisted Magnetic Recording (HAMR) configurations. These new configurations can be ordered from storage resellers globally from November and will be readily available at the end of December.
Seagate Technology is an expert innovator of mass-capacity data storage solutions. Seagate creates innovative technology so users can confidently store their data and easily unlock its value. Founded over 45 years ago, Seagate has shipped over four billion terabytes of data capacity and offers a full portfolio of storage devices, systems, and services from edge to cloud.