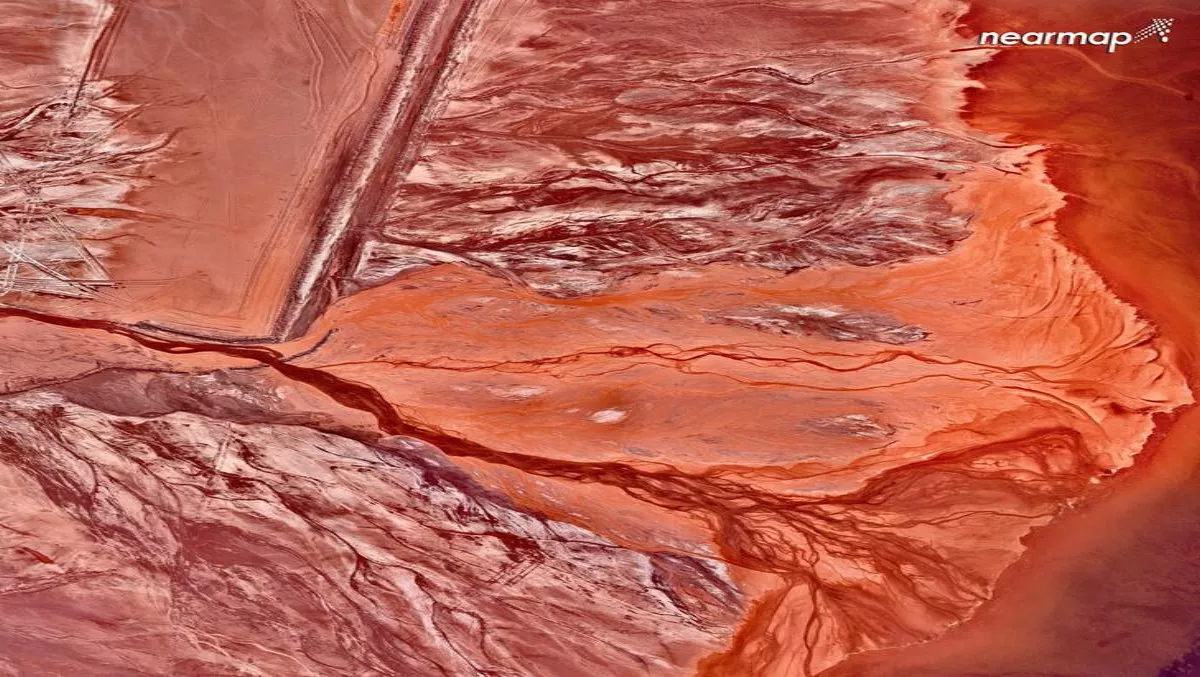 Ten aerial images of Australia like you've never seen it before
FYI, this story is more than a year old
From Broken Hill to Broome, and even Alice Springs, Nearmap has released a series of images celebrating the variety and beauty of Australia while preparing for its upcoming 10th anniversary.
"Australia is renowned for its iconic beauty with crystal clear coastlines, sunburnt outback plains, distinct native fauna and unbelievably vast landscapes. But seeing our landscapes from the ground only shows one side of its beauty," comments Nearmap CEO, Rob Newman.
"It's the view from above that offers something special. It unveils the entirety of our natural scenery in intricate and incredible detail and truly shows the diversity of our unique landscapes to reveal the very best Australia has to offer."
"We regularly fly over Australia and capture high-resolution aerial images for our customers," adds Newman.
"We're often amazed at the images we stumble across on Nearmap and wanted to share them with all Australians to appreciate, particularly as we embark on our company's 10-year anniversary."
Alice Springs Airport, Northern Territory
Alice Springs, in the heart of Australia's red centre, is a thriving regional hub with regular air service connecting to its capital through Alice Springs Airport.
The airport has a well-established aircraft storage facility benefiting from the dry, arid and low humidity environment, ideal for aircraft preservation
Runaway Bay, Queensland
The waterways of Runaway Bay on the Gold Coast are an ideal fishing location for dropping your fishing line into a calm water estuary. Originally known as Angler's Paradise, Runaway Bay is known for its laid-back vibes and boating adventures.
Laverton, Western Australia
One of Western Australia's famous gold and nickel mining regions, Laverton is situated in the Goldfields - Esperance area and is home to two major open-pit gold mines.
Broome, Western Australia
Broome is a popular coastal destination and a gateway to the majestic Kimberley region in WA. Home to incredible white sand beaches and some of the largest pearls in the world, Broome is one of WA's most scenic holiday hubs.
St Kilda, Victoria
Located only 10 minutes away from Melbourne's CBD, St Kilda is a seaside playground and a must-see tourist location. Right on the water is the St Kilda Marina which is one of Melbourne's largest marina facilities, hosting up to 500 vessels.
Woodvale, Victoria
Situated in central Victoria, Woodvale is a rural community with a rich history dating back to the gold rush era. Woodvale has a small active community with a welcoming spirit and is an ideal bush walking location.
Broken Hill, New South Wales
A gateway to the sun-seared beauty of the Australian outback, Broken Hill in rural NSW, has a solar farm the size of London's Hyde Park. This solar farm is one of the largest in the Southern Hemisphere, sending enough electricity to the national grid to power 17,000 homes a year.
Kooragang, New South Wales
Located in Newcastle, NSW, Kooragang is known for its coal export port and wind turbine. Kooragang's wind turbine generates enough power for 150 homes per year.
Dry Creek, South Australia
Located north of Adelaide, Dry Creek is mostly an industrial suburb and has a series of salt pans sporting a pink complexation. Dry Creek is also home to a network of cycling and walking trails through remnant areas of eucalyptus woodlands and grasslands.
Boyne Island, Queensland
Located on the Central Queensland Coast, Boyne Island named after the Boyne River, is home to the largest aluminium smelter in the Southern Hemisphere.
All images supplied by Nearmap.
Related stories
Top stories