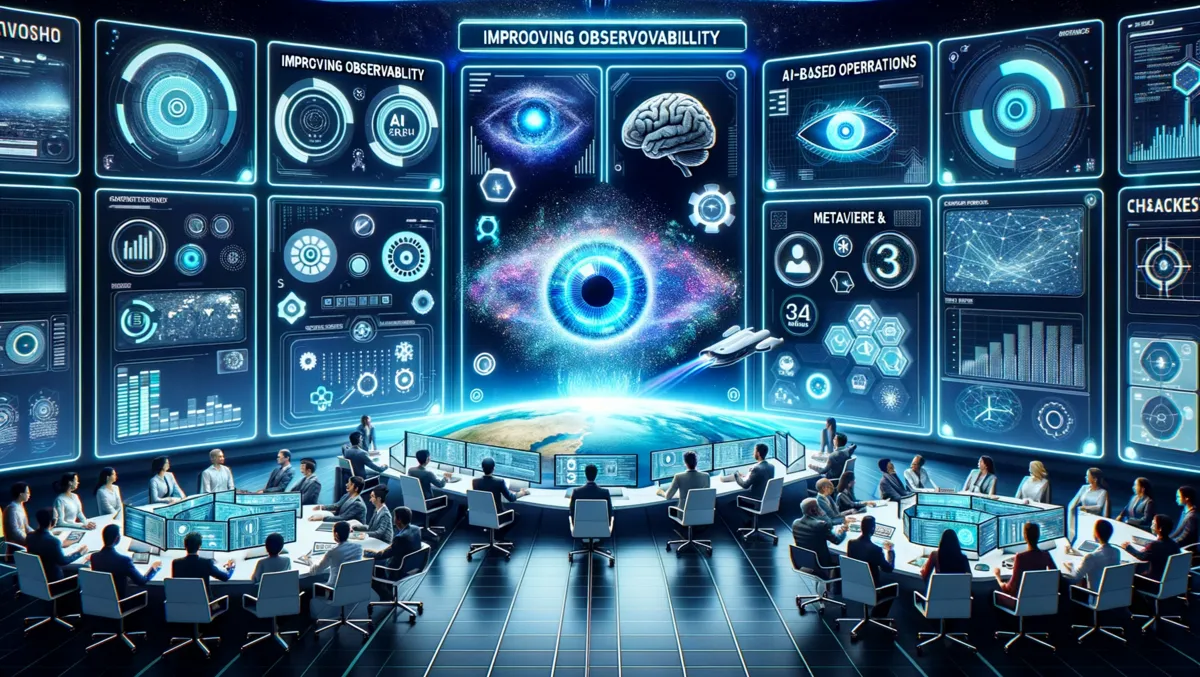 Transforming IT with AI-powered service operations
Mon, 23rd Oct 2023
Today, technology leaders are under massive pressure to deliver continuous digital transformation. This means creating resilient businesses, but the challenge leaders face is that technology landscapes have never been so tough to manage. Every organization provides various services to its employees, customers, and partners, such as customer service, human resources, finance, and other vertical applications. The different functions generate too much data and complexity. IT services and operations teams have little bandwidth to cope with the load of incidents and events with siloed, disparate tools.
When organizations plan to automate and transform their IT, they must think of elevating the existing service management processes because today, it is no longer an independent process or system that steps in to resolve an issue after it has occurred. A modern service management system serves as a foundation for efficient service delivery for all the stakeholders of a company by merging with the organization's workflows and processes.
Organizations must think of including it with all their business functions because any form of business process with a workflow is viable for automation and transformation. This is key to modernizing service management, and it needs to be done while keeping the cost lower and creating new experiences for internal and external users.
Hence, Service experience transformation is a top priority for CXOs to transform employee as well as end-user experience. CXO's need to think across three horizons:
Horizon 1: Improving observability
Improving observability brings many advantages to an enterprise IT environment. As IT teams get access to better monitoring capabilities with key metrics, logs and events, issues can be proactively detected and resolved. This helps in detecting anomalies early, enhances troubleshooting and reduces mean time to resolution (MTTR). As IT teams get access to rich data, improved observability can also help with data-driven decision-making. Teams can optimize system performance and allocate resources in a way that leads to greater scalability and cost savings.
Improved observability increases collaboration and transparency between IT teams and other departments in an enterprise. By sharing relevant data and metrics, enterprises could speed up root-cause analysis, and issues can be resolved collectively rather than in a silo. This enhances cross-functional collaboration, leading to better customer satisfaction and business outcomes.
Horizon 2: Using AI-based operations and data-driven decisions.
Before implementing AI-based operations (AI Ops) in an enterprise IT environment, you have to ensure there's human expertise and oversight. AI Ops should have proper governance, transparency, and accountability for responsible AI usage. By analyzing vast amounts of data, AI systems can predict potential issues and help teams take proactive maintenance measures. Issues can also be categorized and prioritized based on their severity. AI is great at detecting anomalies which could lead to security threats. Personalizing user experiences by analyzing user behaviours and historical interactions is another plus point of AI Ops.
Vast amounts of data in an enterprise IT environment can help make many data-driven decisions. IT teams can make more informed decisions using accurate and reliable data, thereby removing any subjectivity. Data-driven decisions can remove bottlenecks and enhance operational efficiency with optimal resource allocation. Real-time data analysis also helps with proactively detecting anomalies and trends that could lead to security risks. These can be addressed well in time. Customer needs can be better understood, and IT services can be aligned to meet customer expectations and improve service quality.
Horizon 3: Creating new experiences for the end customers with the power of Metaverse, sensor fusion and deep learning.
According to Gartner's Top Strategic Technology Trends for 2023, over 40% of large organizations globally will be using a combination of Web3, spatial computing and digital twins in metaverse-based projects by 2027. These projects would be aimed at increasing enterprise revenue.
The power of Metaverse could be leveraged to enhance virtual collaboration and communication in virtual environments. This can be taken a step further to virtual events and conferences that simulate physical events. For the end customers, aspects of the Metaverse, such as immersive entertainment, AR or VR gaming and virtual commerce in digital storefronts and marketplaces, can be used. The Metaverse can transform the way we interact, collaborate, entertain, and experience the digital world, which can create new customer touchpoints.
Sensor fusion and deep learning are other avenues that can open new transformative experiences in multiple domains. These are relevant for sectors where a variety of sensors that collect different kinds of data are used. Applying deep learning algorithms to the vast data collected by the sensors, sectors such as automotive, healthcare, AR and VR, smart homes, the internet of things, and robotics can enable richer immersive experiences. It could help in improving human-machine interactions and impact digital transformation in a way that enhances customer experience.
CIO's role in service management transformation
CIOs can play a pivotal role in connecting people, functions, and systems across the enterprise and drive success in service management transformation. They must emphasize the importance of designing IT services and delivery that align with business goals. CIOs must drive improvements in service quality by ensuring its availability and quality, as it can influence the customer experience significantly.
Service management transformation provides an opportunity to maximize the value of IT investments and cut down on costs, a significant consideration in these financially challenging times.