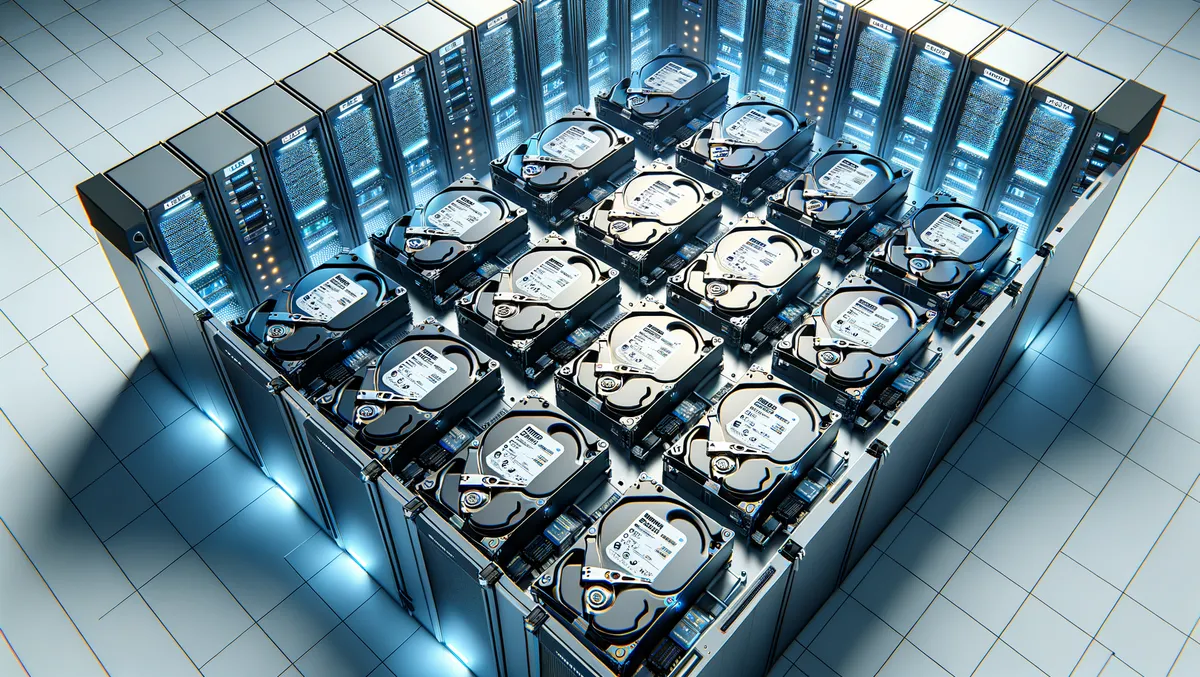 Western Digital launches 24TB & 28TB HDDs for data centres
Mon, 20th Nov 2023
By Sean Mitchell, Publisher
Western Digital announced it has commenced shipping its new 10-disk 24TB CMR HDD family for hyperscale, cloud, and enterprise data centres. The company has also been ramping up production of its new 28TB SMR HDD, thus securing its leadership position in the SMR market. These two developments have contributed substantially to their ongoing sustainability targets.
The new drives, specifically designed for data centre customers, promise an increase in storage capacity, thus rendering a lower total cost of ownership (TCO). In line with sustainability measures, these 24TB and 28TB HDDs are built with 40% recycled content (by weight) and are over 10% more energy efficient per terabyte, in line with customers' data centre infrastructure power efficiency goals at scale.
Given the growth of applications, use cases, and connected devices, the demand for high-capacity, low-power, and reliable storage is set to spike. Despite such growth, Western Digital's enterprise-class hard disk drives (HDDs) remain critical components in helping data centre customers design more cost-efficient, scalable, and sustainable infrastructure.
Ed Burns, Research Director, Hard Disk Drive and Storage Technologies with IDC, remarked, "With these new offerings, Western Digital is once again proving that hard drives are not just keeping pace, they are forging a path forward, ensuring that data-intensive applications of today and tomorrow have a strong foundation to build on." The strong momentum Western Digital's SMR HDD demonstrates has led Burns to believe that SMR adoption will only continue to grow.
Ashley Gorakhpurwalla, EVP and GM, HDD Business Unit, Western Digital, emphasised the role of HDDs in the immense creation of data each day. "As a strategic partner to cloud and data centre customers around the world, we are extending the value of our proven HDD platform and technology innovations to deliver the highest capacity HDD storage and TCO value that our customers demand," he stated.
The latest offering, the 28TB Ultrastar DC HC680 SMR HDD, provides unsurpassable storage density for hyperscale, cloud, and enterprise customers. This high-density storage device is designed for sequential write workloads, suitable for bulk storage, online backup, and archiving, among others. Notably, these drives enable the time-to-market advantage of integrating the highest capacity HDDs on the market while also reducing their carbon footprint.
In parallel, Western Digital has pushed the envelope with the Ultrastar DC HC580 24TB CMR HDD, leveraging improved OptiNAND technology for increased data density. This allows data centre customers to maximise their storage within the same footprint, advantageous in power-constrained environments. Furthermore, these drives are more power-efficient, providing 12% less Watt/TB compared to the company's previous 22TB version.
The Ultrastar DC HC680 and HC580 HDDs are currently being qualified by select hyperscalers, CSPs and OEM customers and are geared towards enterprise customers looking for the highest capacity with lower power-per-terabyte for more efficient storage systems and data centres. Ultrastar Data60 and Data102 Hybrid Storage Platforms are also in the process of being qualified with the new HDDs, available from next month.
Lastly, Western Digital noted that it is shipping its 24TB WD Gold CMR SATA HDD into the market. These drives are designed for system integrators and resellers serving enterprises and SMBs that require more reliable storage for big data and enterprise storage workloads compared to traditional client HDDs.