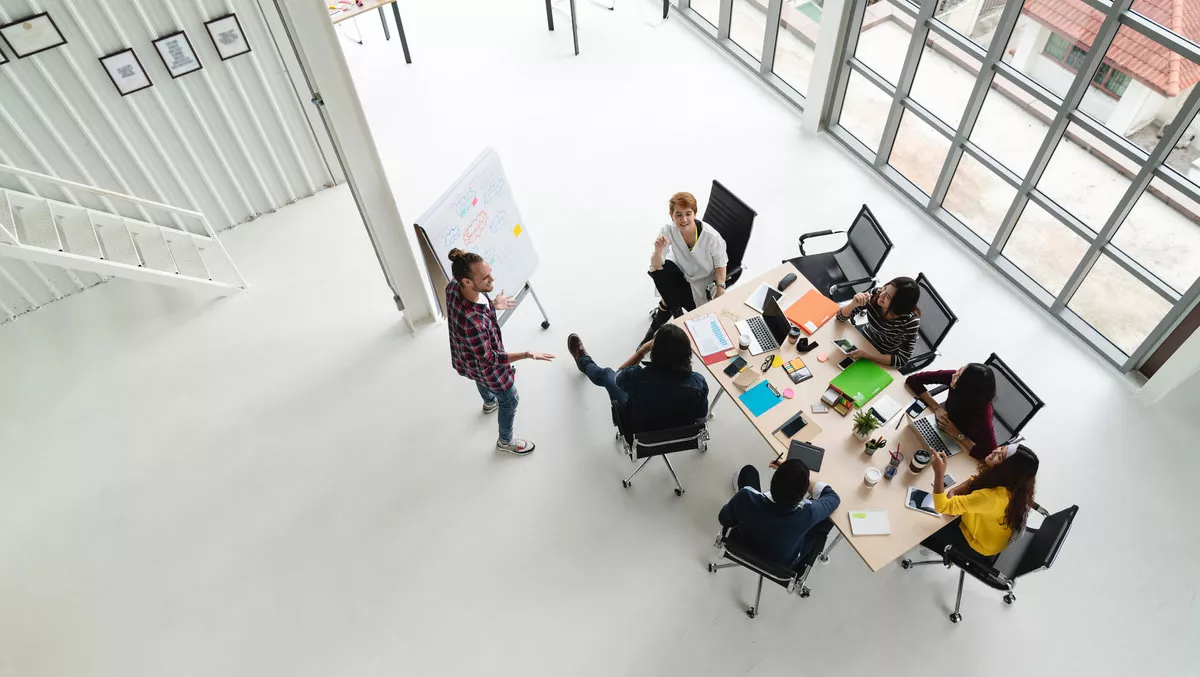 Why Microsoft's Slack beater is winning hearts and market share
Fri, 2nd Aug 2019
FYI, this story is more than a year old
By Sean Mitchell, Publisher
Two years ago, Microsoft announced Microsoft 365. This brought together Windows, Office 365 and enterprise mobile security (EMS) into an easy package.
At the time, most commentators and industry veterans viewed it as a licensing play essentially making it easier for clients to buy the products together and more likely clients would buy all three.
Although it also bundled in a new technology, that has subsequently become a crown in Microsoft's product range.
Microsoft Teams came to market in March 2017 and has since grown to be used by 13 million users daily in 181 countries according to Microsoft modern workplace corporate vice president Jared Spataro.
The Teams solution is really four products in one:
Conversations - A permanent and private collaboration system

Meetings - A video conferencing and scheduling system with document collaboration features

Chat - An instant messaging system

Voice - A phone and audio conferencing system
These four products are merged into an elegant app that is available for Windows, iOS, and Android devices in 53 languages.
Competitors like Slack handle one of the four areas, but no competitors bring them all together quite like Microsoft has.
Traditional thinking would say that an app that combines multiple functions isn't as good as having specialist apps. The concept is either known pure-play or point solutions and in this instance, is completely wrong.
Not only is Teams better than the sum of its parts, but each part is equal or better than specialist competitors.
Slack is a competitor to the conversations part of Teams. It has been in the market for five years, compared to only two years for Teams. Recent numbers show Teams is now winning with 30% more active daily users than Slack.
The Team product isn't staying still either. Since introduction, an impressive number of new features have been rolled out.
A highlight is the use of artificial intelligence to blur out the background of a live video conference amongst hundreds of new features.
Coming soon are advanced features like live language translation in chats and many more.
Microsoft is also very proud of its Teams integrations according to Microsoft Teams marketing head Kady Dundas.
A vast marketplace of integrations with both Microsoft solutions like OneDrive as well as third-party solutions like Asana and Trello are available.
Furthermore, there is a close relationship between Microsoft Teams and the rest of the Office family of apps, which allows the opening of documents natively in Teams for maximum productivity.
In some ways, Microsoft Teams is taking over from Microsoft's intranet and document sharing solution SharePoint. While many organisations with deep SharePoint investments will leave them in place, Teams would be the logical place to start in a greenfield implementation.
The growth of Teams so far has been amongst the world's 180 million knowledge workers who are mainly seated in front of computers.
Interestingly, Microsoft sees a big expansion of the total addressable market for Teams.
They believe that front line workers who often don't sit at computers should be adopting Teams too. 80% of the world's workers fit into this category, numbering over 2 billion workers.
Microsoft believes that these front line workers in industries like Healthcare, Retail, Hospitality and field service have been left out of the benefits of digital transformation.
To address this, new features have been bought to Teams.
Hospital workers can replace outdated pagers with smartphones, Microsoft Teams and a new feature called Priority Notifications. These notifications even keep bugging the recipient until answered.
Front line workers and their management can also now run their shifts and timesheets in Teams. Even swapping shifts is possible within the app. For a number of industries, this could cut out paper and uncontrolled communications methods like text messaging.
Microsoft's massive time and energy going into the Teams product is definitely showing dividends.
There is no wonder why 91 of the Fortune 100 companies have adopted it.
The Teams product is emblematic of the newly revived and energetic Microsoft that Satya Nadella has developed.
It rightly deserves to be at the heart of every worker's workday.